The Ed Miliband experiment has been tried before. Remember Gordon Brown?
The Tories have gone out of their way to tell us they don't really want to win the next election. Alas for them, this increases the chances of a Labour government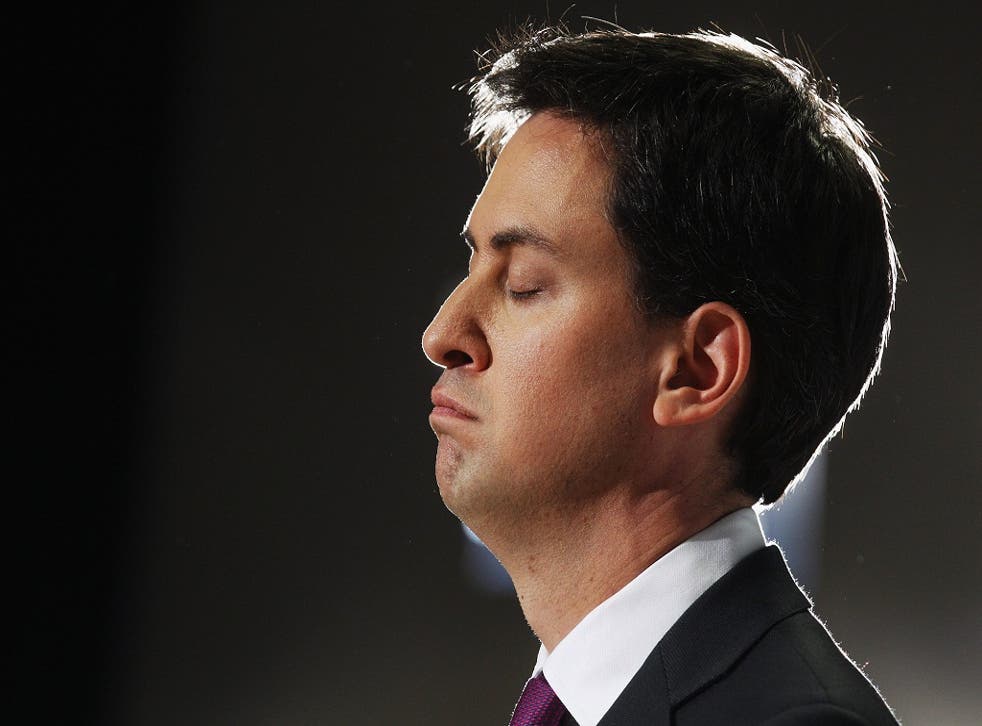 Ed Miliband is quite likely to be prime minister in two years and one month.
This is not because he deserves to be, but because the Conservatives lack the discipline to stop him. Winning by default creates problems, as Labour discovered in 1974. Someone who was active in the party at the time advised me to remember "what happens when a Labour Party consisting of former ministers who have learnt nothing and forgotten nothing come to power after a Tory interlude government, which after a strong, interesting start just froze up".
It wasn't that the voters thought Edward Heath was wrong to challenge the power of the trade unions; it was just that they thought he had made a mess of it, and that the other lot couldn't be worse.
That could be the situation in 2015. I still think that, if it comes to a choice between David Cameron and Ed Miliband as prime minister, the voters will prefer the incumbent. A ComRes poll for The Independent on Sunday last month found that Cameron was three points ahead of his party in "favourability" rating, while Miliband was nine points behind his. But party identity still matters. People think the Labour Party, whoever leads it, is more likely to protect their jobs.
The thing that has changed over the past year or so, however, has been that the Conservative Party has gone out of its way to tell us that it doesn't really want to win. Its leaders made the huge error of cutting the top rate of income tax, which made them seem insincere in claiming that we were "all in it together". And its followers decided it was more fun to talk about leaving the EU or the European Convention on Human Rights or to speculate about Boris Johnson taking over or why the Chancellor wasn't cutting spending even further, than about an economy that is creating jobs.
So we have to take Prime Minister Miliband seriously. And we have to take seriously the likelihood that his government will be a disaster. It is not just the parallel with 1974, or even the much-cited example of what has happened in France since last year. François Hollande, whose election was hailed by Miliband as evidence that, in these straitened times, the left is finally answering the public mood, has become more unpopular even faster than the other François, Mitterrand, did when he tried "socialism in one country" in 1981.
There is another historical parallel that is even more relevant. And that is what happened here in 2007. The Brownites thought that all they had to do was to change the face at the top and make the Labour Party feel good about itself again. This rediscovery of authenticity would inspire a grateful nation, a nation that had been confused for 10 years by Labour people forced to say things in which they didn't believe.
As Janan Ganesh, the Financial Times columnist and biographer of George Osborne, pointed out yesterday: "Labour – its front bench and back rooms alike – is now led by people who spent a decade believing that Tony Blair was a problem and Gordon Brown was the answer." This was a problem in 2007. When they took over, they had no sense of direction, except to tack a little to the left, which is what they had been doing for years to ensure Brown's succession.
But it will be even more of a problem in 2015 – because Miliband was in charge of the policy preparation when Brown took over, and in charge of writing the manifesto for 2010, which was so weak it had to be rewritten at the last moment. And he has done nothing to prepare for government this time either, except to say that Labour would have cut slightly less in the past but that it cannot say anything about the future.
A telling example, in an interview with Mark Ferguson, editor of LabourList, over the weekend, is Miliband's promise to replace tuition fees with a graduate tax. "We're definitely looking at it. I think there's been some work going on at IPPR looking at the options, too." Miliband pointed out that Labour had suggested cutting the maximum tuition fee to £6,000 from £9,000 a year, and said: "We're looking at all of these issues for the manifesto, and what can be done." But we know what happened the last time the Brownites tried to design a graduate tax: Brown opposed tuition fees, promising to come up with an alternative, and, when he did, it was blown away as unworkable by Charles Clarke, the Education Secretary. There are genuine problems with financing it by a tax rather than an enforceable debt, as Nick Clegg discovered to his cost.
Yet these are the people and their vague wish lists of nice Swedeny policies who control the party. And they don't even do that very well. No one notices when an opposition party is divided, but on the day before the Budget last month, 40 Labour MPs rebelled against Miliband when he asked them to make a tough choice on cutting benefits for people who refuse to take part in work experience or training. This was the policy of the Labour government but, because of a fuss over some badly designed unpaid-work schemes, many of Miliband's Brownite MPs, including John Healey and Nick Brown, defied the whip to vote against it.
The rebels were supported by Len McCluskey, the leader of Unite, the union which backed Ed Miliband over his brother, which might explain why the Labour leader's response was mildness itself: "As for the colleagues who took a different view, I understand why they were angry about what the Tories had done, but I felt we took the right decision and I still feel we took the right decision."
The other thing Ed Miliband said in his weekend interview was: "It is about doing politics differently." Well, his brother tried that, but it turned out that doing politics the same was more effective. That's why the Brownites are trying to do it the same, while pretending that it is different. Perhaps the economy will pick up, in which case this won't matter. But I feel that the worst outcome of the next election would be for Labour to win it so ill-prepared.
John Rentoul is chief political commentator for 'The Independent on Sunday'
Twitter: @JohnRentoul
Join our new commenting forum
Join thought-provoking conversations, follow other Independent readers and see their replies