Elephant Appeal: Few are willing to say just how bad the poaching crisis is
The elephant population may easily fall into terminal decline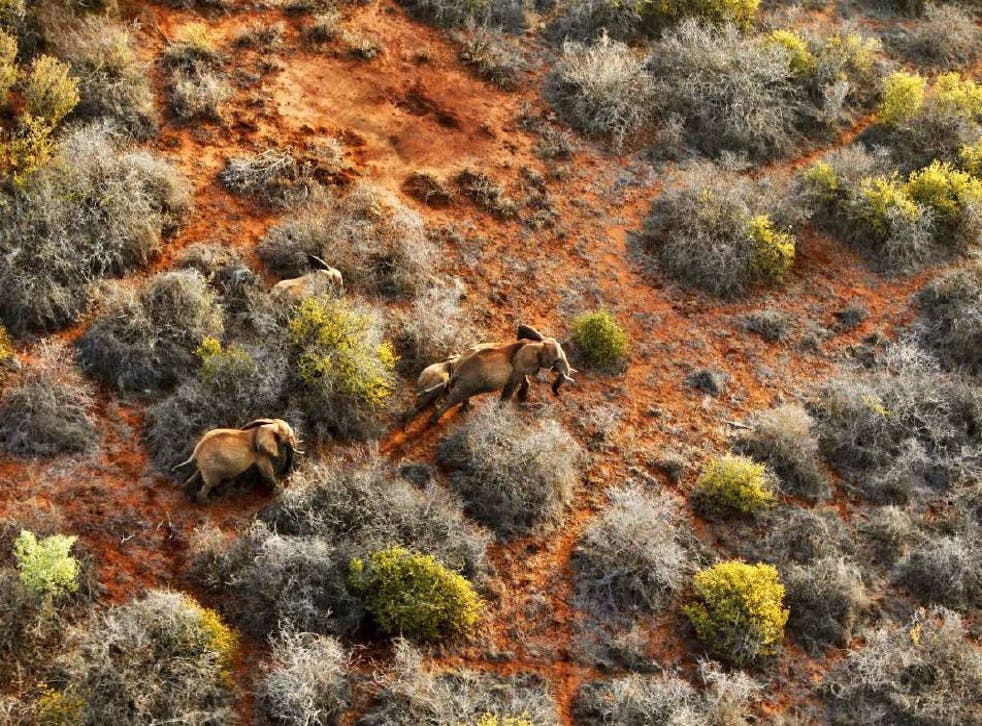 A pilot making a pass over Tsavo East national park early last year spotted elephants in distress. Flying in to take a closer look, he saw a group of dead elephants, their tusks hacked off, and the survivors moving among them, crazed with grief. The 11 animals killed were the victims of an armed gang of Somali poachers in what was the worst poaching incident in Kenya last year.
The slaughter was chillingly reminiscent of Tsavo's killing fields in the 1970s and 1980s when poachers and drought wiped out more than 80 per cent of elephants in the area, home to the country's largest elephant population.
Against the odds, Tsavo's elephant herds did partially recover. But once again they are facing a threat to their survival from poachers lured by the fortunes to be made in ivory sales. Armed with automatic weapons and sophisticated tracking equipment, the poachers are deadlier and better organised than before.
Not for 30 years, warn conservationists, has the situation appeared as dire as it is now. "Poaching is out of control," said Dame Daphne Sheldrick, a Kenyan conservationist who set up the David Sheldrick Wildlife Trust in memory of her late husband. "The price ivory fetches today is higher than ever before, the temptations more than ever, and of course the demand from the Far East and particularly China also more than ever before."
It is yet another blow to the park that was once Kenya's most celebrated bit of African bush. It was here that the infamous man-eating lions of Tsavo casually picked off Indian workers as the British forged their controversial railway, dubbed the Lunatic Express, across the virgin landscape towards Uganda. The lions finally met their match in J H Patterson, a British colonel whose famed account, Man-Eaters of Tsavo, inspired Theodore Roosevelt to mount his extraordinary hunting expedition across the African continent that killed or trapped 11,400 animals.
But despite its exalted history, Tsavo would later became a byword for the slaughter that devastated Kenya's wildlife.Tourists began to drop away, eschewing the depleted Tsavo for the teeming reserves of the Maasai Mara and the Serengeti. Tsavo had 35,000 elephants in the late 1960s, but by the late 1980s, elephants numbered just 6,500, an 80 per cent fall.
Tsavo had come to epitomise official ambivalence and corruption that had allowed the destruction of its greatest asset. Indeed, Mama Ngina, wife of Kenya's first president, Jomo Kenyatta, and mother of its serving one, Uhuru Kenyatta, was believed to be heavily implicated in the ivory trade.
It is at risk of happening again. Somali insurgents from Kenya's troubled north are the single biggest threat to Tsavo's elephants – which at the last census had recovered to 12,000, and include some of the few remaining "hundred pounder" (45kg) tuskers in the country. They shoot them with machine guns, and sell their ivory locally for 20,000 shillings (£140) a kilo. A single haul can fetch up to a million shillings (nearly £7,000).
Many of the poachers operate under the cover of – or with the assistance of – Somali livestock herders, who fatten their cattle on the lusher pastures of the national park and surrounding ranches. They have encroached on Tsavo's grasslands, overgrazing it and pushing elephants to forage for food on farms, and they are widely suspected of using their cattle as a cover for elephant poaching, both in Tsavo and also on the outlying ranches, where elephants are virtually unprotected.
"The places with lots of cattle, that's where we have the problems," says Eric Sagwei, head ranger for Wildlife Works, a private enterprise that ensures a safe corridor for the migration of elephants between the Tsavo East and West parks. "Some poachers operate out of the cattle bomas [shelters], sometimes pretending to be herders. When they go out with their livestock, they come across an elephant and they kill it."
A government operation last May involving the Kenyan Wildlife Service (KWS), the police and the army sought to evict all of the Somali herders based on ranches in the Taita Hills area around Tsavo. While many left at a result of the operation, ranch owners say they have almost all returned following a pending court appeal, and poaching is on the increase as a result.
Few are willing to say, however, just how bad the poaching is. The KWS, charged with protecting Kenya's game, is accused of consistently underestimating the threat, and Paul Kipkoech, its head of security in Tsavo, claimed in an interview that only 20 elephants had been killed in the park this year. But conservationists say the figure in Tsavo is much higher, perhaps as much as three or four times that. The Tsavo Trust, which runs aerial surveillance of the park, said in its November report that it had discovered six elephants shot dead by poachers that month alone.
If something is not done now to address poaching, it is feared that the situation will reach a tipping point, sending the elephant population into a terminal decline that some say will eventually wipe out Kenya's herds.
While most conservationists would argue that the key to ending poaching lies with China, where soaring demand fuels the ivory trade, Kenya and other African countries also have a critical role to play. Kenya has sought to introduce a powerful deterrent in the shape of its new wildlife bill – which passed into law in late December – that will theoretically impose much tougher penalties and jail terms for poaching.
But in a country where magistrates habitually hand down risible sentences, sometimes because they have been bribed to do so, the fight against poachers has been reduced to a battle of wits between the overstretched KWS and gunmen and poison arrow hunters used to spending long periods in the bush.
Supported almost entirely by its revenues from gate sales, the KWS in Tsavo has only 300 rangers at its disposal to look after 22,000sq km, an area the size of Wales. Perhaps a third of those are required to man the gates, ticket offices and other administrative functions. That leaves a handful of men and women to conduct foot patrols over a vast area in the searing heat. If they are lucky, they might hear a gunshot alerting them to an elephant kill, but most never reach the area in time.
If the KWS, whose rangers often lack basic resources such as vehicles, fuel, boots and ammunition, is failing to keep a lid on poaching at current levels, there is little indication that it will alone be able to combat militarised poachers equipped with GPS tracking devices and who are often far superior in tracking.
NGOs run aerial surveillance on the park, but even with an aircraft, Tsavo is simply too big an area to police with limited resources. One way, argues Richard Moller, conservation director at the Tsavo Trust, is for the government to partner with private enterprise, following the model of private conservancies in northern Kenya, where owners run their own anti-poaching operations in partnership with the government. He believes the donors are out there, willing to invest tens of thousands of pounds, but require an environment conducive to doing so.
"Although the government may be very reluctant to give out any protected area management to private companies at this point, I believe in time it is the way to go," said Moller. "There are some private partnerships in varying capacities… the partnerships that exist could be much more productive if government / private partnerships were encouraged more. Given a bit more freedom, it could pay off hugely."
To donate now, go here
Join our new commenting forum
Join thought-provoking conversations, follow other Independent readers and see their replies