Enough with the sexist Christmas jumpers - sexual harassment is no laughing matter
These 'hilarious' slogans just aren't funny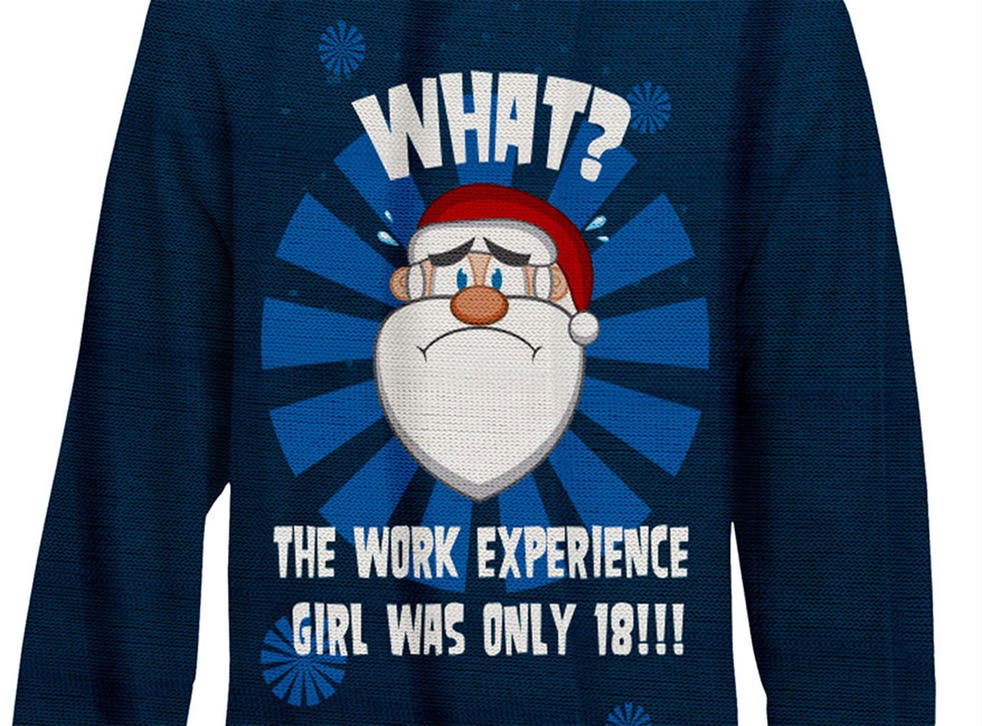 It's Christmas! The sleigh bells are ringing, choirs are singing and desks are piled high with bottles of sickly-sweet liqueur nobody really likes and only ever drinks in December. But, wait – there's Dave… Dave? What's that you're wearing in the office, Dave? What's that slogan emblazoned across your chest above the knitted Santa? 'Office stud' is it, Dave? Oh, Dave. No. Not again.
It's not naughty, and it's certainly not nice, yet this year looks set to be swamped with a deluge of "frisky festive jumpers", and those marketing the so-called 'tongue-in-cheek' garments could not have got it more wrong, as I discovered in my inbox today.
The blurb accompanying some of the offending items, which include sweaters shouting 'Who do I sleep with to get a promotion?' ('Why work hard to achieve results when you can work hard behind closed doors?') and 'MistleBlow' ('As the saying goes, you don't ask, you don't get!'), is designed, presumably, to highlight the 'humour' and so alleviate accusations of sexism or sexual objectification, but it only has the opposite effect.
Perhaps retailers hope that by cashing in on our distinctly British fondness for double entendre, we'll look at the image of a 'worried-looking Santa' next to the words: "What? The work experience girl was only 18!" with a cheeky grin, a roll of the eyes, a groan. We're meant to see it as the 'Christmas cracker joke' of comedy, something to amuse, to tickle, certainly not to offend – and if we are offended by the glaring discrepancy between 'Office stud' and 'Office slut' then we are the ones who can't take a joke.
Paul Howcroft, managing director of fancydressball.co.uk, insists that his 'naughtiest ever Christmas jumper' slogans are "the sort of things that get whispered in private conversations around the office, and the idea is to combat this stereotypical gossipy work-culture with humour".
But here's a slogan to think about: It's Not Funny. It's not funny that up to 60 per cent of girls and young women aged 13 to 21 report sexual harassment at school or college, and 20 per cent experience unwanted touching, according to the Girls' Attitudes survey. They polled more than 1,400 young women across the UK and found that this kind of behaviour is slowly becoming seen as just a normal part of just being a girl. It's not funny that girls as young as seven have experienced sexual taunts from boys, according to new research from Girlguiding UK. It's not funny that more than half of girls aged between 11 and 16 reported to the Girls Matter campaign that teachers and staff tell them to ignore harassment or dismiss it as a bit of "banter".
So next time you see a 'hilarious' card or item of clothing with the words: 'A kiss would be nice…a blowjob would be better!' that would suit mad old Uncle Tony to a tee, think again. For the longer we keep portraying sexual harassment as a joke, the less we'll all be laughing.
Join our new commenting forum
Join thought-provoking conversations, follow other Independent readers and see their replies