On free speech, Pope Francis is beginning to reveal the limits to his liberalism
His remark that you can "expect a punch" if you insult Islam isn't the first time a crack in his liberal image has appeared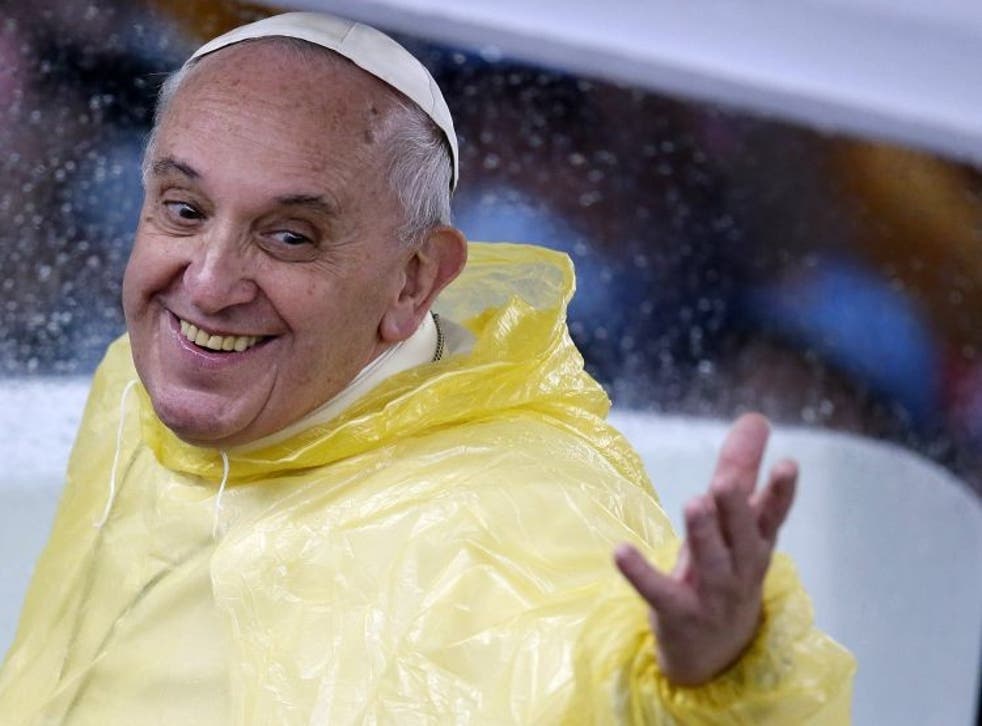 The late Ayatollah Khomeini of Iran was unequivocal when asked why he never smiled: "Allah did not create man so that he could have fun. There are no jokes in Islam. There is no humour in Islam. There is no fun in Islam. There can be no fun and joy in whatever is serious."
Pope Francis is clearly a different breed of religious leader. But this week he blew it. Now, a man who has just had 6m people turn up to hear him speak in the Manila rain won't be too upset by my view, but, seriously, what was he thinking?
I know he was fooling around when he made unusually forthright comments to journalists on board his official plane as he flew to the Philippines for his visit. But, it was filled with journalists all focused on his every word.
In case you missed it, Francis was giving his views on the Charlie Hebdo affair. He said he supported free speech, BUT… and, as you can tell, it was a big "but". The Pope illustrated what he meant through an apparently light-hearted reference to what would happen if his advisor insulted the Papal mother.
Turning towards Alberto Gasparri, a Vatican official standing next to him on board, he said: "If my good friend Dr Gasparri says a curse word against my mother, he can expect a punch in the nose."
Throwing a pretend punch, the Pope said: "It's normal. You cannot provoke. You cannot insult the faith of others. You cannot make fun of the faith of others." And then, he repeated the gesture.
Whoa! The Pope advocating not turning the other cheek? This really is new territory for the man who has been an admirable champion of the poor and scourge of corruption in his own Church during his brief time as boss. He even seemed to soften the Church's stance towards homosexuality with his "who am I to judge?" comments last summer.
Six million flock to see Pope in Philippines

Show all 10
However this week we have seen the limits of that liberalism: first, the "punch" remark and secondly, his reaffirmation of the Church's opposition to gay marriage. He has also spoken against women priests.
So, I find myself siding with David Cameron's response as given to American television: "I think in a free society, there is a right to cause offence about someone's religion.
"I'm a Christian - if someone says something offensive about Jesus, I might find that offensive, but in a free society I don't have a right to, sort of, wreak my vengeance on them."
The truth about Britain today, as expressed by Tony Parsons in the Sunday Sun, is that Britons tend not to insult other people's religions, not because we're afraid to, but because we are essentially polite. It is one of the bedrocks of Britain's society: the relative mutual politeness that leads so many of us to say sorry when someone gets in our way.
And when we are insulted, our ability to temper our response proportionately is another bedrock upon which our national characteristic is formed. So, at a time when we are involved in such important debate as to how best to incorporate others with less temperate views into our society, Pope Francis's comments are not only unhelpful, but unintentionally inflammatory.
Join our new commenting forum
Join thought-provoking conversations, follow other Independent readers and see their replies