From Algeria, a lesson in how to bypass democracy
Our Middle East Correspondent on the Bouteflika regime, Pentagon folly, the many faces of Assad, and precious lessons from and old handbook in his Beirut briefcase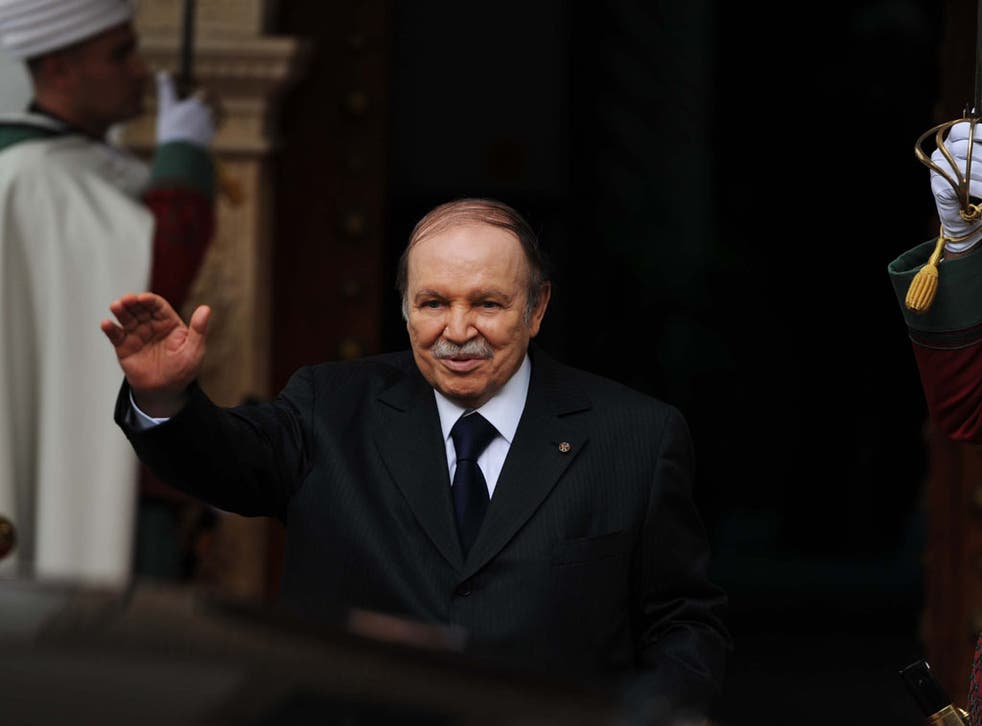 Why should readers be deprived of the intriguing tales that didn't quite make it, the "back of the notebook" stories of past months? And since Algeria is in the news, take the case of the Algerian Mourad Dhina, executive director of Al-Karama ("dignity" in Arabic), a Swiss NGO researching human rights violations in the Arab world; he's also founder of the Rashad movement, a group of former Algerian journalists, officials and ex-diplomats who want to rid their country of the Bouteflika regime (above) and its military supporters.
Living in Switzerland, Mourad encouraged the Swiss to question Khaled Nezzar, one of the top generals who overthrew the Benjadid government in 1992, cancelled elections. A civil war with Islamists followed the coup, in which Algerian goons tortured and executed thousands of their opponents.
Mourad and his Rashad group, which even has an office in Paris, wanted to overthrow Bouteflika in democratic legislative elections last May but – bingo – on a routine trip to Paris in January, he was arrested at Orly because the Algerian authorities had accused him of "terrorist acts" in Zurich and wanted him extradited to Algiers. The Swiss, it seems, were quite unaware of these "acts" – Mourad's wife and children are Swiss citizens – and so, it seems, were the French. But they banged Mourad up in La Santé prison, the very jail in which those well-known Algerian FLN troublemakers of half a century ago – Ben Bella, Ait Ahmed and Boudiaf – were imprisoned.
Of course, Mourad could play no part in the May elections, and old Bouteflika – he of the side-combed hair and health problems resolved by Paris doctors – won with a handsome majority. And Mourad? Well, surprise, surprise, the French judiciary freed him two months after those all-important elections, deciding – it took this august body all of seven months, remember – that the Algerian warrant was "ill-founded". And Franco-Algerian relations were said to be improving.
Pentagon folly
Just a year ago, the Pentagon produced its restricted file on " Special Forces Unconventional Warfare" – missions to overthrow governments "in the absence of overt or eventual hostilities by the sponsor [sic]". Among the tactics: "USG [US government] agencies co-ordinate with allied government-in-exile or resistance leadership for desired US support", "SF [Special Forces] team organises, trains and equips resistance cadre. Emphasis is on developing infrastructure."
As for the locals, "key to transitioning from growing discontent to insurrection is the perception by a significant portion of the population that they have nothing to lose by revolting and the belief that they can succeed. In addition, there must be a spark that triggers insurrection, such as a catalysing event that ignites popular support against the government power…"
Resistance movements should operate within "ethnic ghettoes… within sympathetically densely populated urban areas. These areas often create safe havens that HN [host nation] forces are unwilling or unable to access." And the resistance will need "moral or political support in the international forum [sic] … resources, such as money, weapons, food, advisers, and training; sanctuary, such as secure training sites, operational bases over a border, or protection from extradition."
Now let's apply the above to Syria. The "sponsor" (the US) wants to keep out of the battle, the Syrian "government-in-exile" has already been chosen, all FSA propaganda (YouTube videos etc) suggest constant victories on the part of the resistance. The " spark" was the torture of children by government forces in Deraa, the "ethnic ghettoes" – for which read sectarian ghettoes – are Sunni areas of Aleppo, Homs, Hama and the suburbs of Damascus.
The international "moral and political support" comes from Obama, Cameron et al, the money and weapons from Saudi Arabia and Qatar, "sanctuary" over the border is in Turkey and Lebanon. Oh yes, and "UW [unconventional warfare] operations may involve HA [humanitarian assistance] to benefit populations sympathetic … to a particular UW effort." In other words, bread for those who support the resistance, starvation for the rest.
But let's be fair. Any similarity or parallel with Syria this past two years is unintended.
The many faces Bashar al-Assad
Combing anew through the Wikileaks files on Syria, I am struck by a conversation Bashar al-Assad enjoyed with US senators in 2009. Those were the days when the president was Bashar-the-Good, a possible 'partner for peace', still two years away from the uprising in which the West (and a lot of Syrians) decided he was Bashar-the-Terrible.  The good senators, needless to say, were beating the drum for peace with Israel, a break in Syria's relations with Iran, etc.
Bashar was too shrewd to buy this line. He wanted a fact-based treaty before real peace. Here are his thoughts, in the words of a US diplomat:  "Asad (sic) likened the process to how a doctor should treat cancer. Condemnations and mutual recriminations might be self-satisfying, but the cancer still grows unless the doctor is able to treat the root illness."  And one wonders – let us speak the truth – if Assad remembers this advice.
Lessons for today from an old handbook
It sits in my Beirut bookcase, very politically incorrect, deadly serious, Murray's 1892 "Handbook for Travellers in Syria and Palestine". This is Ottoman-travel, where it's quicker to sail from Beirut to the northern city of Tripoli than go by road.  Damascus's Ommayad mosque "seems only second rate" and "the dogs of Damascus, like those of other Oriental towns… are exceedingly useful in discharging the functions of scavengers…"  At Hama, Murray records that "the inhabitants are proud and haughty Moslems, fanatical and ignorant in the extreme." As for Aleppo, the city is " notorious for a peculiar and unpleasant complaint, known by the name of the 'Aleppo Button', a small red, hard tubercle, which…f orms a scab, which, falling off, leaves an indelible mark."  Any safer today, I wonder?
Register for free to continue reading
Registration is a free and easy way to support our truly independent journalism
By registering, you will also enjoy limited access to Premium articles, exclusive newsletters, commenting, and virtual events with our leading journalists
Already have an account? sign in
Join our new commenting forum
Join thought-provoking conversations, follow other Independent readers and see their replies