As a gay, mixed-race West Ham fan, you may be shocked to know how I've been treated over the last 20 years
But that's only if you believe all the stereotypes about football fans being bigoted hooligans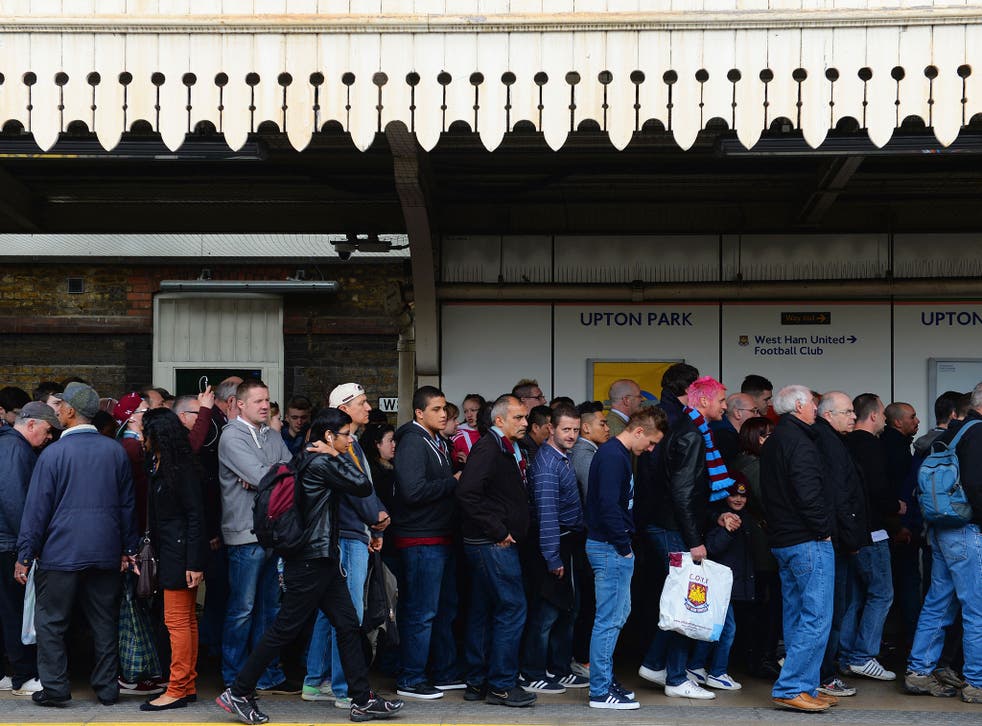 Before I really knew anything about myself, I was a football fan.
At the age of eight, I was taken to my first West Ham game and soon after I was hooked: I had the season ticket, the Claret and Blue kid's bedroom, the need to be unrealistically optimistic ahead of every match. It taught me loyalty, and gave me an identity.
Two decades later and I'm having a drink with an old boss, an Arsenal fan, who tells me she would never go to the Boleyn. Why? "Too much racism and homophobia." Now, I've been going to Upton Park for nearly twenty years, that's well over 200 games (and mostly losses, no doubt). I'm mixed-race, I'm gay and I've never experienced any discrimination.
There are obviously quite a few fans that still hold certain toxic views, and even some that will vocalise them. Like in 2012 when West Ham fans at White Hart Lane made Nazi salutes and hissing sounds to mimic the gas chambers. As far as football fans have come in terms of a more "progressive" outlook, idiots will always remain.
But as a whole, football fans aren't the boozed-up, pot-bellied hooligans that were all over TV in the eighties. They've changed. The stereotypes people have of football fans, like those held by my old boss, no longer have any rational basis.
What makes me uncomfortable and embarrassed with football these days is the behaviour of those at the top. They're the ones who let the stereotypes persist. In recent months, their words and actions have given football nothing but negativity. Directors, chairmen, managers and players – they all seem inept at understanding that they are now watched and analysed by millions, both at home and abroad. They are role models, ambassadors of the country and the sport –yet they seem incapable of doing such a simple task for which they get paid handsomely.
Touchline tantrums

Show all 21
The cases are endless. Take Sheffield United deciding to allow convicted rapist Ched Evans to train with them after his time in prison. It sparked a mass outcry and the club quickly retracted their offer. Still, there was no acceptance on the club's part of their mistake. United's co-chairman Jim Phipps said, "The influence of mob-like behaviour has made it difficult to take the simple step of allowing Ched to train."
I am not against rehabilitation, but two things must be taken into account: Evans has shown no remorse for his actions – surely rehabilitation can only come when you accept your faults? Furthermore, Evans isn't going back to a "normal job" – he's performing in front of thousands, he is looked upon by young faces yearning to be footballers.
Over the last few days, we have seen Wigan Athletic hire Malky Mackay as their new manager, despite an on-going investigation by the Football Association into allegations that Mackay sent homophobic, sexist and racist text messages while he was at Cardiff City. Leaping to Mackay's defence was Wigan chairman Dave Whelan who used the word "chink" in an interview with the Guardian and said "Jewish people chase money more than everybody else".
Ian Herbert said it best when he wrote that too often these episodes are met by those within the sport saying racism is not an issue, when in fact, "Discrimination – intentional or otherwise – is infinitely more subtle than that. It is thinking that a black administrator is less able than a white […] Just three per cent of the people serving on the boards of British sporting bodies are from black and minority ethnic communities."
Indeed, when Richard Scudamore, the chief executive of the Premier League, was found to have written sexist emails, the FA responded by saying it "does not as a matter of policy consider private communications…to amount to professional misconduct". Yet surely their private nature was what was worrying: Scudamore and Mackay were able to get away with it behind closed doors for so long.
When you rise to such a high rank within the football world, your conduct will be scrutinised. More importantly, you're in charge of the image of a club and have thousands of young fans looking to that team for role models, for inspiration. When will they realise they have to take on new responsibilities?
When I sit in the East Stand at the Boleyn, I don't feel threatened by those around me. The only time I feel detached from football is when I read the headlines created by those in positions of power; over-paid, idiotic-comment spewing individuals who seem to want to combine the modern-day money of the game with the sexism, racism and homophobia of yesteryear.
Join our new commenting forum
Join thought-provoking conversations, follow other Independent readers and see their replies