A genius on the court. But let's keep Andy Murray out of politics
Sport has expanded to fill the space that more serious pursuits used to occupy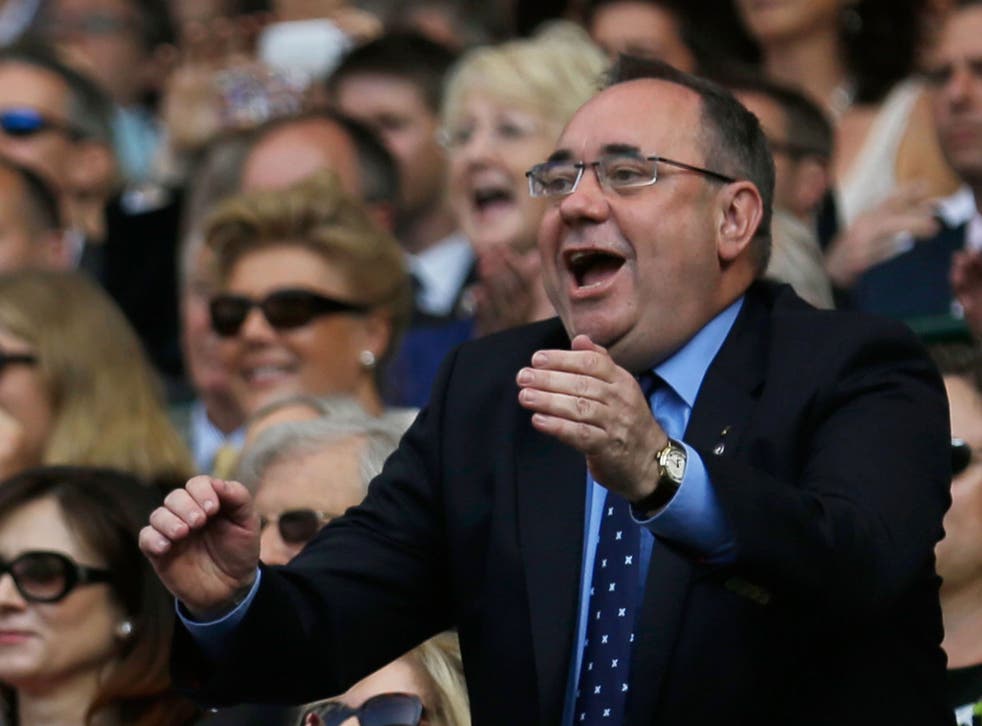 It's well known that a woman's handbag is like the Tardis: much more can be contained in it than seems feasible from its external dimensions. All the same, it was impressive that Moira Salmond, the wife of the Scottish First Minister, managed to stuff a Saltire even larger than her husband into the handbag she took to the Royal Box of the All-England Lawn Tennis and Croquet Club.
Alex Salmond was clearly struggling to unfurl it fully as he stood behind David Cameron and attempted to ensure that any newspaper photograph of the Prime Minister, in his moment of patriotic exultation at Andy Murray's victory, would remind us that this was a Scottish triumph.
With a referendum on independence coming up in little more than a year, Salmond has every reason to emphasise the Scottishness of the new Wimbledon champion – and the viscerally Unionist Anglo-Scot David Cameron has no less incentive to declare that this "was a fantastic day for British tennis and for Britain".
There was a time when Salmond might have hoped Murray would lend the glory of his name to the cause of independence: before the 2006 football World Cup, the tennis player remarked that he would be supporting any team paired against England in the event. It turns out that this was a rare (and therefore misunderstood) example of a Murray joke. A few months ago the pride of Dunblane made his first public remarks on the issue – and they must have come as a bitter disappointment to the Scottish National Party: "I don't think you should judge the thing on emotion but what is best economically for Scotland. You don't want to come to a snap decision and then see the country go tits up. I am proud to be Scottish but I am also proud to be British."
On the face of things, it is strange that so much store should be put, by such shrewd politicians as Salmond and Cameron, on the opinions of a young man who has no record of success or judgement in anything other than striking a tennis ball with improbable power and accuracy. It is a remarkable achievement to have become the first Briton to win Wimbledon wearing shorts and the first Scot to hold the trophy since 1896, but there is no obvious connection between that and being right about the costs and benefits of full fiscal and monetary independence.
Yet sport –of all kinds – has expanded to fill the space that more serious pursuits (such as politics) used to occupy. We have become more like the US, a nation truly obsessed with sport, in large part through the medium of television, which is superbly suited in its latest technological manifestations to the screening of such events. Newspapers – even the most august – have followed where widescreen high-definition television has led.
A few years ago, Geoff Hurst, who scored a hat-trick in England's victory over West Germany in the 1966 World Cup final, recalled how one national newspaper's front page the following day carried the headline "England win World Cup. See back page." The Guardian recently reprinted its own front page of the day: England's first and, still, only World Cup win occupies a single column on the far left, dwarfed by other stories judged more important to the paper's editors that Sunday 31 July 1966, such as "Nigerian rebels strongly placed to force changes" (accompanied by a large and informative map of the relevant African country).
Compare and contrast with yesterday's treatment by The Times of Murray's victory on the tennis court –a field of play less close to the hearts of the people, one would have thought, than that of football. Apart from a souvenir wrap-around, the first eight pages were devoted to the sporting triumph – and a further seven pages at the back. Combine that with scarcely less intensive coverage by other newspapers and you can begin to see why David Cameron was jumping up and down with febrile excitement in the Royal Box yesterday, as Murray whacked and whumped his way through the final game of his match against the Serbian Novak Djokovic. In losing almost all control over his emotions, the PM was showing himself to be a man in tune with the country he leads.
Of course, there are times when sporting success can truly symbolise something of political importance (and imagine how Sunday's Wimbledon final would have been freighted with such tensions had it occurred 14 years ago, when the RAF were bombing Djokovic's home town of Belgrade). Perhaps supreme among such one-on-one sporting sublimations of a much more significant struggle was the double encounter between the American boxer, Joe Louis, and Germany's Max Schmeling.
The German fighter was explicitly represented by the Nazi government as the cutting edge of its theories of racial superiority. Having lost the first bout in 1936, the pressure on Louis before the re-match in 1938 dwarfed anything that Murray has endured. Eyewitness accounts record how African-Americans (then described as "negros") had wept uncontrollably on the streets after Schmeling's victory. Ahead of the return bout, President Franklin D Roosevelt told Louis: "Joe, we need muscles like yours to beat Germany." The boxer himself later recalled: "I knew I had to get Schmeling good. I had my own personal reasons and the whole damned country was relying on me."
Yet these events also underline the inadequacy of sport as a metaphor for the much murkier world of politics and diplomacy. Joe Louis' entire career was fought out under the shadow of racial segregation; it was experiencing the foul attention of the Ku Klux Klan that had made his family decide to leave their home of Alabama. As for the American government itself taking the fight to Hitler, that occurred only in 1941, after Germany's axis partner, Japan, had bombed Pearl Harbor, sinking half the US fleet's battleships: a true sucker punch.
It is in this context that we should view the real meaning and significance of sport. It is a game, a business, a mass-media event: but compared to the worlds of politics and diplomacy it is pure innocence. Perhaps that is why we love it.
d.lawson@independent.co.uk
Join our new commenting forum
Join thought-provoking conversations, follow other Independent readers and see their replies