Greece crisis: They may be divided about Russia's motives, but Greeks all are united against EU's stance
Religious and ethnic ties make it easier for Putin to spread his influence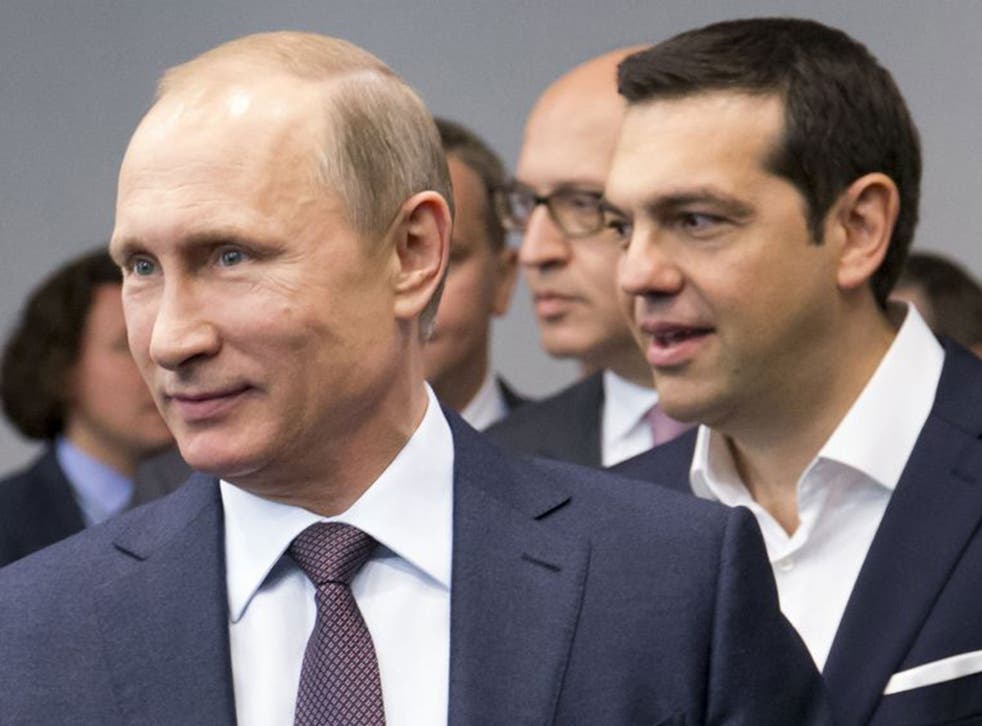 "Putin is a saint," says Father Savvas as he walks out of one of Greece's most important cathedrals on Mitropoleos Street in downtown Athens. "But [Putin] will only help us if God wants it and the EU abandon us." The monk, wearing sunglasses and a long white beard, is visiting Athens for a few weeks. Father Savvas has travelled down from Mount Athos, a remote peninsula in northern Greece which has been set as the spiritual capital of Orthodox Christianity for more than 1,000 years.
Life in the north means Father Savvas has been shielded from the political developments of Greece's debt crisis. He knows little of Mr Putin's alleged sins – his annexing of Crimea, his war on domestic dissent and desire to reintroduce the great Soviet state. But he is a member of a religious community that has bound Greeks and Russians for centuries.
Christian Orthodoxy has linked these countries from medieval times and their common faith has encouraged a joint cultural and historical heritage. Russia and Greece have strong cultural links stretching back centuries, stemming from their shared Orthodox religion. Among some of the more religiously conservative Greek, Russia is considered a brother nation.
Every year, a Russian-backed NGO belonging to one of Putin's officials, Vladimir Yakunin, who appears on US sanction lists, organises the annual Dialogue of Civilisations conference on the Greek island of Rhodes. President Putin regularly visits Mount Athos, this monastic all-male sanctuary, and is reported to also hold discreet political meetings there. His companion, the Greek Prime Minister Alexis Tsipras, is an athiest.
Beyond Mr Putin, faith-based travel tours are a popular choice for hundreds of thousands of Russians visiting Greece every year. Inside the unlit 80ft high basilica on Mitropoleos Square, thin, beeswax yellow candles burn before the icons of saints. Michalis, a retired military officer, makes the sign of the cross before kissing a large icon.


His faith has given him strength, he says, amid the difficult years of the financial crisis that saw his income drop by 40 per cent because of the austerity cuts. While the church has helped him get through a lot, Michalis is not convinced Mr Putin would help his country because of their common faith. "This is not about faith, it's mainly because of Greece's strategic position, that's why Russia wants to help," he says.
Right on the tip of the Balkans, squeezed between Europe, Turkey and Africa, Greece is an attraction for the territorially-ambitious Mr Putin. So much so, Russia has expressed interest in investing in Greek railways and ports.
A few yards away from the Metropolitan Cathedral of the Annunciation is the business of second generation furrier Minas Kaplanoglou. For centuries, northern Greece has been successfully trading fur around the world, but for the past decades has focused on the Russian market. Like most furriers, more than half of Mr Kaplanoglou's sales are destined to Russians. His saleswoman is a Russian who has lived in Greece for years.
The top 10 most unequal developed countries in the world

Show all 9
He endorses the visit of Mr Tsipras to St Petersburg, hopeful it will generate more Russian investment. "It's such a huge country with 140 million people, this can only help us," he says. But while he welcomes the tourism and investment Russia produces, he remains weary of the political stakes. "Russians won't help us out of goodwill, but Tsipras must look for an open door elsewhere after Europeans slammed their door in our face. There are definitely political games that are happening behind are backs."
Another reason behind the common Greek and Russian relationship is that the Soviet Union was home to a large ethnic Greek community. Like thousands of ethnic Greeks, Maria Iliadou, 65, was born in Tashkent, then part of the former USSR – today's Uzbekistan, before deciding she wanted to come back to Greece in 1990. Like hundreds of thousands of Pontic greeks, her family was deported to Central Asia in 1949 during Stalin post-war deportations. But she says she remembers the close bond between Russians and Greeks while growing up. "We felt like we were in our county, Greece," she says of growing up there. Her Soviet school always encouraged her to speak Greek while teachers always taught Greek ancient history.
Her upbringing is clearly evident on her political beliefs. "Greece can't miss out by seeking help from Russia. I trust them more than the Europeans and US. The EU have destroyed us Greeks, they've slashed our pensions, our wages and increased our taxes and everything – how much more can we stand?"
Join our new commenting forum
Join thought-provoking conversations, follow other Independent readers and see their replies