Hacking trial: The Establishment is dead. Long live the Establishment
Perhaps we should broaden our view of institutional power and those who wield it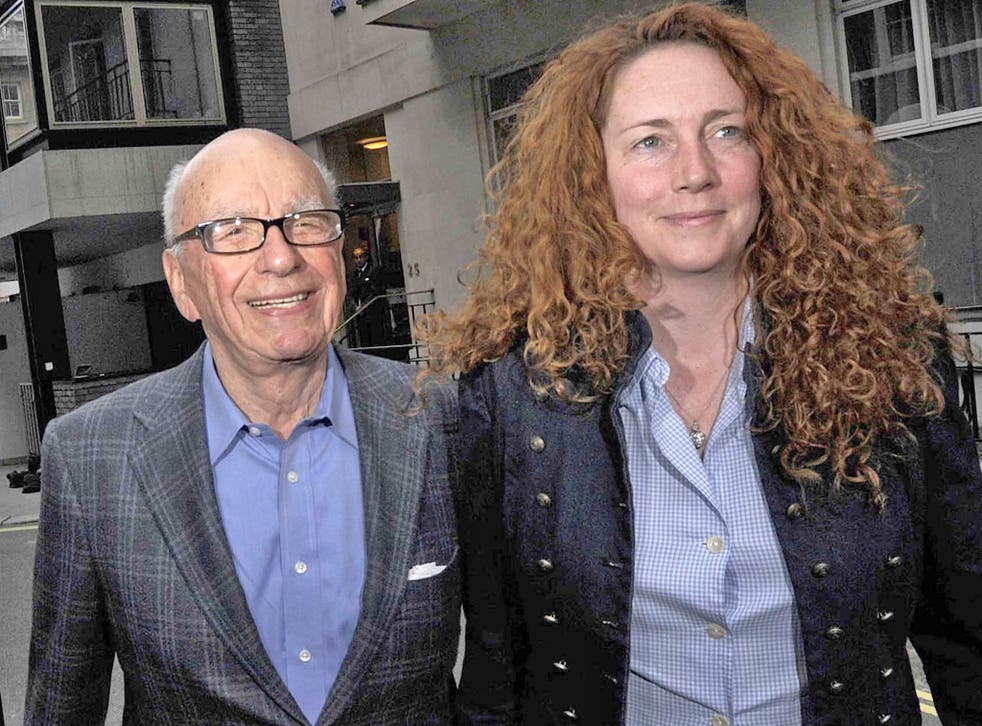 Full disclosure: this week I accepted hospitality from Rupert Murdoch.
Details: one and a half glasses of white wine (so-so) and a stem of asparagus wrapped in ham (quite nice). Needless to say, I stood – under a marquee in the gardens of Gray's Inn – at many removes from the media magnate himself. But that is the point about any empire that endures, whether territorial or technological. It has to embrace the picturesque self-governing backwater (in this case the admirably open-minded and free-spirited Times Literary Supplement, whose summer party this was) as well as the front-line states of the red-top press, satellite channel or Hollywood studio. And no affiliation or ideology – above all, no fatally tainted brand such as the News of the World – will ever stand in the way of its drive to evolve, mutate and so survive.
The party took place just yards away from the august Gray's Inn chambers that houses a key defence team for the company now known as News UK (formerly News Group Newspapers). Michael Silverleaf, a senior QC at the copyright and media specialists 11 South Square, has taken a leading role in advising Murdoch's media lieutenants over the course of the phone-hacking inquiries. Yes, in the wake of Andy Coulson's conviction and his colleagues' guilty pleas, it all sounds like a cosy conflab within the (literally) padlocked courtyards of the Establishment. In which case, maybe they should pay more heed to one another.
As early as 3 June 2008, Mr Silverleaf delivered a devastating opinion on News Group phone hacking to Tom Crone, then the News of the World's legal chief. He wrote after investigator Glenn Mulcaire, by then jailed for six months, hacked the phone of football executive Gordon Taylor. The action was later settled out of court for £700,000. Arguing that the Taylor intrusions were more or less undefendable, Mr Silverleaf stated – more than six years ago – that "there is a powerful case that there is (or was) a culture of illegal information access used at NGN in order to produce stories for publication". Against the fiction of the lone "rogue reporter", he wrote of "overwhelming evidence of the involvement of a number of senior NGN journalists" in "illegal enquiries". Accessing voicemails, he argued, "was not only illegal but will be seen as immoral or repugnant by any judge who is likely to hear the action".
It was a judgement of hard-hitting candour and prescience. Surely the Murdoch top brass could not now claim ignorance. They did. In his evidence to the Leveson inquiry (14 December 2011), Tom Crone said that, a week later, he had taken a copy of the Silverleaf memorandum into a meeting with James Murdoch, who later denied knowledge of its contents. In any case, the truth about the gravity of hacking had by that point circulated among at least some bosses of its perpetrators. Gray's Inn might propose, but Wapping would still dispose.
Hacking trial: The verdicts in full

Show all 7
Still unfinished, the hacking epic has added an extra layer of colour to the picture of a secretive elite forever in sync, with media, parliament, the law and the police acting in concert to bamboozle the public and shore up one another's power. But even with the Murdochs involved, the "Establishment" looks more like a twisting hydra than a single-headed monster. The beguiling idea of a charmed circle engaged in an interlocking conspiracy hides a messier reality.
On the evidence available, the various interests did not so much seamlessly overlap as graze, bruise and even crash in the race to protect themselves. Media ambitions overrode the stern warnings of the law. Police collusion with a few media outlets delayed and confused their own investigative task. Politicians kowtowed to the parts of press they most feared and so betrayed their duties. After the jury had found Coulson guilty, Mr Justice Saunders himself issued an extraordinary dressing-down to David Cameron over the PM's premature "apology" for hiring the convicted man.
If this was the Establishment at work, it looked not so much like a well-oiled conspiratorial machine as a spluttering jalopy with each wheel facing in a different direction. Above all, it took outstanding investigative journalism to expose criminalised pseudo-journalism. None of this should mitigate the hacking offences, or the abject cowardice of certain institutions in jumping even higher than the Murdochs asked.
The Establishment is always someone else. I properly defend the hard-won skills of my expert profession. You run a bit of a closed shop to stay in the black. He conspires with a cynical cabal of cronies against the public interest. Ironically, some of our most snugly entrenched public institutions like to flatter this belief.
On Monday, after a legally enforced hiatus, Richard Bean's play Great Britain will open at the National Theatre. The playwright calls it "a grotesque satire which… does draw on current events, but it is in no way docudrama". It aims to dramatise the cosy intimacy of press, politicians and police and show that "those three institutions are essentially in bed with each other and this threatens democracy". Sir Nicholas Hytner will direct: the departing director, deservedly knighted, of a subsidised outfit that this year receives £17,586,627 in public funding. No trace of Establishment cronyism there.
Back in 1985, also at the National, I witnessed Anthony Hopkins's suavely sinister portrayal of newspaper tycoon Lambert Le Roux in David Hare and Howard Brenton's play Pravda – another satire on the misdeeds of a Murdoch-esque machine. It could be argued that, since then, Sir David Hare and the public stage for which he writes have weathered better than almost any private media organisation.
Although it branched out into the cruel harassment of families in distress, hacking began as an offshoot of the celebrity mania which gripped red-top titles as their fortunes began to slide. It was a crime born of weakness, not of strength. It belongs to the interregnum years during which printed papers under threat sought to stem decline via the pursuit of prurient trivia. This leaky "Establishment" beat against the tides of change, and Murdoch's ruthless shutdown of the NOTW suited his own shift of focus rather well. By 2012, just before Murdoch broke up his media holdings into 21st Century Fox and the "new" News Corp, the print-based enterprises of the latter contributed less than a fifth of the group's total earnings of $33.7bn.
Perhaps we should broaden our view of institutional power and those who wield it. As a shorthand concept, the "Establishment" appears to date to a 1953 review about William Cobbett by the historian A J P Taylor – that textbook example of a professional outsider who took up residence in the belly of the beast. Taylor's subject has relevance, too. In his early 19th-century polemics, Cobbett the great radical curmudgeon spread the idea of an elite clique that duped and robbed the masses. He usually called it "The Thing". Cobbett's hatred of The Thing led him to plan (but sadly not complete) a play entitled Bastards in High Places.
Come the early 1960s, and Anthony Sampson's bestseller The Anatomy of Britain spotlit a cluster of elite institutions at their moment of transition. As Sampson himself noted in successive updatings of the book, he traced the dance of status and influence between Westminster, Whitehall, Fleet Street, Oxbridge, the City, the BBC and the Inns of Court just as interlopers – above all, media, finance and showbiz impresarios – began to change both the steps and the tempo.
By 2004, in Who Runs This Place?, Sampson recalled that, even in 1962, "the heads of Britain's established institutions were far from cohesive, and common backgrounds often concealed deep rivalries and differences". A decade ago, during the Blairite heyday, he found a replenished Establishment painted in one colour – "the colour of money" – while "the media are more pervasive, seeping everywhere into the vacuum left by the shrinking of the old powers". Ten years on, that portrait of a new plutocracy may need a further, globalised tweak.
Before their acquittal on hacking charges, Rebekah and Charlie Brooks reportedly went to see Bring Up the Bodies: the stage version of a novel by Hilary Mantel, an author published by Fourth Estate and thus – via News Corp's HarperCollins group, that imprint's parent – another remote affiliate of the Murdoch clan. Mantel's incandescent fictions of the Tudor court depict a still-seductive idea of Establishment. She presents not a harmonised, united front but a seething viper's knot of ambition and intrigue. With their cross-platform, cross-frontier deployment of footloose capital to capture new markets and new publics, the Murdoch firms may come closer to its modern face.
If the traditional Establishment belonged to sovereign nation-states with compact if rivalrous elites in charge, then for these new networks of tentacular control, the routine journalistic term might well apply: empire. That, after all, was the title of an influential analysis of multi-polar but all-pervasive global power by the neo-Marxist thinkers Michael Hardt and Toni Negri. The problem is that you can't put empire on the page, on the stage, or even in the dock as neatly as you can Establishment. Deep power today eludes representation, let alone litigation. Even so, I would dearly love to see, with the help of a friendly ghost, Cobbett's Bastards in High Places in a theatre somewhere soon.
Join our new commenting forum
Join thought-provoking conversations, follow other Independent readers and see their replies