Heathrow protest: This is why I broke onto the runway yesterday morning at Heathrow Airport
Over the last few years, the aviation industry has managed to convince the general public that we have an airport capacity crisis. This is a myth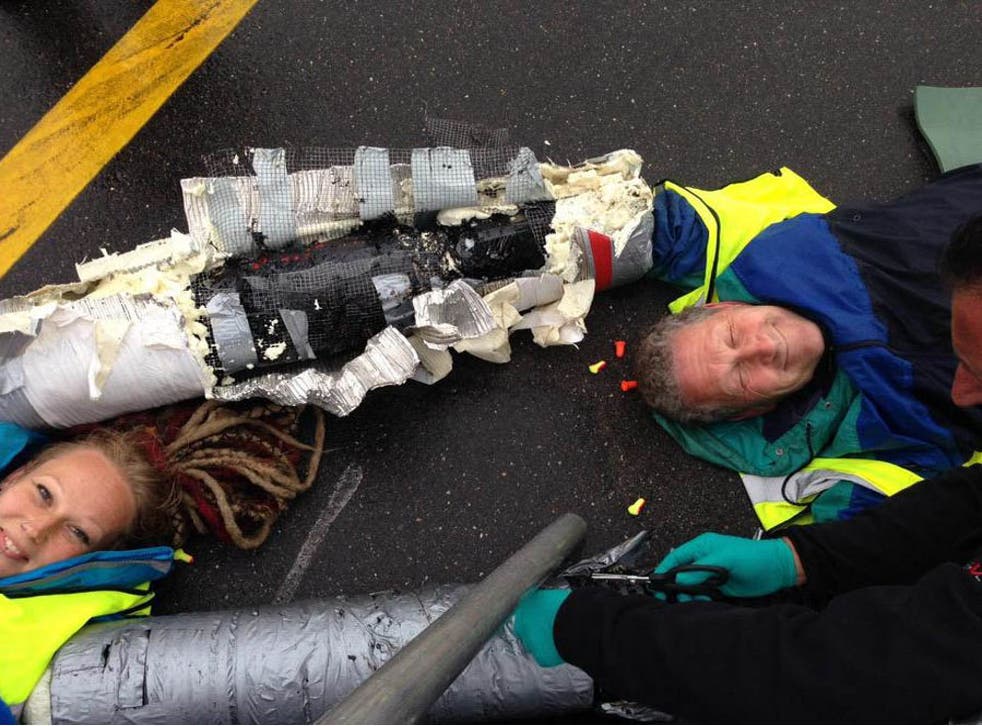 As you're reading this I am sitting in a police cell. I was one of the 12 people from Plane Stupid who were responsible for breaking onto the runway yesterday morning at Heathrow Airport and holding up flights.
The reason we decided to take what might seem like such extreme action is quite simple: we cannot build anymore new airport runways if we are serious about averting climate catastrophe. This action was a message to the Government who now have to make a decision based on a public debate that until now has virtually ignored the climate change implications. Heathrow versus Gatwick? We can't expand either if we still remain serious about stopping climate change.
We apologise to those passengers who have been inconvenienced today and we know the action we took this morning won't be popular with everyone. However, the long-term climate change consequences of building another runway is surely of greater concern here. Aviation remains the fasting growing source of emissions, so at exactly the time when we need to be reducing our carbon emissions – building another runway is clearly the wrong way to go.
Some people flying out of Heathrow today will have been taking their only flight this year or their first flight in a long time. However, the statistics are clear - 15 per cent of the population take 70 per cent of all flights which means that it's rich frequent flyers who are taking the majority of the flights and burning the planet. What this also does is push up the demand for expansion. To address this we must begin talking again about the need to fly less – in a country that already flies more than nearly any other country per head.
Over the last few years, the aviation industry has managed to convince the general public that we have an airport capacity crisis. This is a myth. Most airports are underused and business flights are declining. The only journeys on the increase are leisure flights which clearly need to be taxed properly so that the environmental cost of flying is factored into the price of the ticket. One way of doing this could be to introduce a 'frequent flyer tax'.
Furthermore, nine of the ten most popular destinations out of Heathrow are short-haul flights, including to destinations such as Paris and Manchester. If these flights were moved over to existing rail alternatives then Heathrow's capacity problems would disappear overnight.
I would prefer not to have been arrested today and I'm all too aware that I could end up being sent to prison for this action, but when the aviation industry can splash £3million on advertising to argue for unnecessary runways, sometimes we have to take bold actions to make our voices heard.
Building new runways isn't for the masses and it will only benefit rich frequent flyers and the aviation industry who continue to enjoy huge tax exemptions and pay no VAT. This represents an estimated an €27 billion shortfall to Europe each year. In times of austerity, we must ask ourselves - why are we propping up a highly polluting industry in a time of looming climate crisis?
The protest today isn't about saying we can never go on holiday by plane – it's about what's necessary and unnecessary in a world threatened by climate change.
Lastly, a direct message to the Government and the aviation industry: we want to be clear that the anti-airport expansion movement is back and we're here to stay. "No, ifs, no buts, no third runway". We mean it.
Join our new commenting forum
Join thought-provoking conversations, follow other Independent readers and see their replies