Here's a way to make the English National Opera truly national
Cheap tickets and touring could solve the crisis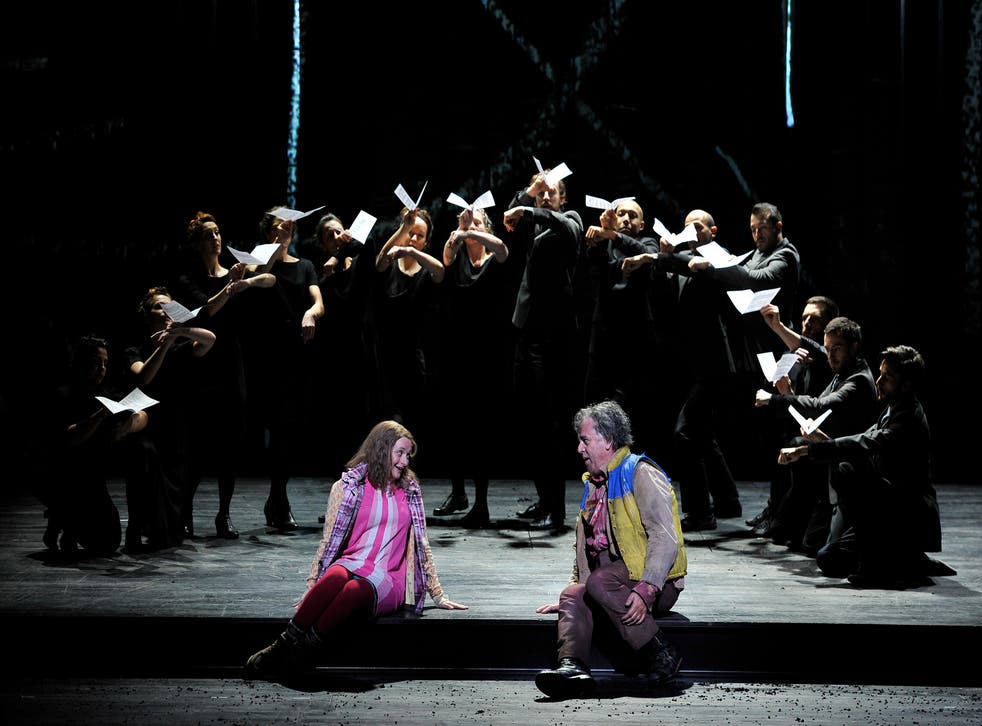 A worrying footnote in the history of opera took place this week. It occurred in the English National Opera's production of The Magic Flute. In one scene, Sarastro should appeal to his assembled Masons for their support in solving the problem of Tamino's future, but instead he turned to the audience. In a twist that Mozart would not have foreseen, but one that the mischievous composer might have relished, the cast and director had clearly decided to forget the masonic overtones of the plot and make this moment a cry for help for English National Opera itself.
After weeks, no make that months, no make that years, of recurring financial crises and endless changes in top personnel, this week the chorus, threatened with what they have interpreted as redundancies and a 25 per cent pay cut, held a mass meeting and threatened to strike.
The new chief executive, management consultant Cressida Pollock, who still uses the vocabulary of her former employer McKinsey, and refers to this renowned and brilliant opera company as the "brand" and the "business", announced on the company website that ways were needed to "remodel the business" to weather a £5m cut from the core Arts Council grant.
In a statement that begs a lot of questions, she talked of "producing different work, performing in different spaces, reducing our main stage season at the London Coliseum, producing more work in and outside of London," and, with another nod to the opaque but threatening language of management consultancy, "work towards a solution with the ENO chorus which would see them maintained as a permanent ensemble but with a greater degree of flexibility in their contracts."
If I were a member of the chorus I'd be very afraid.
As I say, it begs a lot of question. For a start, where "in and outside of London" will they now be performing? But I would suggest another solution altogether. Instead of accepting the Arts Council's savage cut to such a great company, the company must, to use a Cressida Pollock word, 'rebrand' itself as "The People's Opera", stop the self-defeating ticket price rises of recent years, and have no seats above £50. Then, in the summer months, when it lets out the Coliseum to other companies, instead of ceasing to perform, it should tour the country (and incidentally thus become the first national company to do so).
What an irresistible case it would have then to get its £5m (and more) back from the Arts Council. It would be the company that brought opera to the people at affordable prices, and that actually leaves London to tour the country. It really would be an English National Opera.
Why must it be never on a Sunday at the National Theatre?
The National Theatre's artistic director Rufus Norris has announced an interesting new season. I'm particularly looking forward to Another World: Losing Our Children to Islamic State, a play exploring why British teenage girls go and join Isis. It's what theatre should be doing, casting light on the most disturbing issues of the moment. I just regret that I won't be able to see it on a Sunday. For, Mr Norris has also announced that he is discontinuing the initiative of his predecessor, Sir Nicholas Hytner, to have shows on Sundays. I always supported this as it's a good time to get families to the theatre, and there's also the point that parking is easy and usually free. The National says that Sunday audiences have not been huge. But I wonder how many people knew about it. I don't recall the sides of buses advertising Sunday opening at the National, or even posters on the Tube proclaiming it. People will come, but they have to know about it first.
Remembering the bold, blunt Sam Wanamaker
Practising what I preach, I did go to the theatre last Sunday. I went to see Dame Eileen Atkins performing her one woman show at the atmospheric, candlelit Sam Wanamaker Playhouse at Shakespeare's Globe. Dame Eileen played a number of Shakespeare's heroines in a dazzling tour de force. But being there also reminded me of the time I met the late Sam Wanamaker, as he was realising his dream of setting up the Globe, We had both just seen the film of Hamlet with Mel Gibson and Helena Bonham Carter. "Helena's Ophelia has really got balls," he told me. He was not just a theatre visionary, but a believer in robust, no-nonsense literary criticism, which we could do with more of.
d.lister@independent.co.uk/twitter@davidlister1
Join our new commenting forum
Join thought-provoking conversations, follow other Independent readers and see their replies