How popular is foreign aid spending? It depends how you ask the question
A new poll suggests that UKIP may be wrong to claim aid is unpopular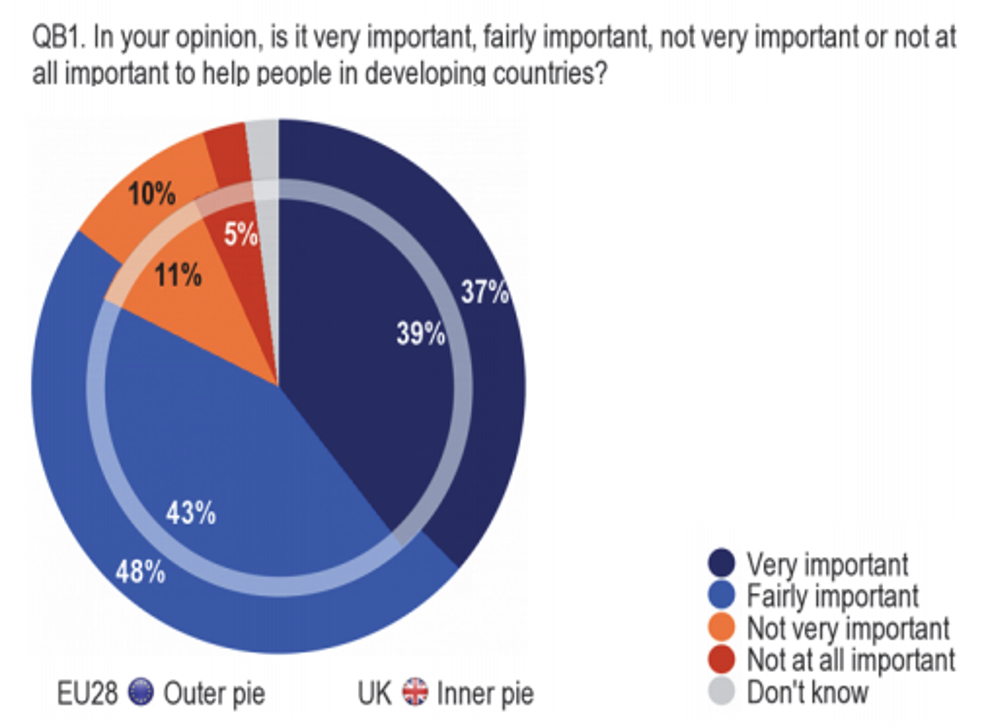 One of the "common-sense" so-called facts of Ukip propaganda is that the British public think the country spends too much on foreign aid – and that the promise to continue to spend 0.7 per cent of our national income on aid has been foisted on us by an out-of-touch, politically correct elite.
In fact, two thirds of British people think we should increase our foreign aid budget, a Eurobarometer poll carried out for the European Commission has found.
In survey results released exclusively to The Independent, the poll found that 67 per cent of people in the UK said that "we should keep our promise to increase aid to developing countries" (54 per cent), or that "we should increase aid to developing countries beyond what is already promised" (13 per cent).
This represents a rise in total support for increasing aid from 60 per cent in 2013.
The UK Independence Party often claims that spending on development aid is unpopular and quotes opinion polls suggesting that people want to cut it. Mark Reckless, for example, said in the House of Commons on 5 December:
"Right hon. and hon. Members would do well to realise that the extent of the disconnect between what they want to do and what their constituents want is nowhere higher than in the area of overseas aid. The most recent poll I have seen was conducted by YouGov. On the question of whether we should increase or decrease our overseas aid, 66% said we should decrease it, and only 7% said we should increase it. In this House, however, the ratio of support seems to be even stronger in the other direction, with Members simply ignoring what their constituents want to see happening in this area."
The Eurobarometer survey suggests that public opinion is more complicated than this, and that support for the aid budget depends greatly on the wording of the question.
In the pie chart above, an overwhelming majority (82 per cent) of British people agree that it is "very" or "fairly" "important to help people in developing countries". Contrary to the YouGov survey, it does not show sharp differences between attitudes in Britain and elsewhere in the EU.
And if the question about increasing or reducing aid is framed in terms of keeping, going beyond or breaking existing promises on aid, the answers are rather different from those given to questions in a vacuum.
Ben Jackson, Chief Executive of Bond, which represents UK relief and development charities, said: "British public opinion is often assumed to be hostile to development aid but this survey shows that we are a more generous nation than some people think. We witness the public support represented in this survey daily in our work.
"The bottom line is that ordinary people want politicians to continue to keep our development aid promise to poorer countries."
Eurobarometer interviewed 1,343 UK adults face to face between 13 and 22 September 2014, as part of a survey of 28,000 people throughout the EU.
Join our new commenting forum
Join thought-provoking conversations, follow other Independent readers and see their replies