How rent-a-mob jihadis are tormenting a benighted Christian minority in Bashar al-Assad's Syria
A Tory MP says the West has failed its Christian friends under a brutal regime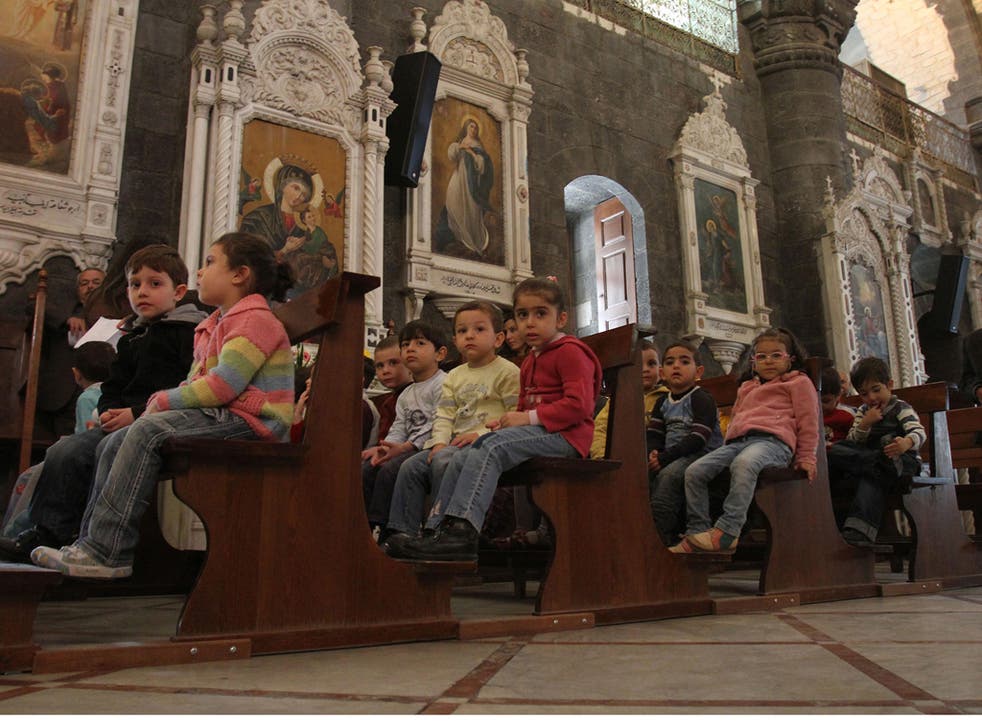 In January 1945, my mother, too young even for school, joined millions of other ethnic Germans fleeing westwards from Breslau as the Red Army advanced. My forefathers had lived in this region of Silesia (German since 1242) for at least nine generations that I know of. The forced repatriation - a process that might now be called ethnic cleansing - of my mother's family and millions of other civilians from groups whose nationality would in future be inextricably linked to their ethnicity, was largely overlooked in the euphoria that swept the world at the end of World War II.
They never returned.
Now we are witnessing another wave of civilian displacement in the Middle East with hundreds of thousands of Christians being forced to flee as they are banished from their 2,000 year old homelands in today's remarkable surge in Arabian people power.
Their fate has been largely forgotten as the global media attention has moved on from Egypt and Libya and encamped in Syria to watch the terrible bloodshed in Damascus, Houla, Aleppo and Homs. Innocent people on all sides are enduring awful hardship, death and torture; civil war does not discriminate between young and old, rich or poor. In the ghastly bloodletting we are now seeing, no one seems safe from the prospect of sudden death and destruction of property.
Desperation
Yet for the two million plus Syrian followers of Christ, whose lineage goes back 2000 years to St Paul's proselytising in the first century AD, these are especially desperate times. Ethnic cleansing is an ugly phrase, but that's just what is going on right now for Christians in Syria. The unspeakable truth now is that the sizeable Christian communities in war-torn Syria are at greater threat of ethnic cleansing from their ancestral homes than has been the case for generations – often at the hands of the self-styled freedom fighters so feted by the Western press.
These fighters, increasingly rent-a-mob Jihadists with no real stake in the affairs of Damascus, do not see the enclaves of Christians as genial neighbours who they have lived alongside for centuries, as many Syrian rebels do. It is true religious minorities often find their most assured protection under dictatorships. It pays not to rock the status quo.
But to use this as a reason to attack them, destroy ancient churches and hold them to ransom seems a convenient excuse. The Jihadists simply see them as representing an infidel faith and have turned their attentions on them in a way that was so much rarer for the Syrian-based rebels. Syria's Christians, who make up less than 10 per cent of the estimated 23 million population, include Greek Orthodox, Syriac Orthodox, Maronite and Melkite Greek Catholic faithful.
Already thousands have left, part of a larger tide of displaced Syrians escaping the conflict in which opposition groups say 27,000 people have died. In the Homs area 80,000 have fled as churches and community centres have been targeted, defaced, and their religious icons stolen. Whilst it is true that some Christians have held prominent positions under Assad they have also taken leading roles in the political opposition to Assad's rule, there are other Christians, like George Sabra, who ran for presidency of the opposition Syrian National Council, who have been staunchly anti-Assad.
The Iraqi example
These Christians are now abroad, staying with friends, in gardens or in churches in Lebanon, in Turkey, anywhere out of the firing line. Some have resorted to taking the Government's side and bearing arms, a move anathema to them throughout history. What my Syrian Christian constituents fear is that once gone, there will be no coming back. A rebel victory and a harder Islamist regime, may very well not want the return of a pluralist society, with Christians living alongside Shiite and Sunni Muslims as they have since biblical times.
Events in Iraq provide us with a timely example. Amidst savage bloodletting between Sunnis and Shiites in the aftermath of the US-led invasion of Iraq in 2003, the story of Iraq's Christian population is one that is rarely told. But since the invasion it is estimated that half their number has desperately been driven to exile outside the country.
Some 330,000 Iraqi Christians fled in the past decade to Syria alone - and are now fleeing again. Others have found safe haven in Jordan and naturally some have come to these shores, including to my constituency, the Cities of London and Westminster. Under Saddam Hussein, some Christians had risen to the top of politics, most notably Tariq Aziz, Hussein's Deputy Prime Minister. Yet since the dictator's fall, violence against the Christian minority, who were often associated with the "crusading invaders", has included kidnappings, the beheading of a priest, the bombing of ancient churches and forced conversion to Islam.
This is the backdrop to the fate that I fear will within a decade or so befall the long established Christian population in this region.
The West must act now to protect the Christians of Syria, Egypt and Iraq and make sure religious freedoms for Christians are enshrined in the laws of any future new regimes if we wish to avoid a similar scale of civilian displacement. And we must ensure that the banishment from their homelands of Middle Eastern Christians over the years ahead is not a dark derivative of the Middle Eastern uprising.
Join our new commenting forum
Join thought-provoking conversations, follow other Independent readers and see their replies