I'm calling on the Government to ban food waste because no-one should be starving in the UK
With food bank visits at an all-time high, the amount supermarkets are throwing away is appalling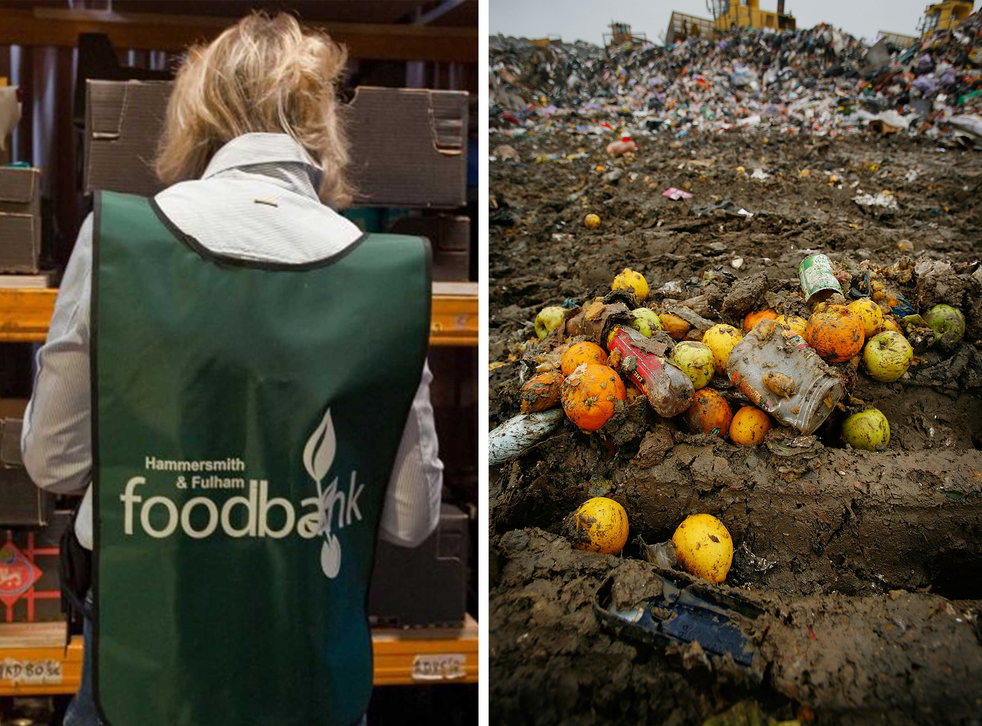 It's impossible not to notice the ever-increasing number of people in the UK being forced to rely on food banks because they simply cannot make ends meet.
The banks do such an important job, but for some time now, I've thought that more could be done to reduce food waste and redistribute perfectly acceptable perishables to those most in need.
After reading about the bill being passed in France to force supermarkets to give their unsold but still consumable food products to at least one food charity, I decided that I'd try to do something for us here in the UK. For while we may be separated by the Channel, our problems with waste are very much the same. For example, two years ago Tesco announced that it had generated almost 30,000 tonnes of food waste over just six months. Just imagine what it must be like for all the supermarkets combined – not even taking into account the reported 7m tonnes of food and drink we throw away from our homes every year.
I grew up in the 1980's and seeing television footage of starving orphans in Ethiopia, juxtaposed with footage of mountains of food waste all over Europe appalled me. I've been passionate about thrifty and frugal use of foodstuffs in my own life ever since.
In light of the successful French campaign to cut waste, I started a petition in the UK hoping that it may eventually make it to a debate in Parliament. I needed to get 100,000 signatures for this to happen. It's now got over 150,000, and has been popping up all over the world, across the press and social media.
There are two main threads to my campaign. First of all, I believe that supermarkets should be legally obliged to hand over all unsold but still edible foods to various food distribution charities instead of it going straight to landfill. On top of this, supermarkets should also be encouraged to offer a service whereby customers can opt in for voluntary weekly donations (a small sum, around £2) when they buy their groceries online. Delivery vans could then drop much needed perishables to people on the delivery route who are housebound.
In pictures: Food banks

Show all 9
I'm passionate about making this happen because a few years ago I fell on hard luck myself. I lost my job through no fault of my own due to a chronic illness. My health would have improved immeasurably had I been able to afford fresh, healthy, fruit and vegetables.
If a scheme whereby these life-giving items were available to me for free had been provided back then, I would have been spared the constant choice of eating properly or paying the ever-mounting bills. I was incredibly lucky that I had friends and family to bail me out and buy me a few groceries during the bleakest of times, but so many others are just not as fortunate.
Now that I am well enough to support myself again, I don't want anyone else to experience the hell I went through. The food is THERE and it's perfectly good and nourishing. There are so many people who need it right now, despite what the government might try to make you believe.
So what are we waiting for? France has already proven that this can work. So I'm asking for Parliament to take this campaign seriously and rush through a change in the law as soon as possible, before anyone else in the UK starves needlessly.
To sign the petition go to: http://you.38degrees.org.uk/petitions/make-supermarkets-hand-over-all-unsold-food-to-charities
Join our new commenting forum
Join thought-provoking conversations, follow other Independent readers and see their replies