'I'm gonna kill this lot', and other things a police officer shouldn't be saying during a protest
One young protester has stood up to a bully in uniform. But we cannot be satisfied with the outcome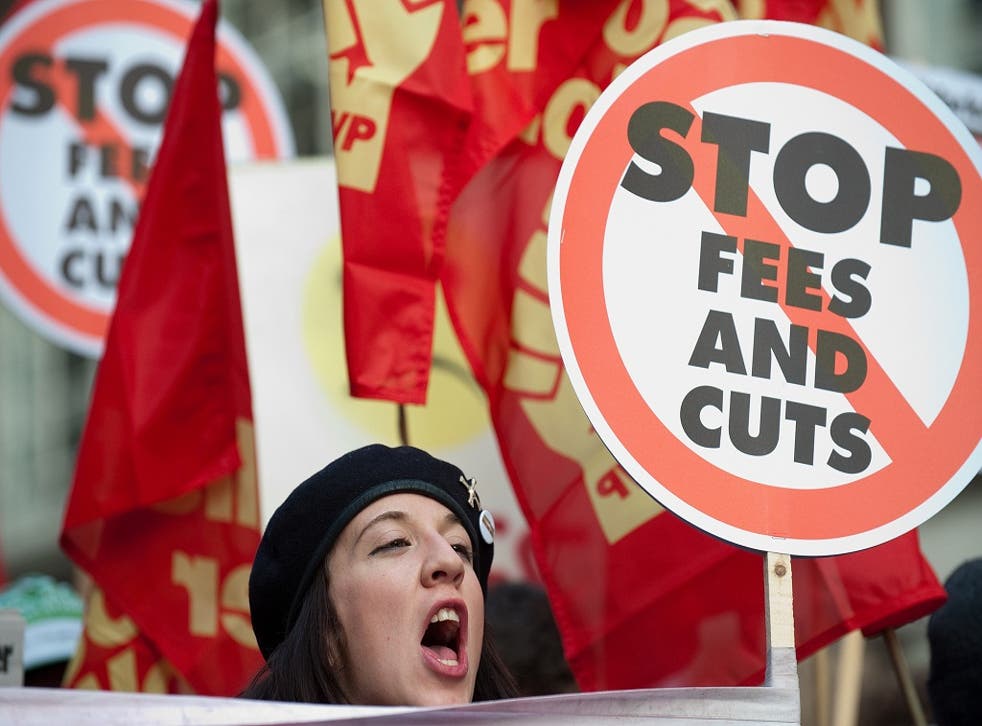 This week's conviction of a police officer for assaulting a student protester – after he smashed his tooth with a riot shield – is a rare but important achievement for anyone concerned about police violence and our right to protest.
Almost five years on from the mass protests against the tripling of fees on 9th December 2010, this is the first criminal case against the police. A jury found PC Ott guilty of causing actual bodily harm to William Horner, but not guilty along with PC Lyndsay and PC Barnes, of conspiracy to pervert the course of justice.
It is unlikely the case would have reached court had it not been for a crucial audio recording taken from the device PC Ott was wearing but thought was broken; or the testimony of an independent witness who happened to be on her way to work at Parliament when she saw the unprovoked police violence and gave her details to a legal observer. Even then the initial decision of the CPS not to prosecute had to be challenged.
"I'm gonna kill this little lot," and "[I] clouted a few, just to get a bit of justice back," were just some of the disturbing comments made by PC Ott. "Red Bull's kicked in…. I'll fucking let some people have it as well," he said in the moments before he assaulted William Horner, who had tried to escape a police kettle.
The device continued to record an exchange between PC Ott and other officers after he realised he had broken William Horner's tooth. "Ideally I want him nicked for something," said Ott, "if he's here he's playing up anyway". "What happened, I forgot to tell you," PC Lyndsay said, "he said I'm gonna smash that building up." "Cheers, covers everyone's, cheers boys thanks for doing that, that's good." Ott replied. William Horning was arrested for criminal damage but no further action was taken. The Crown's case that this amounted to fabricating a reason for arrest was not upheld by the jury.
The charging of students who suffered abuse at the hands of the police will, however, come as no surprise to those who followed the trials of students.
Two students accused of pulling a police officer off his horse turned out to be victims: the police officer in question had slipped off his saddle while pulling one of the protesters hair. Alfie Meadows, who sustained a serious head injury from a police baton, was charged and tried three times for violent disorder but acquitted unanimously by a jury.
Most of the 27 charges of violent disorder brought against protesters did not stand up in court: 14 of the 15 who pled not guilty were acquitted, three other cases were dropped and three more reduced to lesser charges. The Met's records show that many more protesters (67) than police (22) were injured on that day.
Despite this, the picture painted by the defendants and police witnesses of the "most violent" day in their years of policing, dominated the trial.
Protesters who were mistreated by police that day will be glad that one young protester stood up to a bully in uniform. However we cannot be satisfied with the outcome.
While the public will draw their own opinion of the audio recording, the need for a proper accounting of those in charge of this dangerous policing operation remains.
Others must be scrutinised. The media which published wanted posters of innocent protesters; politicians, who demanded the "full force of the law" be bought down on these "feral" youth; the Independent Police Complaints Commission, which failed even to fully uphold the complaint of Jody McIntyre, dragged from his wheelchair by police; and the Crown Prosecution Service, which prosecuted many flimsy cases against protesters but was extremely reluctant to pursue this case.
Following the death of Ian Tomlinson during the 2009 G20 protests promises were made to "restore" "policing by consent". In reality, the use of "kettle"' and baton strikes against people expressing their anger at the City in the wake of the economic crash, has set the tone for the increasingly aggressive policing of protests.
Following the protests that greeted Cameron's election victory the Daily Mail immediately warned of a "summer of thuggery", anticipating a wave of resistance to further cuts. Meanwhile justice minister Michael Gove is preparing to scrap the Human Rights Act which will further restrict peoples' ability to contest state abuses. With the Police Federation warning that cuts to the force will lead to a "paramilitary" style of policing it would seem that the government is seeking to ensure that "everyone is covered."
If the casual police violence and criminalisation of protest at the heart of this case are to be reversed a more fundamental challenge to this long term erosion of our civil liberties will need to be mounted. Summer of thuggery? Protesters have already endured five years of this at the hands of police.
Hannah Dee is Chair of Defend the Right to Protest
Join our new commenting forum
Join thought-provoking conversations, follow other Independent readers and see their replies