I'm suspicious of words like 'tradition', precisely because they carry a dead weight of expectation
Tories on the right regard David Cameron as modern, but wearing shorts is not enough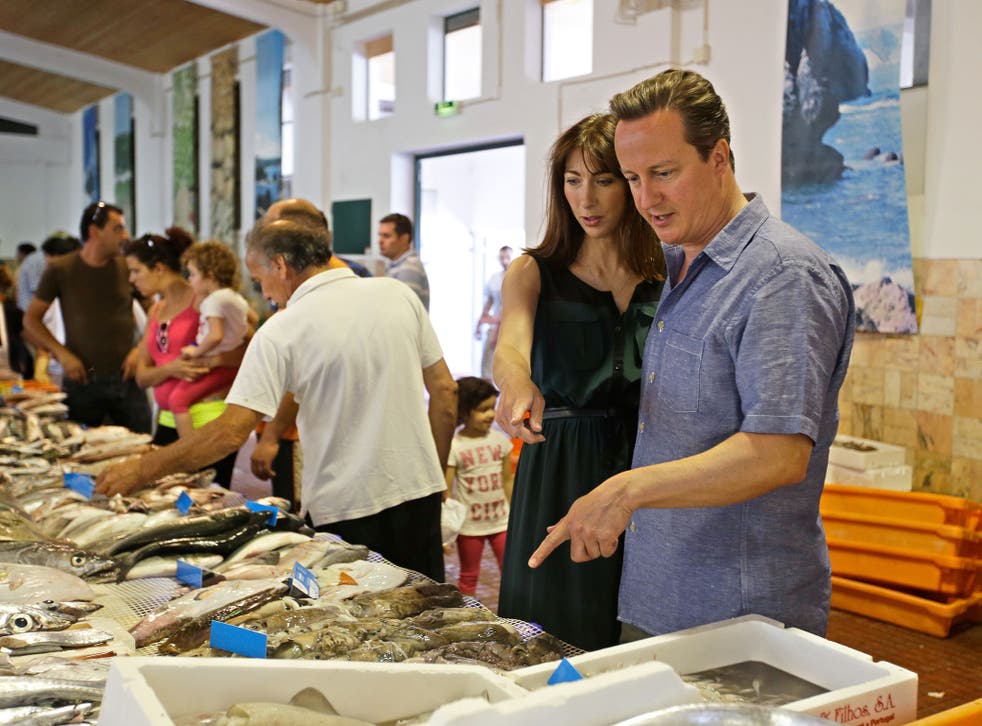 I have always felt peeved on behalf of the Lady of Shalott. In Tennyson's poem, she is shut in a tower, forbidden to look out of the window and expected to spend her life doing tapestry; she is also under a mysterious curse, which is absolutely the worst sort in my view. So it's a little disappointing, to say the least, that a painting of the Lady of Shalott floating to her death has come top of a poll to find the country's most popular paintings. From tomorrow, the picture by John William Waterhouse will appear on office buildings, shops and metro stations, as well as on the sides of buses and black cabs. It's part of the admirable Art Everywhere project, which will put 57 works of art on show at 22,000 sites up and down the country.
I don't know what it is about doomed women and water, but number two in the popular vote is another picture I can't stand, John Everett Millais's drippy (in all senses) Ophelia. I suppose it's further evidence of the British public's enduring love affair with the Pre-Raphaelite Brotherhood, an enthusiasm which seems to me inexcusable in anyone who isn't a 14-year-old girl. Tennyson's poems were a favourite subject of the Pre-Raphaelites, who adored all that Arthurian nonsense about knights, ladies and unrequited love.
I don't know if the Tory MP Jacob Rees-Mogg is a fan of Tennyson, but in May he was the guest speaker at a dinner organised by something called the Traditional Britain Group, whose members describe themselves as "traditional Conservatives" who go in for "radical thinking". In fact, judging by the list of things they dislike, they're humourless right-wingers with an inflated sense of self-importance. Look at their mission statement: "With courage, pride and determination, the Traditional Britain Group says, 'No more! The ancient traditions, peoples and beliefs of these isles are worth preserving. There is an alternative for Britain. The fight back begins now!'"
Why Rees-Mogg agreed to speak to this bunch of fruitcakes, who boast about their loathing of equality, socialism, political correctness, multiculturalism and "cultural-Marxist legislation", I cannot imagine. But it's rebounded on him after the group's Facebook page made offensive remarks about Doreen Lawrence, mother of the murdered teenager, and called for millions of people to be asked "to return to their natural homelands". On Friday, Rees-Mogg admitted he had made a mistake by attending the event, saying he was shocked by the views of the group's vice-president, Gregory Lauder-Frost.
It's weird that these risibly anti-modern movements pop up time and again in this country, and weirder that more or less mainstream politicians are willing to be associated with them. They have in common a hankering after a past that either never existed or was organised solely for the benefit of upper-middle-class white men. There isn't a single woman among the right-wing thinkers on the Traditional Britain Group's website. Indeed most of the thinkers are dead, with the exception of my friend Simon Heffer who was guest speaker at a dinner a few years ago. The impression that they're a bunch of whining posh blokes is deliciously confirmed by the CV of their president, Merlin Charles Sainthill Hanbury-Tracey, 7th Baron Sudeley, an Old Etonian who used to chair the Monday Club and is vice-chancellor of the International Monarchist League.
Class is still an issue in modern Britain but it's nothing like as rigid as in the Victorian or the Edwardian periods, when people were stuck in the class they were born in. Social mobility is one of the best things to come out of the 20th century and I'm suspicious of words like "tradition", precisely because they carry a dead weight of expectation. It was traditional in my father's family for the men to go down the pit, a job so dreadful that my grandfather swore none of his sons would follow in his footsteps. It was traditional for the women in my mother's family to go into domestic service, which is how my mother became a live-in servant when she left school at 14. My ancestors led incredibly hard lives and I'm thrilled that we no longer live in a culture which imposes low expectations on millions.
The joke is that "traditional" Conservatives on the right wing of the party regard David Cameron as dangerously modern, mistaking style for substance. There's more to modernity than wearing shorts and holidaying in Ibiza, and the prime minister is shamelessly dismantling fine institutions created after the Second World War. In that sense, he reminds me of the Pre-Raphaelite painters, whose chocolate-box sentimentality concealed a streak of ruthlessness.
When you see Ophelia, think of this: the model, Lizzie Siddal, almost died after posing for hours in a tin bath and the oil lamps that were supposed to keep the water warm went out. Later, her lover, the poet and painter Dante Gabriel Rossetti, was so stricken by grief when she died that he buried the only copy of his poems in her grave. Seven years on, in 1869, he had second thoughts and dug her up. Perhaps traditional Britain wasn't such a nice place, after all.
Join our new commenting forum
Join thought-provoking conversations, follow other Independent readers and see their replies