I would have stood shoulder to shoulder with the Suffragettes
A century on, the battle for equality still rages, says the writer of a new sitcom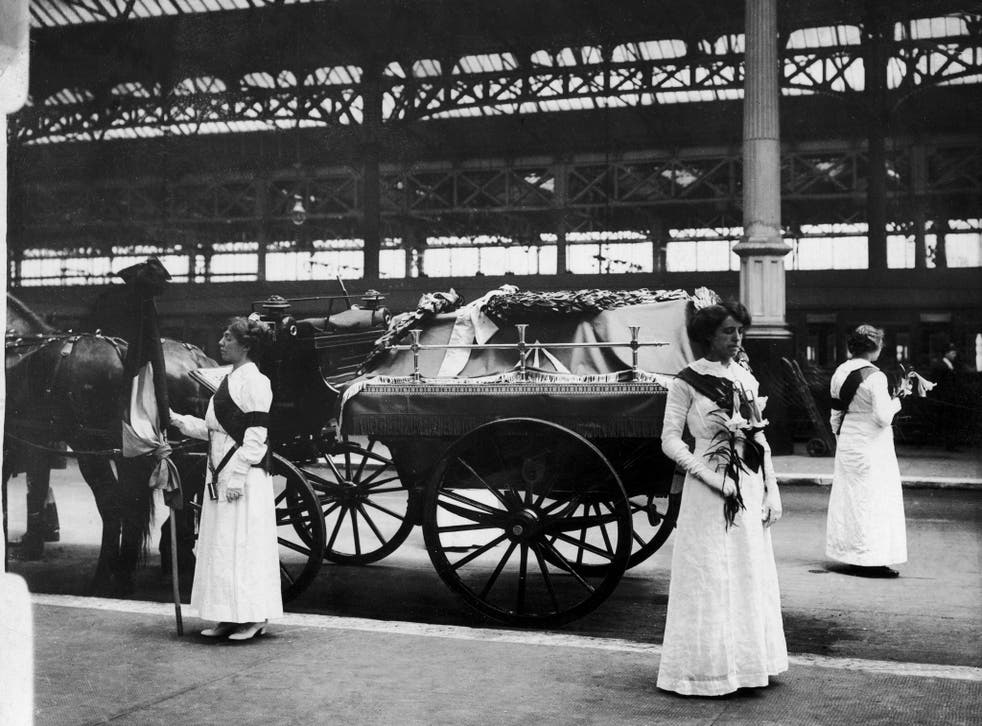 It was a picture in a newspaper that started it. There was this band of rather unlikely looking women– ordinary, slightly dishevelled. They certainly didn't look like radicals, or murderers. But as the article related, these women had plotted to kill the then prime minister, Herbert Asquith, and their actions in campaigning for women's suffrage would change the course of history.
As we approach the 100th anniversary of the day Emily Wilding Davison walked in front King George V's racehorse, on 4 June 1913, it's important we don't forget what the Suffragettes achieved. That article, published only recently because of rules about the release of documents from the National Archive, prompted me to read everything I could about the Suffragette movement, and led me to write my latest sitcom.
It's called Up the Women, and is a three-part comedy about a group of hopeless parochial women who try, and fail, to become Suffragettes. My original plan had been to write a film; they used to meet in a disused shooting range under Oxford Street, and I came across lots of fascinating stories. But a serious film didn't really spark anyone's interest. Because I'm a comedian, I think humour was the only way I could get it out there.
The subject matter is obviously quite serious, so in my comedy the humour comes from the fact that they are failed Suffragettes. They live in the quiet town of Banbury, and none of them wants to make a fuss, but they realise there is something important in the suffrage movement.
The Suffragettes lived in a world in which they were unable to live and act freely, in which their worth and identity would be measured only by their abilities as a wife and mother. So they resolved to change the world. Davison was a first-class honours student in literature and science. She was prevented from studying at Oxford because women were not admitted, and completed her degree at a London university, supporting herself by working as a governess. She joined the Women's Social and Political Union in 1908, the year that Christabel Pankhurst, a first-class law graduate, who could not practise law because of her sex, first lashed out at a police officer – causing a media frenzy and putting the Suffragette movement on the map. Over the following two years, the movement gained enormous popularity through these publicity stunts. By 1910, the Government was actively suppressing coverage of many stories, including the attempted assassination of Asquith.
The frustration of the suffrage movement was that the liberal coalition refused to see women's votes as a human-rights issue. Lloyd George was reforming labour laws for the working man and trying to get landowners to pay tax. At a time when society was built on the adage "A woman's place is in the home", votes for them seemed like a waste of parliamentary time, but the Suffragettes would not give up, even when things got nasty.
During one protest outside Parliament, known as Black Friday, two women were beaten to death and 200 arrested. In a first-hand account, one woman describes how she was taunted, groped and thrown by policemen, and told to "get back to the sink". Reading this, I resolved to try and understand where the deep-rooted sexism in our society comes from and why women, one half of humanity, could be so devalued, disrespected and degraded. It convinced me that the Suffragette movement was inevitable and necessary; and had I been alive then I would have been standing shoulder to shoulder with them.
The most chilling aspect was reading all the anti-suffrage material that convinced people that women were not capable of choosing a prime minister; that they were intended for supplication to men. It was easy to see the parallels between this and the propaganda rhetoric that justified slavery for 400 years – the insidious, spurious "evidence" that suggested that African slaves were intellectually inferior and not capable of being self-determining men and women in society.
This kind of propaganda was used to brainwash women into believing that they were not intellectually or biologically built for a life of freedom; shockingly, the powerful anti-suffrage societies were often female-led. Today, we are faced with a society still riddled with the propaganda rhetoric of oppression, in which gender differences are fetishised and exaggerated, where intelligent young women in the public eye are routinely expected to pose like porn stars in men's magazines if they want to "get on". Instead of being valued and enjoyed for their wit, intelligence and talent, they are judged by their "tits" and "bed-ability". If Emily Wilding Davison were alive today, would she be in Nuts in her knickers under the title "Suffrage-tits!"? I think she would have told them where to get off.
'Up the Women' begins on BBC4 on Thursday
Join our new commenting forum
Join thought-provoking conversations, follow other Independent readers and see their replies