If the aim is to increase breastfeeding rates, mums should be supported, not scolded
UNICEF research shows that increased breastfeeding rates could save the NHS millions. So why wont the Government offer mothers some practical support?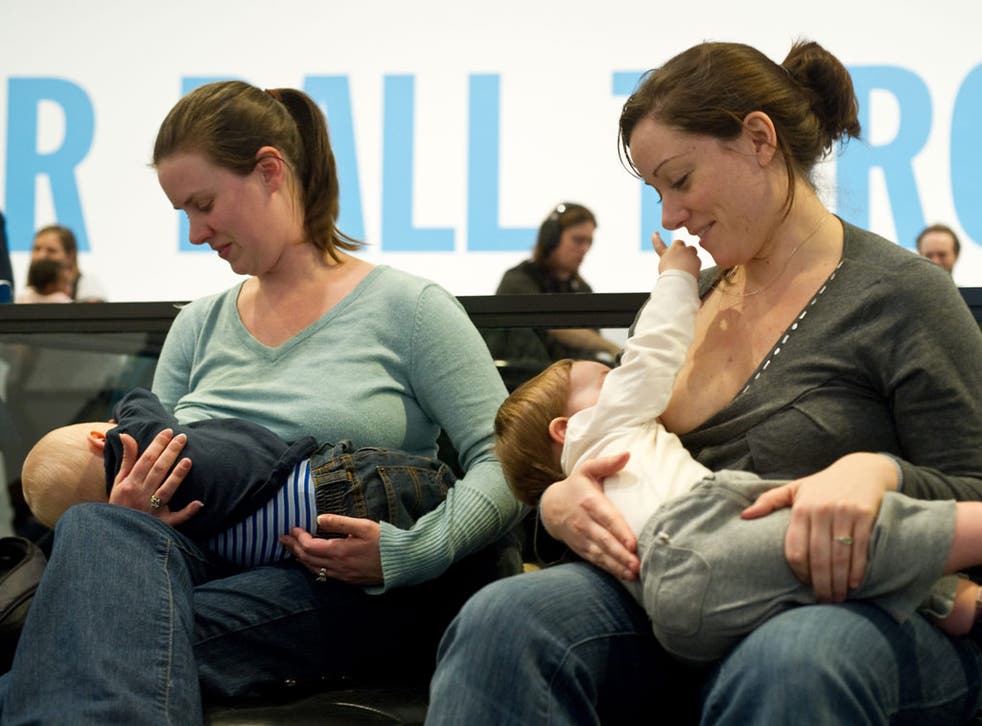 The research published today from UNICEF shows that low breastfeeding rates in the UK are costing the NHS millions of pounds. Just a moderate increase in breastfeeding rates could potentially see the NHS save £40m per year. This figure is estimated to be only the tip of the iceberg if the full range of conditions affected by breastfeeding were to be taken into account. With the benefits of breastfeeding being heavily promoted by health care professionals, why is the rate of breastfeeding in this country still low? Could it be that the overly pushy tone used by some health professionals is actually counterproductive?
The vast majority of people are now aware of the health benefits both to baby and mum. Society's view on breastfeeding is also slowly changing. But this still isn't enough. What mum's need is real support. So what can we do to change attitudes and help mum's not only start breastfeeding but maintain it as well?
There is a massive amount of pressure placed on new mums to breastfeed as part of being a 'good mum'. Sometimes, people lose sight of the fact that a happy mum equals a happy baby. Mandy Howard-Brown mum to three year old Dexter from Bristol said: "I know a lot of mums feel they should breastfeed and just do what's 'best' for baby and then end up causing themselves unnecessary upset and stress. There was a huge amount of pressure to solely breastfeed, though my first real experience of anti-bottle came from my midwife, when I asked her for advice on introducing bottles when Dex was 10 days old. She was horrified and simply said: "No, you shouldn't need to use bottles!" and then basically refused to help me."
If mothers are going to be successful with breastfeeding then they need to feel supported in their decisions and be provided with the necessary support from their healthcare professional. Mandy is not alone, Laura Kippax, mother of two from Southampton said: "When my child got colic at six weeks old, I convinced myself it was because I wasn't feeding him properly and I ended up giving him a bottle, despite my midwife telling me it was like: "Putting my baby under a cow's udder!" I was at the end of my tether and at 2am I was in floods of tears so I made up a bottle, and never breastfed him again."
Feeding in public is still an issue - if not the major issue - which puts mothers off breastfeeding. When I had my first baby, I didn't feel comfortable feeding 'on-the-go'. I would plan in advance where I could feed in private if we were going out and most of the time not leave the house until after a feed so I wouldn't have to do it in public. I would often seek out a mother and baby changing room a mile off, but even if I found one, feeding whilst sitting next to a smell nappy bin or in a public toilet is not a pleasant experience. My aversion to feeding in public was so severe that I would even breastfeed before going to a breastfeeding support group, rather than risk the embarrassment of people thinking I was doing it wrong. It doesn't help when mothers are asked to leave establishments just because they are feeding.
Midwife and International Board Certified Lactation Consultant, Jayne Threlfall said: "It's not enough to encourage mums to start breastfeeding, we have to help them continue for as long as they want to. One way we can do this is by helping mums to keep breastfeeding when they are out and about. The New Forest is about to launch the Breastfeeding Welcome scheme. All local businesses will be asked to sign up to the scheme and display the welcome sticker. We know from other areas that mothers welcome the scheme and are more likely to use cafes, restaurants and other venues if they see the welcome sign."
However, such welcome efforts remain unusual. Most healthcare professionals are overstretched and under-resourced, so it's hardly surprising that many mothers don't get the help they need. Couple that with competing with formula producers, who invest millions into marketing campaigns to promote their products and target new mothers, and breastfeeding advocates are faced with an uphill struggle.
The onus shouldn't just fall with the mother and healthcare providers. In straitened times, breastfeeding could effectively save the Goverments millions by easing the long-term pressure on the NHS, so why did the Department of Health withdraw the funding to support 'National Breastfeeding Awareness Week' this year?
UNICEF UK Deputy Executive Director, Anita Tiessen, said: "We want to see breastfeeding recognised as a major public health issue from government level through to local children's centres, and appropriate investment and legislation put in place to give mothers a better experience of breastfeeding. The good news for commissioners is that our research shows that money invested to help women breastfeed for longer would provide a rapid financial return."
There are so many reasons why breastfeeding rates are low in the UK, some mums, due to medical reasons simply can't breastfeed, some don't want to and some don't get the support they need in those first few weeks after the birth. Instead of apportioning blame, we need to look at what can be done and provide support, where support is so obviously needed.
Join our new commenting forum
Join thought-provoking conversations, follow other Independent readers and see their replies