International Day of Disabled People: Why isn't Iain Duncan Smith looking at the barriers that prevent disabled people from getting work?
The likelihood of a disabled person in the UK being unemployed is twice that of a non-disabled person.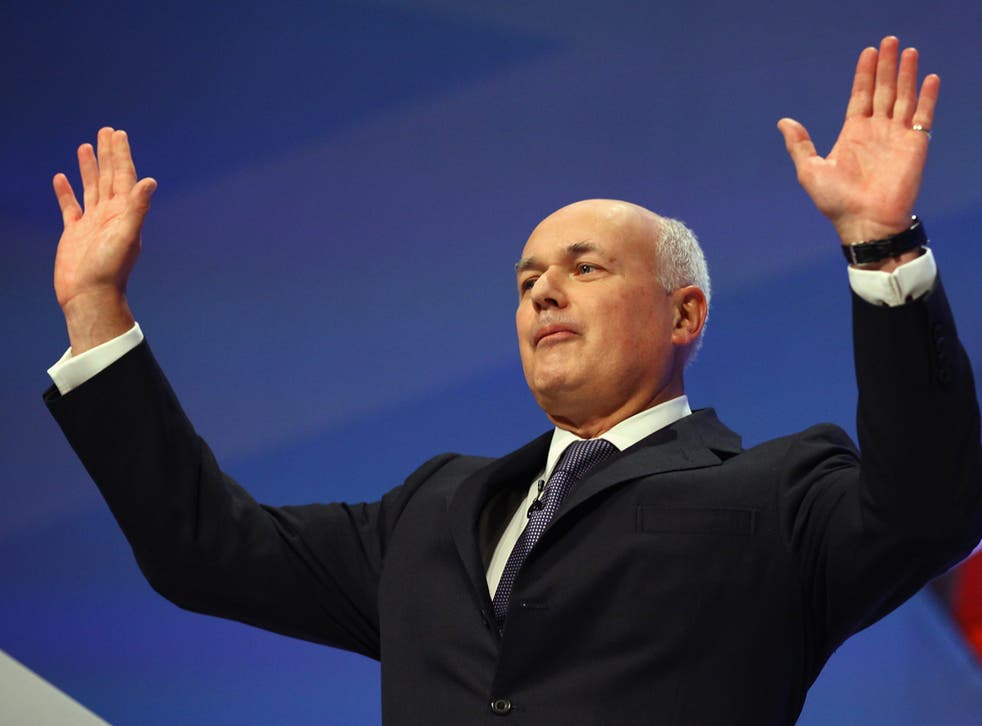 Iain Duncan-Smith showed his self-righteous side the other week, right at the very end of the BBC's Question Time.
When questioned by Owen Jones on the Government's welfare reforms for disabled people, he responded by blurting out:
"I didn't hear you screaming about 2.5 million people who were parked; nobody saw them for over ten years, not working, with no hope, no aspiration.  We are changing their lives. I am proud of doing that."
Whilst it is of course laudable for anyone to take pride in their work, the source of IDS' pride is highly questionable when it comes to getting disabled people into jobs, if recent statistics are to be believed.
First of all, according to the Organisation for Economic Co-operation and Development, the likelihood of a disabled person in the UK being unemployed is twice that of a non-disabled person.  Indeed their most recent official figures show that in the three months to June 2012, there were 554,000 unemployed disabled people, a 10.7% rise on the previous year and an 11,000 increase on the quarter.
Then there's the revelation that, as myself and others predicted, a mere 35 disabled workers  have found new jobs out of the 1,021 sacked from Remploy factories, despite ministerial promises and a £8 million scheme to help them back into work.  In addition, it was announced last week that only 3.5% of those referred to the Government's Work Programme found long-term jobs in the last 6 months, with it being particularly difficult to find jobs for disabled people on Employment and Support Allowance.
Today happens to be the United Nation's International Day of Disabled People, a day to focus on removing barriers to creating an inclusive and accessible society.  It would appear that the ConDem Government is marking this occasion by starting to allow private companies and jobcentres to force more than 300,000 disabled welfare claimants into unpaid work experience for an unspecified length of time.  Furthermore if they aren't up for a bit of legalised slave labour, they can be stripped of up to 70% of their benefits and forced to live on a mere £28.15 a week.
When faced with facts such as these, it is hard to see what exactly IDS has to feel so proud and self-righteous about?
Fundamental to all this is a lack of understanding on the part of the Government about what helps disabled people survive and thrive in employment.  The focus always seems to be on penalties and benefit cuts to force us into the job market, rather than tackling the systemic barriers that prevent disabled people from getting work.
None of the recent reforms address or for that matter acknowledge the discrimination faced by disabled people in the workplace.  Indeed measures like cutting funding to the Equality and Human Rights Commission and the recent erosion of employment rights (e.g. increasing the time before workers are protected from unfair dismissal from one year to two years) will probably ensure such discrimination goes unchallenged.  Many disabled people, including myself, rely on the soon-to-be-scrapped Disability Living Allowance to pay for essential support (e.g. an accessible Motability car) without which we couldn't work.  Long-term unemployed disabled people may not have qualifications or work experience, partly as a result of the special education system, and will need to attend training, volunteering and peer mentoring schemes before they are in a position to get paid work.
In short, nobody would refute IDS's claim on Question Time that he is "changing the lives" of disabled people in this country. 
But whether he's giving us "hope" and "aspiration" is another matter entirely.
Join our new commenting forum
Join thought-provoking conversations, follow other Independent readers and see their replies