Ireland gay marriage referendum: This isn't about religion or parenting. It's just about love
Strip away the paperwork and all we are left with is two people committing to a life together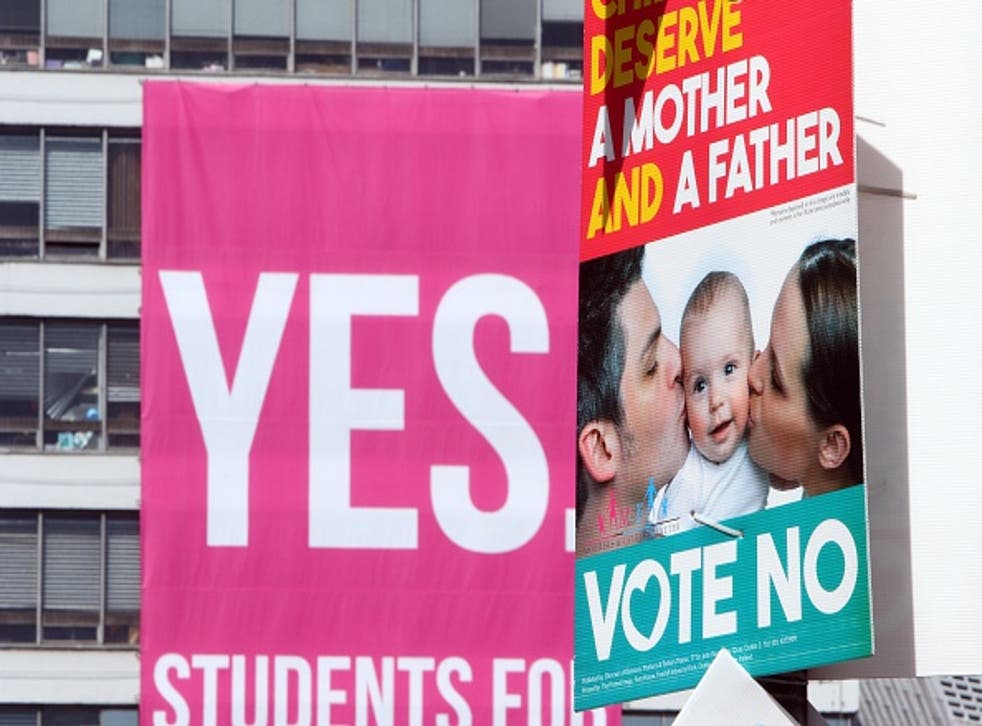 Arriving back from spending a week with my family in Tipperary, and with only days until the Marriage Referendum I felt like I needed to do something. On my visit I had that one of my uncles was voting "No." As a gay man, that was like taking a bullet. I had to say something. I propped my phone on a shelf and I talked to it. I'm no stranger to a selfie, but this was different. No humour this time, I didn't have time to be funny. I spoke to the phone, with the many faces of my family going through my head, notably my dear late mother's brothers and sisters.
On Tuesday evening I posted my three minute plea to Facebook, emploring people to vote "Yes", to think of me when making their vote. To give me a voice in the South. Amazing people shared it. My cousins across Ireland sent me words of support and love: typical of them. The sharing continued, and the messages from strangers helped me realise I had made the right decision to do this. I had hoped for a good response, but by that evening I had over ten thousand people hearing my appeal.
I can't exactly put my finger on why it have caused such a fuss. To me, I was doing a fundamental, simple thing. I'm based in Northern Ireland, where the idea of marriage equality resurfaces from time to time, only to be fogged over and reburied by people who genuinely believe they're doing God's work. The problem here is, God isn't registered to vote. Voices of reason are lost amidst the outbursts from Leviticus. The feeling of alienation for a man such as me causes me to look my to more accepting places in the world. The idea of one day settling down appeals to me and Northern Ireland isn't even an option, but Tipperary could be.
My mum met my dad, a Derry man whilst working in London. Moving back to Derry they had four children, with me being the "baby." My mum described me as eccentric from a young age. I blamed it on the Eighties, (didn't we all?) but I knew from very young that I was different. Prayer was a daily part of life and we'd kneel as a family every night. I was an altar server, and then joined the Folk Group in my Parish of St Brigid's.
So that is where I am today, a 30 year old man who considers himself a spiritual singer among other things. Being openly gay and welcome in my community is a huge blessing. I've never experienced homophobia within my Christian community, many of whom I consider family. Singing at Mass is one of my favourite parts of the week. It keeps me sane. My talent is a gift and I am grateful for it.
Inspirational quotes about LGBT rights

Show all 29
Among the dreams and aspirations I've set for myself, finding someone to share my life with is part of this vision. I see this vote in Ireland as being the opportunity of providing me and countless others with this dream. Is it a matter of religion? No. Is it fundamentally about parenting? No. It's just about love. Strip away the paperwork and religion and all we are left with is two people committing to a life together.
We in Ireland have the international reputation as being the friendliest people on the planet. A "Yes" decision will only cement this idea. To see equality overlooked on this historic day will be a huge blow to the heart of Hibernia. I pray for a second "Good Friday" and I'm hopeful the good Lord will deliver.
Join our new commenting forum
Join thought-provoking conversations, follow other Independent readers and see their replies