Isis supporters are on the streets of London — but the media needs to stop panicking
Pro-Isis leaflets being handed out on Oxford Street is a cause of concern, but ringing the alarm bells will only play into the extremists' hands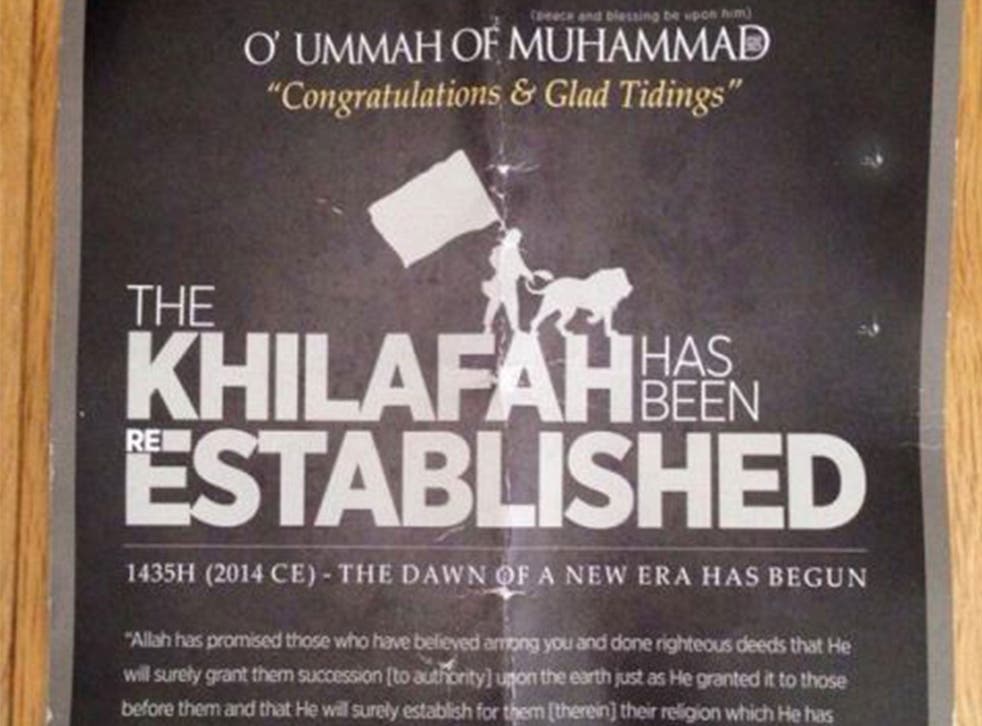 Probably the last thing that you'd expect walking down London's Oxford Street on a Wednesday afternoon is to be handed a flyer demanding that we fulfil our "responsibilities towards the success and spread of the Khilafah across the world".
Nevertheless, that's exactly what happened two days ago, when a small group of supporters for this most malevolent extremist group gathered outside of Topshop (of all places). There, they handed out flyers with impunity, challenged only by a few brave passersby who later reported that they had suffered verbal abuse and threats.
Contrary to what has been reported over the last few weeks, this seems to be the first recorded incident in which Islamic State (IS) propaganda has been circulated publicly: the recent warnings that the IS flag has flown over Poplar High Street and in the Blackwall Tunnel were both misreported.
That this is the first time, though, does not make it is any less significant. The fact that a jihadist group too violent for al-Qaeda has any support whatsoever in the UK is bad enough, but that they have the audacity to call upon people to migrate to Iraq to help a group that is threatening genocides on three fronts is totally unacceptable.
The content of the leaflet, which can be seen here, does not actively call for British Muslims to attack the government, nor does it support the killing of British civilians. However, its message is just as threatening. It lays out seven ways in which Muslims across the world are obligated to assist the "caliphate": by pledging allegiance to IS, obeying Baghdadi's commands, advising him if he does wrong, calling people to join IS, migrating to Iraq or Syria, educating people about the "caliphate" and exposing any lies about it. Note that Muslims are "obligated", not encouraged, to do these things.
Even if it does not call for terrorism in the UK, assisting IS in any way is tantamount to aiding and abetting genocide, there can be no question of that. While it is not totally obvious as to whether this sort of activity is considered illegal under the UK Terrorism Act 2006, a clear case could be made that it is.
How worried should we be, though? It certainly seems to have all of the main UK media outlets shaking in their boots. The fact is, though, that these antics are not surprising. Indeed, the media splash that this has made is exactly the desired effect: now, everyone is talking about IS in London.
However, the appearance of these leaflets does not necessarily mean that IS has a substantial presence in the UK, just as one black flag with Arabic writing on it flying in East London does not mean that al-Qaeda is here in force either. It is, therefore, important that coverage of such things is carefully considered and responsible.
In pictures: The rise of Isis

Show all 74
We should be less concerned by publicity stunts like this than we are by what is going on behind the scenes, where young, impressionable Britons are falling in with the wrong crowd and being pushed down the most rejectionist of paths. It is this latter branch of IS indoctrination that is responsible for pushing Britons to commit terrible war crimes. We, and the government, need to direct our utmost efforts towards tackling this more insidious IS activity, not a few crazies standing on the street in central London handing out misspelt guff.
It is imperative that we recognise that pouring media attention all over these leafleters is exactly what this stunt was about, so we should avoid giving them the desired effect and leave the security services to deal with the culprits, as they invariably will. In the meantime, we should re-double our efforts to tackle IS propaganda online and offer support to those vulnerable to extremist recruitment.
Join our new commenting forum
Join thought-provoking conversations, follow other Independent readers and see their replies