Letter from Asia: The battle for the truth behind five journalists' deaths in Indonesia
Indonesia has always insisted the so-called Balibo Five were killed in crossfire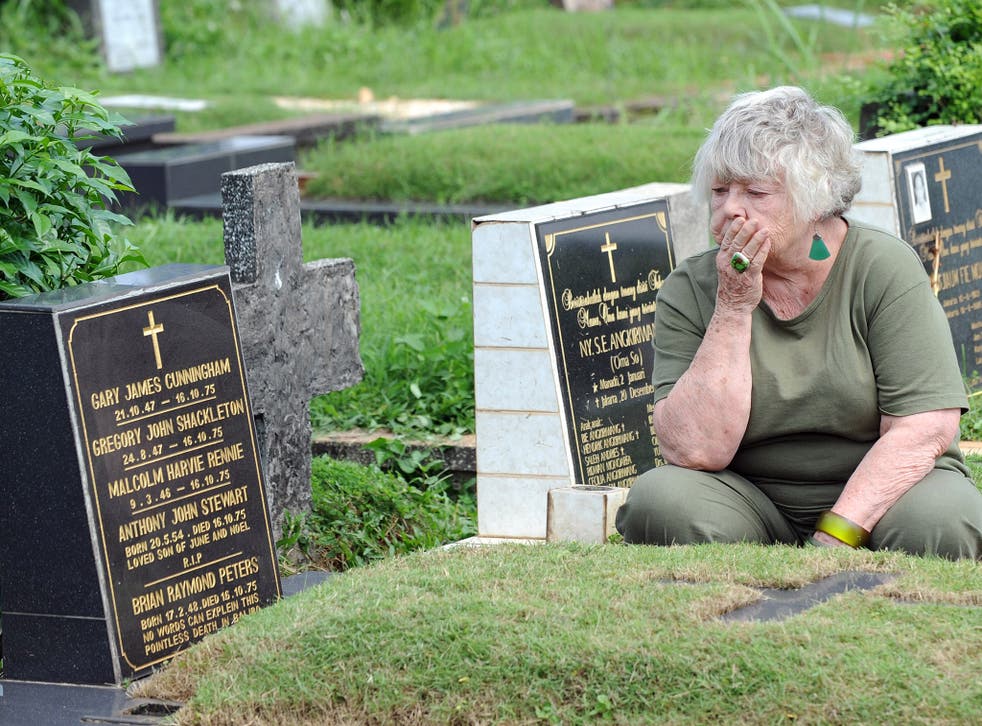 Over the years, Maureen Tolfree has grown used to the lies and obfuscation, the tiny steps of progress that are followed, invariably, by further setbacks. At the age of 69 she is not ready to be quiet, even though she is now in poor health.
She has invested much of her energy over the past two decades trying to secure justice for her brother, Brian Peters, one of five journalists murdered by Indonesian soldiers on October 16 1975, as the Asian nation prepared to invade East Timor. Another journalist who went to investigate the killings was also executed.
Indonesia has always insisted the so-called Balibo Five were killed in cross-fire. But after years of campaigning by Mrs Tolfree and other relatives, an Australian judge in 2007 ruled the journalists, who were working for two Australian television networks, were deliberately killed by Indonesian special forces to prevent news of the impending invasion from getting out.
The judge asked the Australian Federal Police (AFP) to investigate whether war crimes charges were applicable and if three senior Indonesian officers accused of ordering the killings, could be summoned.
Now, seven years on, the Australian police have now concluded that they are unable to progress with such charges.
"During the investigation the AFP identified challenges associated with establishing jurisdiction. The investigation continued in an effort to overcome those issues," the force said this week. "However, the AFP has concluded that there is currently insufficient evidence to prove an offence. As a result, the AFP has exhausted all inquiries in relation to this matter and will be taking no further action."
Mrs Tolfree believes her brother – along with fellow journalists Malcolm Rennie, 28, Gary Cunningham, 27, Gregory Shackleton, 29, and Anthony Stewart – have been let down by political and strategic considerations. There is widespread evidence the US, UK and Australia supported Indonesia taking charge of East Timor, at the time a Portuguese colony.
"I dispute that [finding]," she said from Bristol of the police's conclusion. "They have had the evidence since the coroner's inquest. I am disgusted, and I am sure the Australian people will be as well."
She said neither Australia, which has important energy deals with Jakarta, or the UK, which has maintained a close military relationship with Indonesia, wanted to rock the boat. The announcement that Australian police were dropping their investigation came a day after Prime Minister Tony Abbott attended the inauguration of Indonesian President Joko Widodo. "No-one ever wanted to upset the Indonesians," she said.
For years, Mrs Tolfree accepted the Indonesian claim that the men had been killed in crossfire. It was only in 1994 while listening to a documentary about claims the Indonesians had committed war crimes that she starting researching the background to the killings.
She said that documents show that Australia was aware of Indonesia's plan to invade the Portuguese territory, which finally gained independence in 2002. An estimated 100,000 people died during the Indonesian occupation.
Among those accused of taking part in a cover-up were Gough Whitlam, the then Australian Prime Minister who died earlier this week. Despite documentary evidence, he always denied being aware of the Indonesian plans. He told the 2007 inquest that he had advised one of the journalists, Greg Shackleton, not to go to East Timor as it was too dangerous. "He was a bastard, if you excuse my French," said Mrs Tolfree, whose campaign has taken her to Canberra, East Timor and the UN.
Mrs Tolfree said she was not optimistic that her brother, who was 29 at the time of his murder, or the other journalists, will get justice any time soon. "There was only one good thing about this and that was that because they killed journalists it kept the story alive for the people of East Timor."
Join our new commenting forum
Join thought-provoking conversations, follow other Independent readers and see their replies