Letter from Asia: Sudobh Gupta's towering artistic triumph – made from pots and pans
Other than for British-based Anish Kapoor, it is the first time the National Gallery for Modern Art has hosted an entire solo exhibition of work by an Indian artist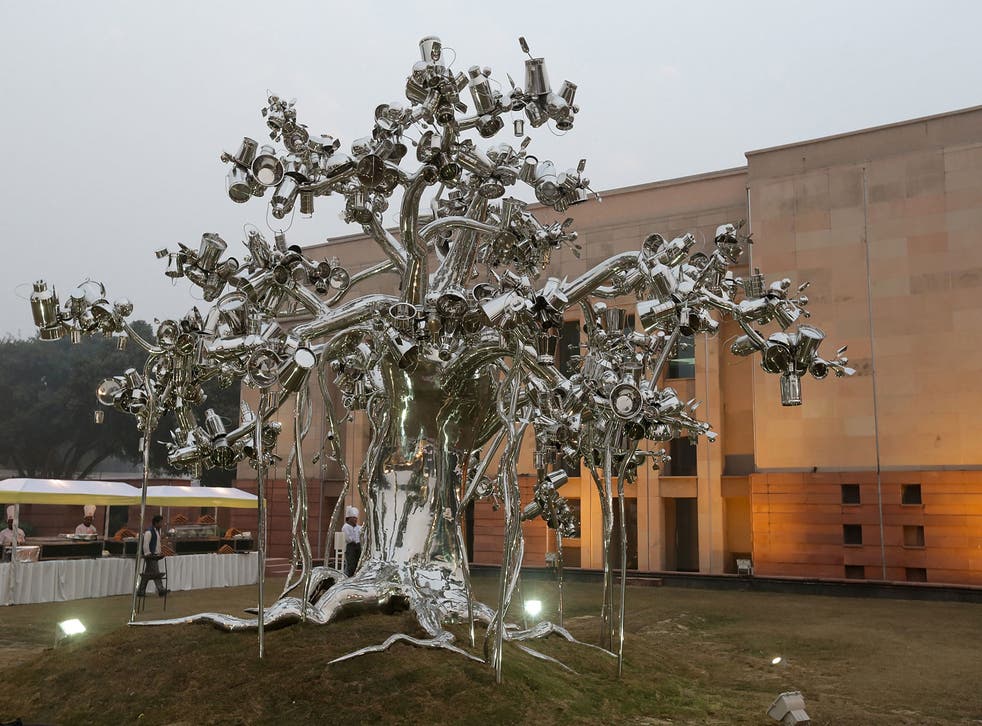 On the edge of Gurgaon, the city south of Delhi, are located two vast studios from which all manner of amazing items emerge.
The studios, a 10-minute drive apart, are owned and occupied by Subodh Gupta and Bharti Kher, the husband and wife duo who have emerged as the leading figures of India's contemporary art world. Their works regularly sell for hundreds of thousands of pounds.
Last week, Ms Kher's studio was filled with a series of mesmerising works, in various stages of completion. Among them were perfectly angled wooden designs, balancing effortlessly upon triangular frames, and pairs of shoes cast with precision from concrete.
A major retrospective exhibition of the British-born Ms Kher's work is currently showing at Shanghai's Rockbund Art Museum. And as she arranged cups of Earl Grey tea for visitors, she spoke with an agent about which of several pieces featuring her trademark bindi motif – the coloured dot traditionally worn on the forehead by married Indian women – she might send to upcoming shows. Hong Kong. Geneva.
By contrast, Mr Gupta's studio was rather depleted. The 50-year-old artist, who grew up in the Indian state of Bihar, has this month been honoured with a major exhibition at the National Gallery of Modern Art (NGMA) in Delhi.
Other than the British-based Anish Kapoor, it is the first time the NGMA has hosted an entire solo exhibition of work by an Indian artist. In addition to pieces that have been loaned from exhibits around the world, Mr Gupta completed a new work in his studio just for the show.
Probably his most noticeable works are the sculptures constructed from the sort of shining stainless steel cups, plates and tiffin pots that you might find in any Indian household. (He actually has them specially made from a higher grade, less perishable steel).
Among the pieces included in the exhibition, containing painting, sculpture and installations and curated by Germano Celant, are a tower of pots of pans and a wave of utensils, created for a part of the gallery that includes a set of steps. The look is at once both monumental and yet everyday.
Mr Gupta's upbringing in Bihar, a state that is famed both its glorious history and wretched poverty, was modest. At the college where he studied art, the library was invariably locked. Among the pieces in the exhibition is a motorbike bearing milk churns and a hut constructed from small discs of cow dung, typically used for fuel.
"My work is very simple. It comes from the street, what I am surrounded by," he said. "That is my life. That is where I came from. I don't want to fake it."
I asked about the impact of working in Gurgaon, this strange "high-tech" city that is home to many of the major corporations based in India.
Repeatedly in India one is struck by the contrasts and dichotomies - the bicycle rickshaw waiting at the traffic lights next to the Mercedes, the incursion of a new shack on top of an ancient fort.
Yet nowhere is this more so than in Gurgaon, a city of glass and concrete towers that rub up against farms and scrub. From the balcony of Ms Kher's studio, one could see a field of crops, a Hindu temple with flags fluttering and a herd of goats being marshalled by two men.
As it was, he claimed he was little impacted by working here, that it was just a convenient and affordable location. He complained, however, that compared to Delhi it was a bit of a cultural wasteland. He also resented having to drive everywhere.
Mr Gupta said he got the idea for the name of his show – Everything is Inside – after seeing migrant labourers arriving at Delhi airport after two aor three years in the Middle East.
All their worldly belongings were packed into bundles, that were bound furiously tight with string. Nothing, not even a half-completed jar of vaseline, for instance, would be thrown away.
"Even a small thing is important to them," said Mr Gupta, one of whose works features a black and yellow taxi, laden with bundles, sinking under the weight.
Some have asked questions as to why it has taken India so long to recognise Mr Gupta's work with a solo exhibition at the NGMA, located in a building that was built originally for the Maharaja of Jaipur.
So it was pleasant to discover this weekend that the show was drawing decent, appreciative crowds of both Indians and foreigners.
On Sunday afternoon, people posed for photographs in front of one of Mr Gupta's most striking pieces, a large steel banyan tree that gleamed in the sunshine.
Join our new commenting forum
Join thought-provoking conversations, follow other Independent readers and see their replies