Liberal defenders of the veil have lost their way
When faces are hidden those tiny, vital facial signs of human contact and mutuality go missing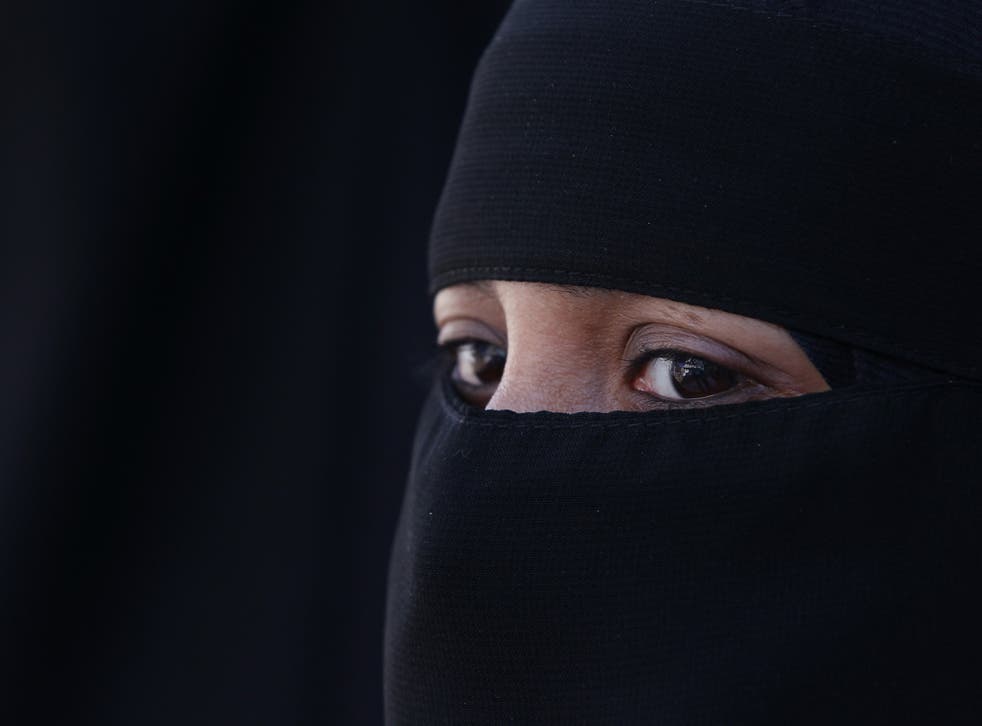 Round two of the veil debate. I would prefer not to get into the ring again but must, not because I'm a stubborn mule, but because so much is at stake. Sorry to those Muslim friends and foes who think we should not talk about the veil, that it distracts from "real issues", is an excuse to attack Muslims, an encouragement to racists, an infringement of personal freedom, whipping up hysteria over "just clothes, only worn by a minority", something which is not the business of non-Muslims and part of a sinister secularist manifesto and so on.
They are either frighteningly complacent or in denial, so too are white, black and brown liberals on the left. Were their own daughters to take up the niqab, would they cheerfully accept the decision? Like hell they would. Some good friends and individuals I deeply respect defend the choice as a fundamental liberty. But if accepting and symbolising female inferiority and menace is a freedom, we liberals, human rights activists and anti-racists have really have lost our maps and sense of direction.
I wrote to The Guardian objecting to a long feature on niqabs which left out Muslim women who are against veiling, the silenced majority, victims of liberal censorship. At a spontaneous, "private" meeting I attended, I was screamed at by people whose socialist and egalitarian principles are mine too. Muslims were present, several furious. Apparently I am a self-loathing or fake Muslim, friend of the EDL, an ignoramus, a prostitute of a white man (my husband, an antiracist), a sell out. Later a few attendees, including gentle Muslim men and women, apologised for the way their comrades behaved. But they never spoke up. I hear out there on the web some really nasty stuff has been circulating about my anti-veil views.
I will now quote a letter from my friend Suhayl Saadi, a Muslim Pakistani GP and fine novelist from Glasgow. "Saudi Arabia is the worst thing that has happened to Muslim societies since the Black have furthered the coalition between the Al Saud family and Sunni theocracy of the Arabian peninsula... Our political classes seem pathologically leveraged into the interests of the Saudi regime. Nice white liberals who do not want to tarnish their supposedly inclusive credentials do us no favours by politely helping us into ever deeper pits of ghettoisation... This is not about consumer 'choice', we are not talking here of brands of tiles or toilet rolls. The Left in Muslim countries is under no such illusions and its members are regularly murdered by Islamicist paramilitary ( often state sponsored) death squads operating like the Contras in South America." He calls for "guilty" white liberals and all those on the left, including Muslims, to confront this spreading evil.
A few years ago, I was sent a list by a teacher who worked for a strict Islamic, Saudi-backed school in England. She left because they were forcing her to wear the cloak and hijab and were bringing in the face veil too. ( Note: she, a practising Muslim from a liberal branch of Islam had no right to choose what she wore when teaching.) The list for students and parents was of the reasons they were to give for the veil. Those were as follows: choice, religion, spirituality, freedom, tradition. How many times did you hear these repeated last week by niqab wearers and their friends? Parents of tiny girls with headscarves tell me they are training them to cover themselves. Informed choice is one thing, but trained choice? Or a choice where females know they will be ostracised if they don't comply? This never happened before, not in the west, nor in most of the east. Now it is spreading far and fast. Iranian women don't cover faces but must wear scarves; In Arab countries women are attacked for not conforming with imposed rules. Here the compulsion can be internal or external.
The social cost is never considered by upholders of this custom. It is hard enough to keep this multifarious nation together. Racism, suspicion and antagonism lurk in every corner and to stop things from falling apart we need trust and binding ties. When faces are hidden, what goes missing are those tiny, vital, facial signs of human contact and undeclared mutuality. The covering declares self-segregation emphatically and it unsettles and provokes people. For those forced into shrouds, there is only night. They could be victims of abuse and miserable but we would never know. Some prominent Muslim women insist the garment is not enforced. They have no evidence to back these assertions partly because it would be impossible to gather. The same would apply to Hassidic women – none would ever admit being oppressed.
Bans are unwise. But this practice cannot be just a private matter. If we are allowed to worry publicly about slutty clothes worn by females, why not clothes that make females invisible? The government must now issue guidelines which specify that faces must be shown in schools, hospitals, courts, airports, police stations, driving test centres etc. Schools and hospitals must also be empowered to set their own, reasonable rules on acceptable dress codes. These rules already exist and should be extended to all communities, including Muslims. After all they are British citizens too.
y.alibhai-brown@independent.co.uk
Join our new commenting forum
Join thought-provoking conversations, follow other Independent readers and see their replies