Drake's reaction to Madonna kissing him made it look more like sexual assault
Whether he was joking or not, it just looked wrong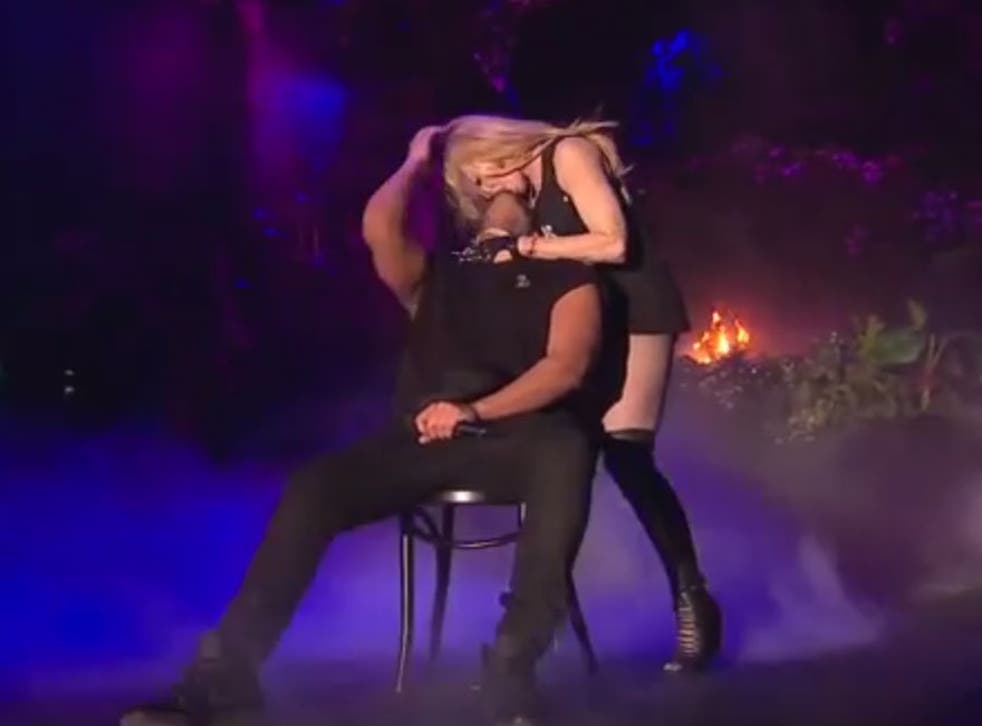 Today in celebrity spectacles designed to distract you from your impending death, Madonna kissed Drake on stage at Coachella. Grabbing his head from behind and slapping away his hands, she open-mouth snogged him with astonishing force yet surprisingly little enthusiasm. "I'M MADONNA," she screamed into the wind once the deed was done.
Don't get me wrong, the idea of aging women sucking the very souls from their young male prey fills me with pleasure and pride, especially when they let out a blood-curdling cry of their own name afterwards. But in this instance, Madonna's dementor's kiss – coupled with Drake's astonished response – just seemed like a parody of plain, old-fashioned sexual assault. And there's nothing empowering about that.
That's not to say that I don't think she should be sexual. Madge has laid on her usual smörgåsbord of suggestive imagery and performances during her latest album tour, this time focusing on kink. And judging by the general response, people aren't happy. Apparently, being over 50 and openly sexual isn't acceptable. When young pop stars use their sex appeal to sell albums, it's seen as empowering, or just normal. However, when Madonna does it it's cringeworthy and gross. How audacious of her! Who does she think she is?
It's this sort of thinking that allows the human slug Piers Morgan to assume he's more kissable than a platinum-selling popstar like Madonna. Responding to her Coachella appearance, Morgan fired off a round of insulting tweets, including "50 Shades of Granny #Madonna", "You OK mate @Drake? Can't think of anything worse", and "Disgusting".
Madonna's most iconic looks

Show all 28
However, if Morgan had tweeted anything about the seeming lack of consent, I may have agreed with him. Watching Drake's reaction is actually quite painful. But if I feel sorry for Drake in that video it doesn't mean I think Madonna is inherently repulsive. I should be able to criticise her without pointing and laughing at her naturally aging body. Yes, she's always been subversive, and her career has always been defined by the way she's pushed boundaries. But what was so subversive about her kiss if it wasn't consensual?
There's always the probability that this wasn't really assault. Madonna and Drake presumably rehearsed their on-stage collaboration, and this could just be another example of neatly choreographed outrage, a PR stunt intending to be scandalous and sexy in equal measure. But if the point was to make it seem non-consensual all along, then perhaps Madonna needs to get a new PR team, as there's nothing sexy about what she did.
Join our new commenting forum
Join thought-provoking conversations, follow other Independent readers and see their replies