A Moroccan journalist stands accused of 'aiding terrorism'
Colleagues of Ali Anouzla say charges grossly distort the truth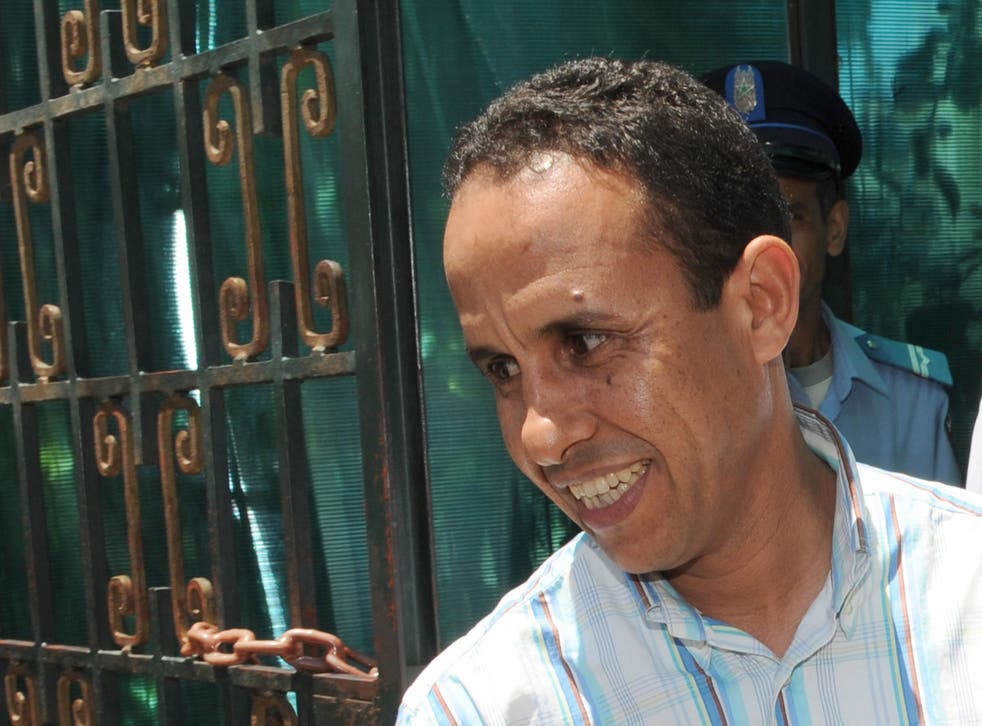 Plainclothes police arrested journalist Ali Anouzla at his home in Rabat, Morocco, in the early hours of Tuesday, 17 September 2013. Before being dragged off to jail, Ali managed to inform his colleagues that police officers searched his home, and confiscated books, documents and his personal computer. According to journalists on the scene at the offices of lakome.com, the premier online news agency founded by Ali Anouzla, they also confiscated key computer parts and components.
Ali is currently on bail as he prepares for his final hearing scheduled for 18 February, where he will face a possible sentence of 10 to 30 years in prison on various charges including providing "material assistance" to a terrorist organisation and "defending terrorist crimes".  These charges come after a long line of attacks that appear to be aimed at destroying his life's work.
The latest attack on his character began on 13 September 2013. Ali reported on a video link entitled, "For the first time, Al-Qaeda attacks King Mohamed VI", which criticised the wealth of the extravagant King – who flew his Aston Martin 1,300 miles to get repaired. Though Ali only published an indirect link to video, it called for an uprising. The next day, the General Prosecutor, under the new terrorism laws, charged him with assisting, advocating and inciting terrorism.
His supporters say these terrorism-related charges are a gross distortion of the truth. His colleague, Aboubakr Jamai leads the campaign for Anouzla's release.  He has this to say: "The State is using all its resources to put an independent journalist in prison on horrific charges in order to destroy his reputation and that of Lakome."
Born in Agadir, of Western Saharan origins, Ali Anouzla has been living in and reporting on North African affairs his whole life. After gaining crucial journalistic experience in the region, Ali returned to Morocco in late 1990 to join the oldest daily paper in the region, Sharq al-Awsat. In 2004, Ali founded his first weekly paper, Al-Jarid Al-Oukhra, but was shut down in 2006. He then faced a systematic campaign aimed at discrediting him in the eyes of the Moroccan public. He was accused of being an agent of the Algerian Secret Services and has been portrayed as a Western Saharan rebel and member of the outlawed Polisario, a nationalistic organisation whose aim is to create an independent Western Sahara.
Moroccans experienced a hopeful spark of progressive policies in the last decade of King Hassan II's reign. In 1999, the incoming heir, Mohammed VI, promised to carry on the reforms. However, CPJ reports that since the ascension of King Mohamed VI to the throne, he has become increasingly less tolerant of dissent than his father. "Morocco's reform process has stalled, even as all the fanfare about reform proceeds," said Sarah Leah Whitson, Middle East and North Africa director at Human Rights Watch.
Amnesty International's Programme Director for the Middle East and North Africa, Philip Luther agrees. "We fear Ali Anouzla is being punished for Lakome's editorial independence and criticism of government policies, which signals a worrying setback for freedom of expression in Morocco. He is a prisoner of conscience and should be released immediately and unconditionally."
At a press conference in Rabat last month, Head of the Moroccan Association of Human Rights, Khadija Ryadi, called for, "All the charges [against Anouzla] to be dropped because we are convinced of his innocence. This is not just for Ali….we are fighting for freedom for all."
Moroccan government spokesman Mustapha Khalfi issued a statement to Voices in Danger saying he could not comment on the case of Mr Anouzla as legal proceedings were still ongoing.
But he claimed allegations of declining press freedom in the country were "wholly inaccurate", pointing out a 25% rise in the number of press publications between 2012 and 2013 and a 40% fall in the number of legal cases brought against the press, from 106 in 2012 to 61 a year later.
He added that a forthcoming Press Code would decriminalise "press offences" and that the country planned to establish a court of law specifically for press offences. He added that reforms had been made to the state subsidy system for the press.
Reporters without Borders confirms that the draft variation Press Code exists, but that it has been months that any action has taken place. They ranked Morocco 136th out of 179 countries in its annual Freedom Index, three places behind Zimbabwe.
Join our new commenting forum
Join thought-provoking conversations, follow other Independent readers and see their replies