Muslims in the armed forces: A proud tradition
The increasing number of Islamic recruits in our forces believe that there is no contradiction between being a Muslim and joining the British military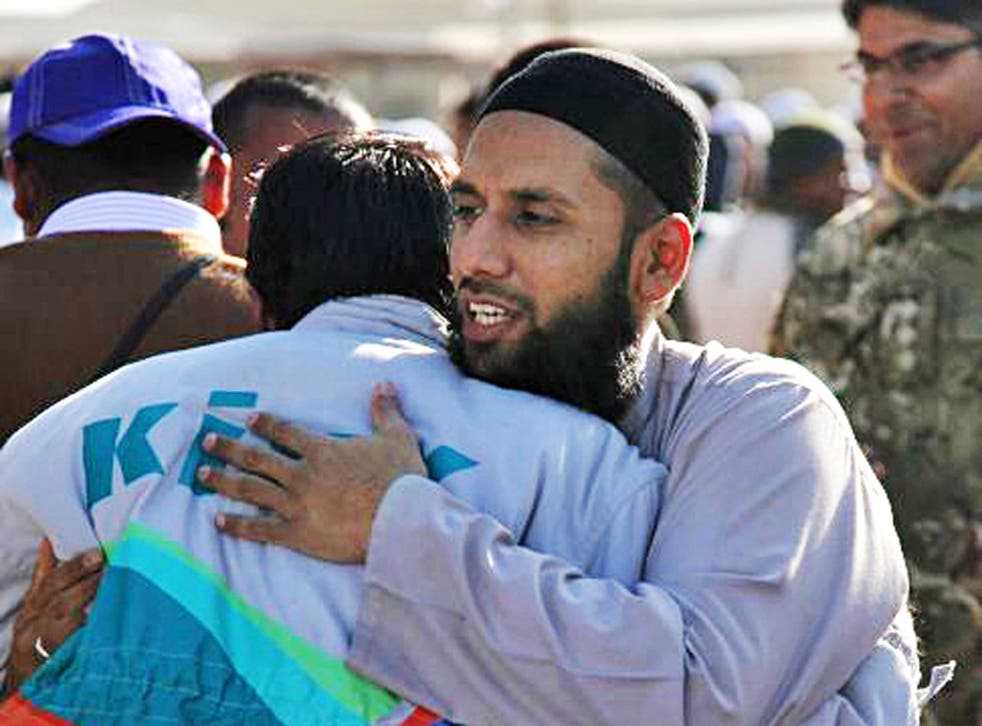 Imam Asim Hafiz is not surprised that more and more Muslims are joining the British military. He is in no doubt, either, that British Muslims can be good soldiers. That is not because Mr Hafiz was the first Muslim chaplain for the Armed Forces when he was appointed in 2005. Nor is it because he is now an Islamic adviser to the MoD. Rather, it is because, as with an increasing number of Muslims, he believes that there is no contradiction between being of Muslim faith and choosing to defend Britain.
Hafiz was invested as an Officer of the Order of the British Empire earlier this month, during a ceremony that coincided with Islam Awareness Week. To mark this, the MoD announced that, since 2007, the number of Muslims serving in the British Army, Royal Navy and Royal Air Force has risen by more than 40 per cent. It goes against public perception, but Mr Hafiz says that it is to be expected. "The increasing number of Muslims in the armed forces is a natural change, because society is becoming more tolerant and young Muslim men and women feel more able to come forward and serve," he says.
According to the imam, who served as a chaplain in Afghanistan in 2010 and 2011, Muslims serving as soldiers do not have to reconcile their beliefs in order to fight hardline Taliban militants. "I've met many Muslims in the military who are very devout, because to Muslims a love of your country and serving your community is an important part of your faith," says Mr Hafiz. There is still work to be done in Muslim communities to encourage family members to be more accepting, he says, but the chain of command inside the military is "getting better every year at accommodating Muslims".
Today, Muslims in the forces are able to pray five times a day and fast (as long as there is not an overwhelming operational requirement against either), are provided with halal rations, can seek support from Muslim chaplains and use prayer rooms on base (one of which was recently made available on a naval warship). Despite this, the figures in absolute terms are still small, with around 650 Muslims in the 200,000-strong military making up less than 1 per cent of its ratio strength. In society as a whole, they comprise 4.8 per cent of the general population, and Mr Hafiz is optimistic that more can be done fully reflect that in enlistment figures.
Which does not mean that he is shying away from tackling the issue head on. "The military needs to do more to be representative of the society it defends," he says. "By far the biggest problem is that there has been a big misrepresentation of what has been done [in Iraq and Afghanistan]. We are not fighting Muslims... [in Afghanistan] we have been fighting criminals who happen to claim the Muslim faith."
Not everybody is a tolerant as Mr Hafiz, though. In 2008, a member of an "Islamic extremist cell" was sentenced to life in prison after pleading guilty to planning to seize and behead a British Muslim soldier, while last year there were "fears" of a backlash against Muslims after the murder of Fusilier Lee Rigby in Woolwich.
To Captain Naveed Muhammad, 45, a practising Muslim soldier who has served in the Royal Signals regiment for 27 years, these elements are a "tiny minority". Rather, the captain focuses on the "wonderful career" that the army has given him and speaks passionately about his role in helping young soldiers forge a future, taking groups of young Muslim children on trips to Flanders and serving his country in Iraq, the Balkans and, most recently, Afghanistan.
"Our faith teaches us resilience. Of course, taking life is something you think about when you first deploy operationally... but Britain is a special place to be and we all have to contribute to keep it like that."
On the delicate subject of taking Muslim life, Mr Hafiz is frank. "We can't shy away from the dangers out there, but the wars in Iraq and Afghanistan have been misunderstood as wars against Muslims," he explains.
"Soldiers, whether Muslim or not, don't talk about taking life openly, but just because a Muslim or a person of faith joins the military, it doesn't mean they lose their soul… our armed forces train soldiers to be conscious and ask moral questions about the rules of war – I think that says something about the quality of our armed forces."
Service in the British military by Muslims isn't new, with tens of thousands fighting and dying since the days of the imperial raj. That is a tradition that British Muslims such as Corporal Saleem Muhammad, 25, who has served with the RAF in Afghanistan, are "proud" to continue. Corporal Muhammad's brother also served in the RAF, but it is his grandfathers who "protected Britain" during the jungle campaigns against the Japanese in Burma during the Second World War to whom he looks back. "We're a family with a military history, so my parents have been very supportive. A few friends said things, but once I explained why I was joining, the community was very understanding. I'm just following on from my brother and grandfathers."
Join our new commenting forum
Join thought-provoking conversations, follow other Independent readers and see their replies