Newspapers are ignoring the reality. Our press will still be free
The reaction of some newspaper executives conveys a lofty sense of power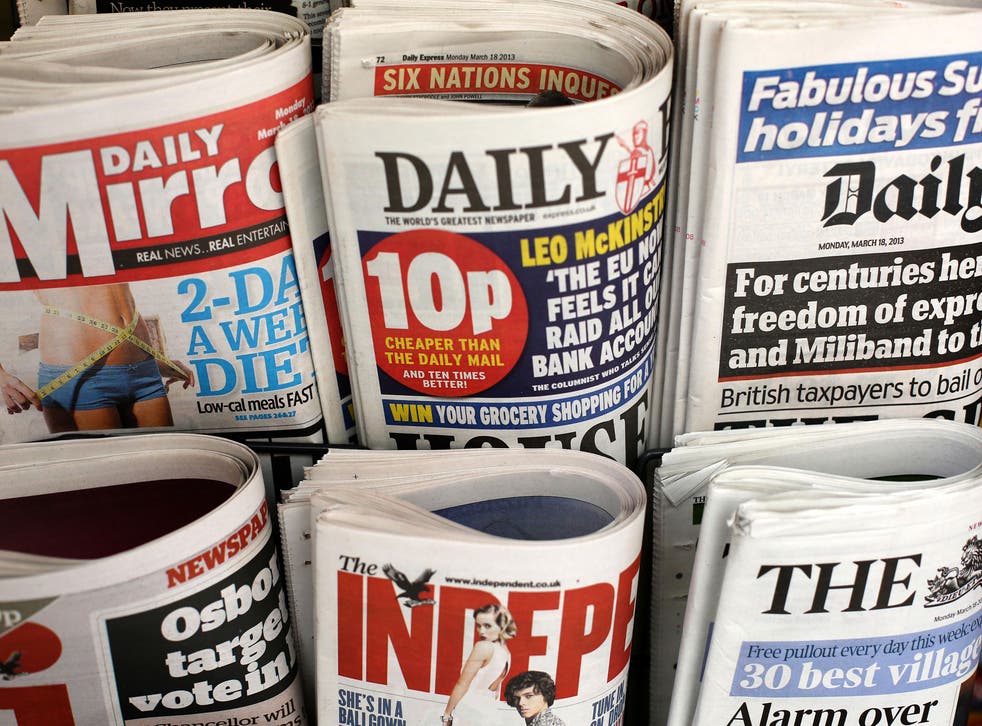 I continue to read or hear that while we might disapprove of how some newspapers behave, their freedom to do what they want is more important than any other consideration. Now I also read or hear that some newspapers will not comply with parliament's wish to impose a modest statutory mechanism, one that is dressed up as a Royal Charter. The charter is proposed as an alternative to the voluntary regulatory framework that has proven to be farcically useless.
Newspapers' original demand for freedom, and their subsequent act of defiance, raise thorny questions. Freedom is not a simple or pure concept. Should the victims of a newspaper's casual bullying have the freedom to seek some form of very limited protection after publication? Why is the freedom of a newspaper to bully a victim more important? The same complexities applied to the debate around the smoking ban. Smokers screamed about their freedoms being impinged. They did so loudly enough to make some of the cabinet ministers that instigated the ban extremely nervous. But non-smokers that sought the freedom to visit smoke-free pubs and restaurants now celebrate their liberation. The ban freed many people to go out more, will do more for the health of the nation than many other measures, and it did not cost a penny.
Although the debate over newspapers generates more noise than the one around the smoking ban, the consequence of statutory regulation would be less significant. Newspapers would still roam widely. There would still be victims too. At best there would be a little more considered journalism. At worst not much would change at all.
The imperious reaction of some senior print executives to this modest change conveys a lofty sense of semi-detached power. Apparently they will not co-operate with the new arrangement, even if this is the will of parliament. The steering committee representing newspapers declared it was "deeply disappointed" that the Royal Charter was being imposed, even though they had "universally rejected" the proposal in March when it was first unveiled. Well, who do they think they are? And how would they have responded if, say, trade union leaders had refused to comply with constraining laws in the early 1980s after their decade of disruption?
So used to bashing politicians around, some newspapers believe that if those wretched elected figures get involved the free press is dead. In reality the wretched elected politicians are so scared of the non-elected newspapers, or some of them, that they are terrified about what to do next. The imbalance between the disdain with which some newspapers view politicians and the fear politicians have of newspapers is such there will be no great, sinister reversal of roles. Politicians are far too scared to bring about such a reversal if they wanted to, which they do not.
David Cameron is trapped between his desire not to offend some mighty newspaper executives and his wish not to upset some of the most sympathised-with figures in the western world – from the McCanns to various adored celebrities. Such is the continuing might of newspapers that he is siding more with them than the rival, more glittering constituency. I understand why. Newspapers have a role to play for him at the next election. So far Ed Miliband and Nick Clegg have stood firm, but they have less to lose in terms of potential media support. In standing firm they are not stamping all over the freedoms of newspapers. In any future arrangement, including one with statutory backing, they will be as far removed from controlling newspapers as they are now.
Once the lawmakers have agreed on a statutory mechanism, they will step back. That would be the end of their role. They move towards even this, limited involvement fearfully, and at such a snail's pace that it might still never happen. The idea that they will end up telling Paul Dacre how to edit his newspaper is fanciful.
Indeed the row between Ed Miliband and the Daily Mail is instructive. The sequence that unfolded in relation to the Mail's reporting of Miliband's father could unfold again in precisely the same way if an external regulator had limited statutory powers. The Mail could patronise their readers with an over-the-top article about how Ralph Miliband hated Britain. The Labour leader would get a right of reply. The newspaper could monster him once more.
Admittedly, the newspapers have one very powerful argument in their favour: that existing laws would have addressed much of the extreme behaviour if they had been properly applied. One of the more extraordinary and still slightly understated dimensions of the hacking saga was the closeness of senior police officers to some journalists. The various court cases involving senior journalists, whatever their outcome, will do more to focus the media, and make sure it stays within the law in the future, than any part of the Leveson inquiry.
No one in the media wants to go through the hell being endured by those former senior journalists awaiting trial. But journalists should also be alert to context. For a long time existing laws were not enforced. The Press Complaints Commission was hopelessly weak. We are where we are, as political leaders often have cause to note when faced with complex decisions.
No doubt sincerely, some editors have misunderstood the motives of the relatively few politicians exercised about the issue. The editor of the Times, John Witherow, told me in an interview at a public event this summer that he thought it was all an act of revenge for the MPs' expenses saga. He is wrong. A lot of the MPs exposed over their claims left at the last election. Miliband stood out for not claiming even the amount of expenses he was entitled to. This has nothing to do with the expenses' story. I am afraid in the end it has more to do with the wild misconduct of some newspapers. Most politicians agonise over what to do next rather than take pleasure in imposing even the most limited form of regulatory control.
Another argument from newspapers is that the entire debate is outdated because the internet and Twitter have become more powerful. This is a red herring. If the measure is appropriate it should be applied and done so as extensively as possible. Some of those who have tweeted libellously have discovered that they are, rightly, as vulnerable as newspapers. Anyway, newspapers would still wield considerable influence, more than they realise.
One final powerful case against a statutory mechanism is that the act would be the "start of a slippery slope". I have just heard a colleague of mine utter these words as I write. I see no evidence to justify such a fear. Look at all the politically hesitant, tentative, fearful comings and goings over a proposal that will not change very much. There will be no push further down a non-existent slope. The debate about press freedom involves big, emotive, highly-charged themes on both sides. The actual measure being argued over is tiny and might, in a small number of cases, help very occasionally to save some newspapers from themselves.
Twitter: @steverichards14
Join our new commenting forum
Join thought-provoking conversations, follow other Independent readers and see their replies