Nick Clegg not involved in the the 'go home' campaign: how the 'racist van' is a way to win votes
For the Conservatives, they are a plea to voters not to desert them for Ukip. For the Lib Dems, they are a perfect opportunity to appeal to their own core supporters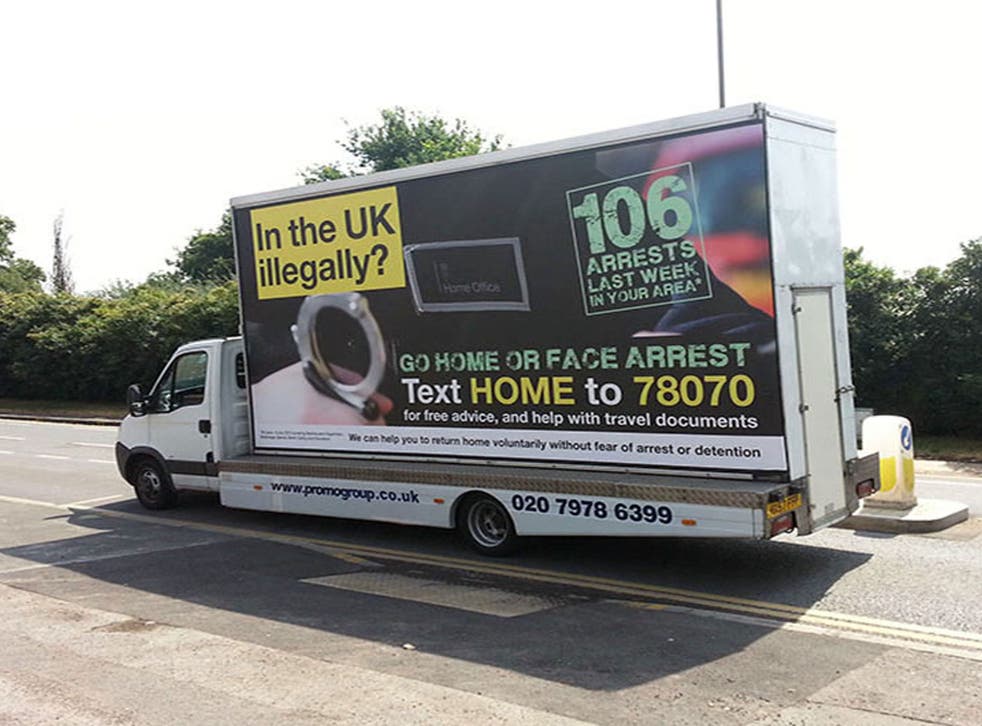 As one of his first acts in charge of the country – while the Prime Minister shops for fish in Portugal – Nick Clegg has declared he is not happy with the Home Office's "go home" vans.
The billboards urging illegal immigrants to hand themselves in are not a "clever way of dealing with this issue", says Mr Clegg. He insists that not a single Liberal Democrat, not even Jeremy Browne, the Home Office minister on the right of his party, was involved in or knew about the launch of the pilot scheme. The Deputy Prime Minister used up quite a few words condemning the plan, just to make sure we got the message.
The pilot, dubbed #racistvan on Twitter, may not be clever in Mr Clegg's eyes. In the words of his fellow senior Lib Dem, Vince Cable, it is "stupid and offensive". Offensive, the vans may be. Ineffectual too, given that so few immigrants who have responded. But, politically at least, they are rather clever indeed – for serving a multitude of purposes.
For the Conservatives, whose poll rating was until recently pegged back by a surge from Ukip, they are a ten foot high plea to traditional grassroots voters not to desert them for Nigel Farage. They may not be very subtle, but, as voters don't tend to pick up on nuanced campaigning, the message will have an impact on Tory poll rating. For Home Secretary Theresa May who, despite her revelation that her weight loss was due to diabetes not a leadership bid, remains ambitious for the top job, the vans can only shore up her support among the New Right of the 2010 Tory intake.
For the Lib Dems, the "racist vans" are a perfect opportunity to appeal to their own core supporters, who have fled the party since the Coalition was formed. Mr Clegg can only dream of 23 per cent support, as he did before 2010. Mr Clegg needs as many definition-proving ways to reassure those lost voters that he remains the leader of a centrist party. This summer, the 2015 election 'phoney war' has begun.
Twitter: @janemerrick23
Join our new commenting forum
Join thought-provoking conversations, follow other Independent readers and see their replies