Now Britain has recognised Palestinian statehood, it's time to forget about a farcical two-state solution
Instead of Israel and Palestine living side by side, a one-state solution based on equality and freedom of movement is what the region needs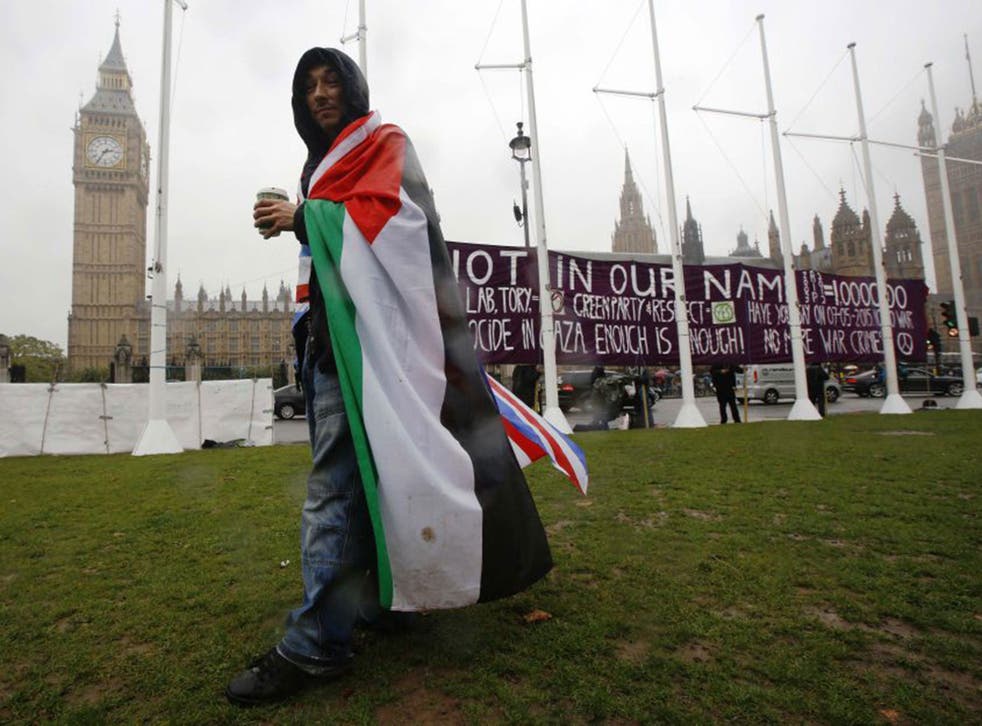 Since the Palestinian National Council (PNC) declared unilateral independence in 1988, more than 130 countries have recognized the state of Palestine.
Indeed, just over a week ago the new Swedish Prime Minister, Stefan Löfven, declared in a foreign policy announcement, that Sweden would recognize Palestinian statehood. On Monday, the UK followed suit and voted in favour of recognising Palestine as a State with a vote of 274 to 12 (more than half of the MP's in the House of Commons did not vote).
Many who are in solidarity with Palestine see this as a victory, and presume that it will eventually lead to a two-state solution and the ending of the Israeli occupation. This is farcical, as the two-state solution still keeps Palestinians locked in varying forms of occupation. The only possibility now is a one-state solution (perhaps called "Israel and Palestine", in the same vein as Bosnia and Herzegovina) where every person has a vote regardless of their ethnicity, religious affiliation and sexual orientation. Until the Palestinian leadership and other countries recognise this as the way forward, Palestinians have no hope of liberation.
Indeed, the Palestinian leadership saw the passing of the Commons motion as highly favourable, with Palestinian Liberation Organisation executive committee member Dr. Hanan Ashrawi commenting that "The recognition of Palestine and its people is both a principled decision and a significant step towards justice and peace."
On social media the Palestinian response has been varied but a fair amount of people have been arguing with excitement that it's a step in the right direction. A step that takes some responsibility for a problem that has its roots in British imperialism, and reflects the UK's discontent with the assaults on Gaza and the recent settlement expansion announcements.
While all this may be true, we must not allow ourselves to be blinded by the aesthetics of this notion of Palestinian "statehood". In reality, the internationally recognized notion of Palestinian statehood does not fulfill Palestinian aspirations of liberation and equality at all.
In pictures: 2014 Israel-Gaza protest in London

Show all 12
Palestinian statehood means continuing with negotiations along the lines of the two-state tract. This calls for both a Palestinian state and an Israeli Jewish State to exist side by side. This would negate the right of return for the Palestinian refugees and totally marginalize the Palestinian citizens of Israel, who would remain as second-class citizens in a state prescribed for Jews only.
The State of Israel would also never allow a sovereign Palestinian state that had total control over its own borders, economy and army. The Palestinian state would thus be simply a mechanism to secure the Palestinian population into a passively oppressed people.
Even if we are to overlook the negatives of the two-state solution, we cannot overlook the simple fact that the two-state solution is dead. Since the Oslo Accords, the West Bank has been segregated into Bantustans with the illegal apartheid wall making free movement for most Palestinian impossible. Settlement expansion is at an all time high and there are now over 350,000 settlers in the West Bank.
Pro-Palestine supporters should therefore be wary. This motion is following a diplomatic path that "secures" the Palestinian population rather than liberates them. It is thus time for the international community to stop spouting their support for limited Palestinian freedom (cleverly disguised by the two-state solution) and increased separation.
It is time to start supporting Palestinian rights wherever they may be, whether in the Occupied Territories, historic Palestine or the refugee camps. And it is time to move towards a political discourse that promotes a one state solution in Israel and Palestine; a state that champions equality and inclusion over ethnocracy and exclusion.
Join our new commenting forum
Join thought-provoking conversations, follow other Independent readers and see their replies