Now it's time to make a difference for Syria's children
More than a million children have been driven into exile by the Middle East's most savage  conflict. Half are in Lebanon, including 400,000 of school age. A new initiative to provide them with emergency education could transform their lives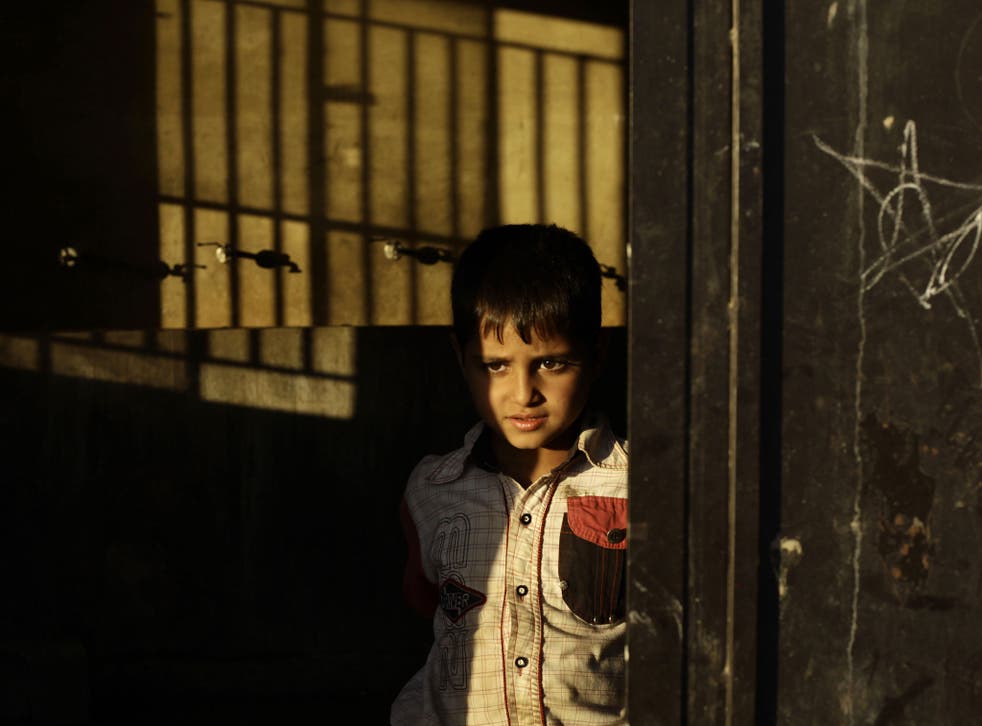 The name of Unicef's education campaign for Syrian refugee children in Lebanon is Back to Learning. The original title, Back to School, had to be dropped because Lebanese schools simply do not have the capacity to allow all school-age Syrian kids to enrol; they now outnumber their Lebanese peers.
According to Unicef, 500,000 Syrian refugee children are now in Lebanon, of whom 400,000 are of school age. Currently, less than 20 per cent of those kids are in school. In refugee camps in Iraq, that figure is less than 10 per cent. Though Syria's civil war has been raging for more than two years, Egypt only approved enrolment in its schools for refugee children on Friday. The United Nations estimates that two million Syrian children will not receive any education this year, inside Syria or out.
The issue is being addressed at the UN General Assembly in New York on Monday in a new push for funding to get Syrian children back into the classroom, a campaign known as Education Without Borders. The plan involves keeping Lebanese schools open day and night, in a shift system, as well as hiring Syrian refugees as teachers, and providing school meals for those children affected by a conflict that shows little prospect of resolution.
In a report released on Monday, the education campaign A World at School warns that failure to increase financial support to Syrian refugee children will create a "lost generation". "If Lebanon's refugee children were a country, they would have the world's lowest enrolment rate," says Kevin Watkins, of the Overseas Development Institute, who wrote the report.
Last school year, 980 public schools in Lebanon enrolled just under 30,000 Syrians, most of them in primary schools. These schools absorbed an intake equivalent to 20 per cent of the existing school population, which is comparable to schools in London taking in the combined primary school population of Birmingham and Manchester. This year, the Lebanese government is hoping that 90,000 Syrian children will be able to enrol in school for this academic year. In order to accommodate the rising influx, the Ministry of Education has informally agreed that some schools may set up a second, or even third shift of students – though it will not be easy.
"Our usual schedule runs till 3 o'clock" says Ama Ghazzal, principal of the secondary school in Bar Elias, in the Bekaa valley. The town has seen its population almost double due to the influx of refugees and Ghazzal's school accommodated over 40 Syrian school children last year; increasing its population by 10 per cent. She doubts that her teachers would be willing to do an extra shift; they have families to look after.
The problems do not end when a child enrols – there is also a significant risk that they will drop out. Last year, 20 per cent of Syrian children stopped turning up for school. Some families simply moved away, but there is also a language barrier; Syrian schools follow a curriculum in Arabic, while Lebanese schools often teach classes in English or French.
"Everything is the opposite of Damascus here; it's all in English," says 15-year old Ahmed, who hopes to begin the 9th grade.
This is where organisations such as Save the Children come in – one of a handful of groups providing remedial classes for children like Ahmed, who is one of 45,000 children who have been taking extra French, English and mathematics over the summer to try to prepare them for school in Lebanon.
For many Syrian refugee parents, it is a lack of funds that keeps them from sending their kids to school. According to a study by Amel, an NGO, almost half of the Syrian refugee children in south Beirut were unable to attend school due to financial constraints last year.
"I can't even pay for rent; how will I be able to pay for school?" says Aisha, 24, a mother of two, who fled from the north-western Syrian province of Aleppo with her family last year. There are tuition fees, uniforms, and school bus travel to pay for – their nearest school is not within walking distance. Her two daughters, aged four and six, haven't seen the inside of a class for more than two years, she says.
Other children feel they should work to earn money for their parents; Syrian children can now be spotted working in Lebanese shops and supermarkets, or roaming the streets as shoe shiners. Several NGOs have cited a rise in child labour as refugee families struggle to survive.
Costs, language and capacity barriers are inspiring alternatives to the conventional school system. Schools are also being set up in tented settlements, which house up to 20 per cent of Syrian refugees in some areas. A handful of white tents emblazoned with the word Unicef have been pitched at the entrance to a sprawling city of tents in the Bekaa valley. This is part of the informal learning initiative in which Unicef hopes to see 150,000 children enrolled over the next year, in addition to the 50,000 children Unicef wants to support in the regular school system. They will be training up to 2,000 teachers and educators to achieve these objectives.
In total, the Education Without Borders campaign hopes to raise funds to allow 300,000 Syrian children to attend school in Lebanon. But whether they will be successful boils down to money.
"The more funding we get, the more opportunities we can create," says Nathalie Hamoudi, chief of Education at Unicef Lebanon.
The three-year education strategy presented today hopes to raise much-needed funds to relieve the financial burden. The plan includes school meals and would allow a refugee population the universal right to schooling for the first time. "But this can happen only if the international community, which has so far financed less than 30 per cent of the humanitarian needs of the Syrian people, offers an additional $500m (£312m) over three years," said the UN special envoy on education, Gordon Brown.
HOW YOU CAN HELP
* Sign A World at School's petition in support of Education without Borders at www.aworldatschool.org/syria
* Pledge your support for Education without Borders, which Avaaz will challenge donors to match at least 10:1, at Avaaz.org/syriakids
CASE STUDIES: HOW EMERGENCY EDUCATION CAN BRING HOPE TO THOSE WHO HAVE LOST EVERYTHING
Ghazele
She is 10 years old. She fled with her mother, father, sister and two brothers from the fighting in Syria.
They crossed the border illegally in 2012 bringing a few belongings in their car. Ghazele says that she remembers it as being very frightening.
Her parents eventually found work and they rented a small apartment. Like many children, Ghazele misses relatives left behind.
She would like to be able to go back to see her grandfather who she used to go for walks with and listen to his stories. Thanks to Unicef, which has worked with the Lebanese government to get over 30,000 children enrolled into classes, Ghazele attends Hosh Al Omara intermediate public school in Zhale.
She says she likes this school and enjoys studying with her new friends because the school curriculums of Syria and Lebanon are quite different.
After school finishes, like the other Syrian children, Ghazele attends remedial classes, funded by Unicef, where they will also be given a much-needed sandwich and snack – as some of the children will not have eaten all day.
Ghazele says that she dreams of becoming a teacher one day.
Zaahra and Om Kolthoum
Although Zahra and Om Kolthoum Katou are cousins, their families refer to them as twins. They fled Aleppo and are now living in Baalbeck in the Bekaa valley in Lebanon. In Aleppo, they were forced to leave school because of heavy fighting and bombing. "Our school in Aleppo was hit by the bombardment," says Zahra. "There was fighting and bombing around the building and we could no longer go there to learn. We were very scared. It was really a terrible situation."
They were out of school for more than six months. Now they are now in catch-up classes run by "Sawa", a Unicef partner organisation, to try to get them back into mainstream education.
They are desperate to return to school as they both hope to be doctors. But the challenges are immense. The girls have missed out on key study, and some subjects in Lebanon are taught in French and English, while in Syria they were taught in Arabic.
Om Kolthoum says: "All I want is to continue learning. I am trying to catch up on the study I have missed because of the conflict. We are learning a lot of English and working hard. Going to school made me feel confident and I want to feel like that again. I want to be a doctor. I want to focus on my studies and my future."
Join our new commenting forum
Join thought-provoking conversations, follow other Independent readers and see their replies