From nuclear weapons to Syria, Obama needs Hassan Rouhani on side
The US President must seize the opportunity Iran's new president brings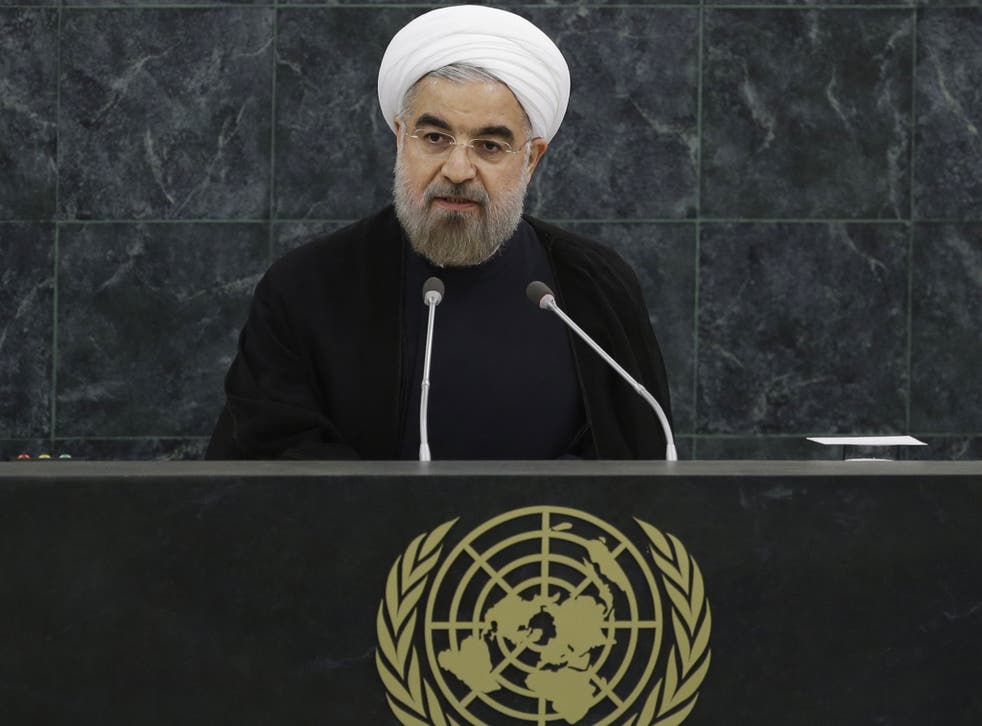 There is a buzz of excitement among diplomats at the UN headquarters in New York over the planned meeting tomorrow between US secretary of state John Kerry and Mohammad Javad Zarif, Iran's foreign minister. If it goes ahead, it will be the highest level meeting held between the two countries since the Iranian Revolution in 1979 and could see a thaw in the acrimonious relationship between the two states. Observers are even talking about the tantalising possibility of a meeting between President Obama and Hassan Rouhani, Iran's newly-elected president, although an opportunity was missed yesterday due to unspecified "complications".
Hassan Rouhani has made a number of positive overtures to the US since taking office in August. There was an exchange of letters between the two leaders, followed by the Iranian president's conciliatory op-ed for the Washington Post last week in which he wrote: "Gone is the age of blood feuds. World leaders are expected to lead in turning threats into opportunities." His speech to the UN general assembly yesterday had a defiant and accusatory tone, and many believe it was delivered with his domestic audience, not least Ayatollah Khamanei, in mind. But Rouhani also showed willingness to, as he put it, "arrive at a framework" to "manage differences" between Iran and the US.
The biggest issue the Americans will want to discuss is Iran's nuclear enrichment programme, which the US and its allies believe is directed towards acquiring nuclear weapons capability. The Iranians deny this, and assert their country's right to pursue nuclear energy. Waves of sanctions have failed to deter Iran from nuclear enrichment and have only led to increased animosity on both sides, with the threat of military action should the country come close to realising a nuclear missile.
More urgent still is the on-going war in Syria, which is at least three wars rolled into one. Firstly and most obviously, the Syrian conflict is a battle between the Assad regime and the Syrian people who want their dictator removed from power. Secondly, it is a regional sectarian war between Sunnis and Shias, with Saudi Arabia and Qatar in particular supporting conservative Sunni forces and keen to reduce the Shia influence of Iran, the Syrian regime and Hezbollah in Lebanon. Thirdly, it has escalated into something of a Cold War standoff between the US, France and the UK on one side and China and Russia on the other. Iran, through its support for the Syrian regime, its backing of Hezbollah and its closeness to Russia, is tied up in each of these proxy wars.
On Syria, Rouhani wrote: "We must join our hands constructively to work toward national dialogue... We must create an atmosphere where peoples of the region can decide their own fates. As part of this, I announce my government's readiness to help facilitate dialogue between the Syrian government and the opposition." It's as strong an endorsement of a diplomatic resolution to the conflict – the elusive "peace conference" – as has been heard in the US, UK or France recently, and should be taken seriously.
But why, after years of Mahmoud Ahmadinejad's bellicose rhetoric should we take Rouhani seriously?
First of all, the fact that he isn't Ahmadinejad provides a chance for a fresh start in US-Iranian relations. Secondly, as Rouhani won Iran's presidential election in June he does have a mandate that few other Middle Eastern leaders have. (It must be said that there were no foreign observers to monitor the process this year, and there were some reports of unfair media coverage, but his win did not inspire the mass demonstrations and outrage that Ahmedinejad's re-election did in 2009). Rouhani's mandate to negotiate is further strengthened by the fact that Ayatollah Khamanei – who as Supreme Leader has the final say in Iran – transferred authority over nuclear enrichment issues from the national security council to the foreign ministry, and appears to have given his support to Rouhani to negotiate freely.
From the American side, as a second term president, Obama has the freedom to make bold moves without worrying about losing an election because of them. He should explore what a fresh leader, and one who has made positive overtures, brings to the scope of Iran's relationship with the West.
And diplomacy seems to have come back into fashion as far as dealing with the Middle East goes. Less than a month ago, the US, the UK and France were on the verge of launching strikes against Syria after the chemical attack in Damascus on 21 August. Now, thanks in part to electorates with bad memories of the Iraq War, diplomacy may achieve what the military strikes set out to achieve – the removal of Syria's chemical weapons stockpile. However, aside from the chemical weapons, the civil war in Syria rages on with no diplomatic effort to bring it to a close.
The US should seize the opportunity of dialogue with Rouhani. It may bear fruit, first of all in resolving the deadlock over Iran's nuclear enrichment programme, but also in engaging one of the stakeholders in the Syrian crisis which feels existentially threatened by the manoeuvrings of outside powers, both from the West and from the Gulf. One can only hope this brings us a step closer to finding a solution to the intractable conflict in Syria. It could hardly get any worse.
Join our new commenting forum
Join thought-provoking conversations, follow other Independent readers and see their replies