Oscar Pistorius: a troubling symbol of South Africa's new, squeezed, Afrikaner society of the cities
A trial that brought home the gun-culture reality of South Africa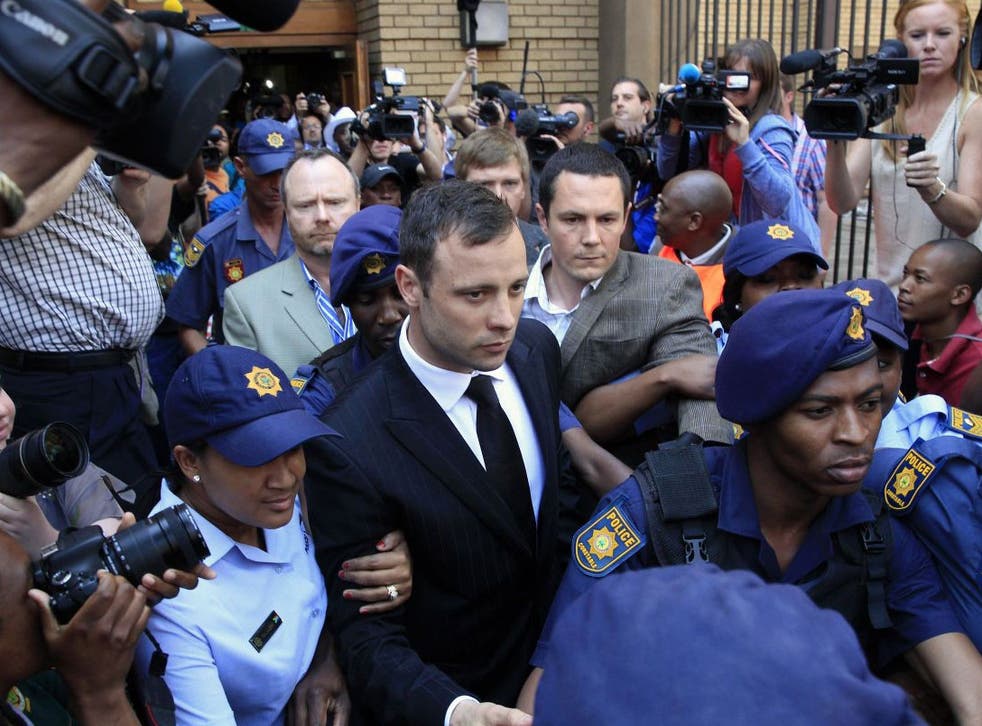 A few months ago I met an Afrikaans woman in Cape Town who told me that she knew Oscar Pistorius and his family when he was a very small boy. He was a delightful and affectionate child. She remembers clearly Oscar one night asking for help, calling her "tannie" – aunty – because he could not attach his prosthetic legs. And without them he could not use the lavatory.
This woman, of a prominent Afrikaner family, has never forgotten the poignant moment. Pistorius's father left the family and his beloved mother died a few years later. She asked me to imagine what it was like in a sports-mad society for a little boy born with a rare disease, fibular hemimelia, the absence of a fibula; both his useless legs were amputated. She also told me that he came from a cultured and well-educated family. Her only criticism of him was that he became rather imperious with fame and wealth; his reaction to losing a race in Europe was petulant and unpleasant, as if he were the one and only blade runner.
His conviction for killing his girlfriend, Reeva Steenkamp, is a measure of how far he has fallen. From being South Africa's most admired athlete and one of the most famous and recognisable athletes in the world, he is now familiar to the world as a contemporary Icarus.
Many commentators have suggested that this trial has put South Africa itself in the dock. To me it seemed more like an insight into the new South Africa. The trial was long and meticulous, at times even plodding, with plenty of unintended evidence of incompetence, particularly by the police in their cavalier handling of the physical evidence, but also by a strangely amateurish run of imprecise and bumbling "experts".
Thokozile Masipa, the judge, spent many years as a crime reporter for The Sowetan, an influential Johannesburg newspaper with a largely black readership. She went on to take a law degree. But it was remarkable she was the only black person taking a prominent role in the trial. You can only imagine what pressure she was under to emerge unscathed from an event broadcast to the world for months on end.
Many whites believed she would be a disaster, but they were won over. She was considerate to Pistorius and allowed him his bouts of sobbing and howling. She stuck pretty close to legal precedent.
But above all, this was a trial of an Afrikaner, defended by an Afrikaner, and prosecuted by an Afrikaner. The victim, too, was an Afrikaner. There was plenty of symbolism; next door was the court in which Nelson Mandela had been tried. At the nearby Union Buildings, Mandela was sworn in as the first black president.
As Pistorius and his friends became familiar to us, it was clear that they belonged to the new, squeezed, Afrikaner society of the cities, often working in marginal businesses – modelling, as Reeva Steenkamp did, or in sales, hotels and so on. Jobs in the state sector are now not generally open to white South Africans and young Afrikaners particularly have been affected. The old regime employed Afrikaners almost exclusively.
Oscar Pistorius trial: The verdict in pictures

Show all 33
I remember my shock on arriving in Johannesburg at the time of the change and seeing for the first time white beggars at stop lights holding pitiful written pleas for help. Quickly that became utterly unremarkable. At one point it was said that hundreds of thousands of young South Africans had emigrated. Some Afrikaner sportsmen like Pistorius and others have acquired fame and fortune; at the same time a new kind of harum-scarum Afrikaner life was emerging in the wake of the Afrikaner world that had changed so radically with Nelson Mandela's release.
There had always been a gun culture among South Africans and many whites had guns for protection in their houses. Pistorius was one of those who carried and fetishised a guns; his father also loved guns. Mark Gevisser, South African writer and biographer of Thabo Mbeki, wrote: "There were two visions of society. One was of a society, and a section of society, that is violent, self-obsessed and contemptuous of the law. It was a lawlessness that represents a certain kind of South African impulse, not just an Afrikaner impulse."
Old grievances still fester. Back in 1837, Piet Retief had led a group of a thousand Boer wagons out of the Cape Colony in the hope of living the simple and elemental life they had enjoyed before the British arrived to take the Cape. The Boers were out of luck. When they founded a new state in the Transvaal, with its capital not far from what was to be Oscar Pistorius's house, it was only about 40 years before gold was discovered and the Afrikaners fought an unsuccessful war against the British. With the election of the ANC, many Afrikaners felt that once again they have been marginalised.
So Pistorius's trial has, unintentionally, offered many insights into South Africa today.
Justin Cartwright is a South African-born writer whose latest novel, 'Lion Heart', was published last year
Join our new commenting forum
Join thought-provoking conversations, follow other Independent readers and see their replies