A Political Life: Authority must be earned, and Cameron loses his each time he presumes it
The PM doesn't get that we need to be convinced before any intervention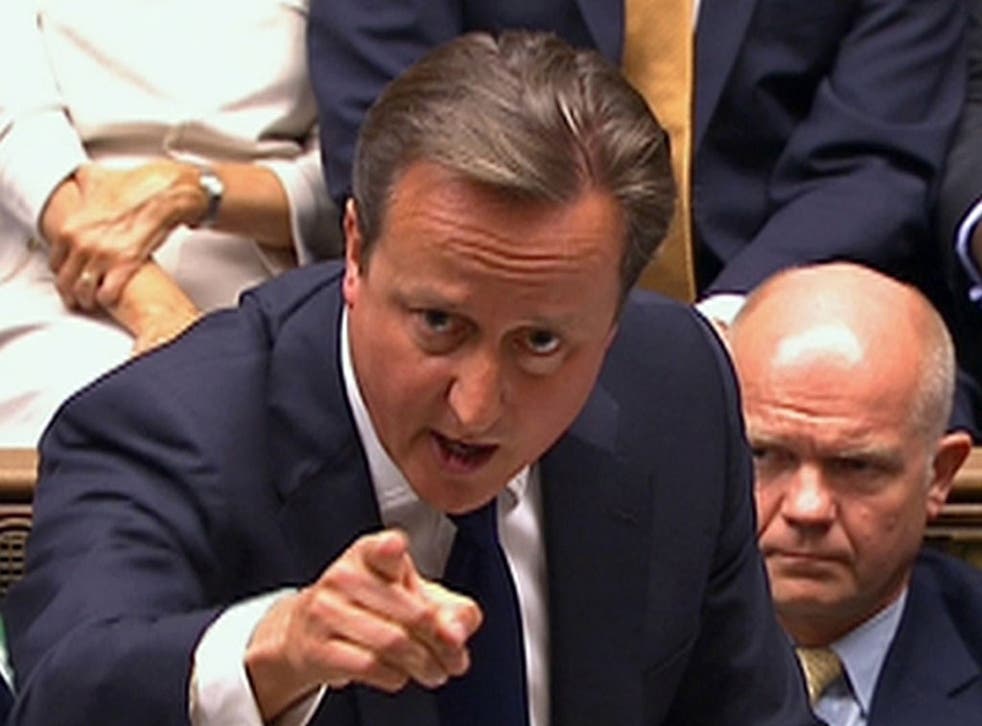 On our way back to the hotel after dinner in San Sebastian, the path, which was maybe 10 metres wide, took us along the seafront past the town hall. Suddenly we were confronted by a police officer. "Not this way. You have to go round the town hall." There was no sign of any other police activity and his proposed route involved walking three corners round the large block, so we asked why. "Because I tell you."
Like good citizens we did what we were told and soon found ourselves 30 metres along the seafront watching the officer from behind as he redirected people the long way around the town hall. Few questioned him, even though he looked about 18. Yet what he was demanding was completely illogical, since while he was forbidding people to walk down the path in one direction, dozens of people walked straight past him in the other direction.
The officer's blockade would not have lasted long in modern Britain. Bruised by the repeated discovery that the government, Parliament, the church, the press and the police have lied, cheated or failed, people prize authority so little they actively distrust anyone who says "Trust me". Authority has to be earned, and not just once, but repeatedly. Even American presidents now have to bend the knee.
That's what Cameron fails to twig. Leaving aside the inept Tory whipping, he just didn't get that we needed to be convinced. He presumed Tories and Opposition alike would simply follow his lead and now says those who voted against chose "the easy and political path" as opposed to his "right path". But such moral certainty is precisely what makes us doubt. We see the glint in the eye and worry that a politician has lost his marbles when he sets up such false, Manichaean choices.
Of course, it's not a question of action or inaction, but of what action – and whether military intervention would improve the lot of the people of Syria and the wider region. Unless the Government recognises the genuine disagreement about where the national interest lies and what might help bring about a ceasefire and lasting peace in Syria, there is little prospect of the PM earning the authority the public are reluctant to grant out of mere deference.
The young police officer at least had a uniform. Cameron, by contrast, denudes himself of his little brief authority every time he petulantly presumes it.
More sound and fury to come
I said in one of my earliest columns that I thought this would be a fractious Parliament. I hadn't reckoned with Michael Gove puffing himself up like an angry robin redbreast and spitting abuse at his own colleagues, but he was not alone in venting his anger.
The Tory MP for Ipswich, Ben Gummer, and I hurled charges at each other as we stomped through Westminster Hall after the Syria vote. We have now apologised to one another (I was certainly out of order) and even Cameron was on his best behaviour on Wednesday for PMQs, having obviously been told that he should on no account succumb to the crimson tide of fury.
I used to have an office next door to a prominent Tory who is now a Cabinet minister. So regular and so loud was the barrack-room shouting that we bought a radio to drown out the expletives. So I predict more tantrums before the year is out, especially from those blessed with moral certainty.
A ghastly building
Colleagues huffed and puffed when I spoke against the lobbying Bill (which even the Government thinks is so flawed that the minister in charge has tabled 23 amendments), because I called the Palace of Westminster "this ghastly building". Sharp intake of breath. Momentary checking of hearing aids.
But it's true. Yes, it's a landmark, with the redundant pinnacles and buttresses rendering a crenellated effect along the river. Lit up at night it looks imposing, too, though the radical Victorian MP Joseph Hume complained that it looked like the Red Lion in Brentford. But its mock-Gothic style is cumbersome and fake.
So divorced is form from function that set-piece settings like the central lobby have a false ceiling suspended below a much higher dome. The space in between is full of dust and pigeon droppings. The ventilation is so ineffectual that the palace swelters in the mildest sun and freezes from October to April. The chamber has virtually no natural light, there are too few seats, and so poor are the acoustics that without the 100 or so ugly microphones most members would be inaudible.
There are truly beautiful elements – the Great Hall and the cloister garth of St Stephen's – but overall it is ghastly.
Cloaks, and rather fewer daggers
First day back and we were all bewildered by the new arrangements in the cloakroom. We each have a named coat hanger, with a little pink ribbon, supposedly for suspending our swords.
Until now we have been ranked in alphabetical order by surname. But some busybody has decided that this leads to too much work whenever there is a by-election. When Emma Lewell-Buck, pictured, replaced David Miliband at least 10 members' name tags had to be moved.
So we are now ranked by our constituencies. This has one pleasant effect. I'm in a little gay enclave of Reigate, Rhondda and Ribble Valley with Crispin Blunt and Nigel Evans.
More irritating, though, is the sense that the officials think of MPs as the here-today-gone-tomorrow ephemera of Parliament. They really run the place. We are just a rather tedious legal necessity.
Join our new commenting forum
Join thought-provoking conversations, follow other Independent readers and see their replies