A Political Life: Parliament still has two years to run, but what has the Coalition got to fill it?
At the moment, it's the Empty Parliament – a legislative programme that is a void and an economic policy devoid of a strategy for growth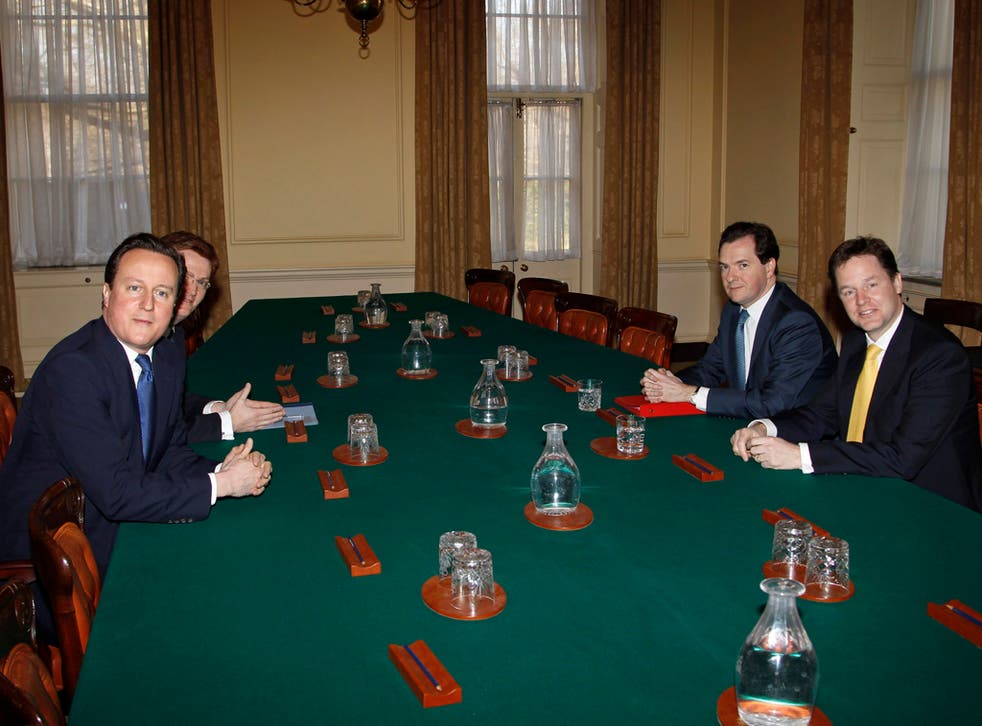 In two years' time, MPs will be packing up their offices for the general election.
Parliament has to be dissolved on Monday 13 April 2015 at the latest, but since the previous week is Easter week, it's pretty likely that it will end on Wednesday 1 April (unless David Cameron decides to avoid PMQs on April Fool's Day).
So the next few weeks are the vertical turning point of this Parliament. The Budget on Wednesday (after which Cameron has ensured that he will not face PMQs for a full four weeks) and the Queen's Speech at the start of May are the last opportunity the Cameron-Osborne-Clegg team (I've always thought of them as triple-barrelled) has to recast the profile of this Parliament. Many previous parliaments have been given nicknames: the Short, the Long, the Addled, the Good, the Mad, the Merciless and the Parliament of Bats in 1426 (thus named because its members hated each other so much swords were banned, forcing them to bring staves and bats instead).
This one? Stalled probably sums it up. An economy bumping along. Ideas briefed and then dropped (alcohol pricing, leaving the ECHR). Ministers so at odds with one another that they cohere around nothing. Important legislation carried with a significant majority and then dropped (think Lords reform) or overturned (parliamentary boundaries). A Budget last year from which every major policy was dropped.
Or maybe it's the Mean Parliament, with Conservative ministers deliberately inflicting the toughest cuts on the poorest and the most vulnerable, cutting benefits rates, slashing local authority budgets, forcing people in social housing to move home while providing a tax cut for millionaires. The Government's parsimony has become a self-perpetuating prophecy as relentless attacks have depressed economic optimism. Mean begets mean.
At the moment, though, it's the Empty Parliament – a legislative programme that is a void and an economic policy devoid of a strategy for growth, which is running at zero.
Next Wednesday, George Osborne needs to do something dramatic to transform that impression and Cameron needs to follow it up with something even more significant in the Queen's Speech. Otherwise, it will go down as the Empty.
Last-minute and lazy legislation
Parliament keeps time well. Sessions start bang on and we finish on the dot – which is why this week has been so extraordinary. On Tuesday evening, the Government had to table its programme motion for the next day by the end of play, which came at exactly 7.52. At 7.40, a government whip was wandering around trying to find someone to keep the business going an extra 20 minutes by demanding that the House meet in private (which requires a leisurely vote). Why? Because they still hadn't agreed what to table. In the end, they got their motion in at 7.42 pm.
On Thursday, we went through the same palaver. This time, the Government had to table its motion and its amendments on press conduct for Monday by 5.30. It didn't do so until 5.10. This time, Labour span things out until 5.56 by moving that we meet in private.
So, on Monday, the Commons will have to decide whether and how to legislate for Leveson in just over two hours – and we will have to consider manuscript amendments. This is no way to run a whelk stall. How can Parliament possibly do its job properly when we have no notice of what's being debated? We laud ourselves for our ancient traditions, but sometimes I think we're the shabbiest, worst-prepared Parliament going.
No time to back off on alcohol pricing
I know some people will be fuming about this, and doubtless some papers will bang on about "the culture of drinking" in Parliament, but the news that Eric Joyce has been in a brawl again fills me with sadness. Alcohol is a great friend but a terrible master. Today's MPs are actually a pretty abstemious bunch, and while this weekend's Wales-England match will be a great event, a late start may cause many men to return home heavily tanked up. That way violence lies. All the more reason to bemoan the fact that Theresa May announced a minimum price per unit policy, but has now dropped it.
The Argentinian Pope's unclear past
Where has Pope Francis come from politically? Just because you invoke St Francis of Assisi doesn't make you a good guy. I was working for a human rights organisation in Argentina in 1986. Unlike in Chile, where the Catholic Church's Vicaria de la Solidaridad had stood out resolutely against General Pinochet's barbarous dictatorship, the church in Argentina had been so quiescent during the years of disappearances, child-snatching and torture as to be morally culpable.
Not even the murder of the saintly, left-wing Bishop of La Rioja, Enrique Angelelli, got so much of a murmur of disapproval from the then Cardinal Archbishop of Buenos Aires, Juan Carlos Aramburu. And when democracy arrived again in 1983, what did Aramburu do? He dragged the image of the Blessed Virgin Mary at Lujan (Argentina's answer to Lourdes) to Buenos Aires to protest against the government's plan to legalise divorce and his successor went on to demand that gays and lesbians be rehoused in a ghetto.
There was one moment of liturgical tragicomedy, when Aramburu was processing into the cathedral behind a young lad swinging a thurible. To get the incense swirling, the thurifer swung it through 360 degrees, clonked the cardinal on the head and knocked him out. Let's hope Pope Francis will be different.
Twitter: @ChrisBryantMP
Join our new commenting forum
Join thought-provoking conversations, follow other Independent readers and see their replies