The real scandal behind horsemeat is the struggle of smallholding British farmers
Plus: Want an insight into the post-Pollard Report future of the BBC? Look no further than BBC2 this week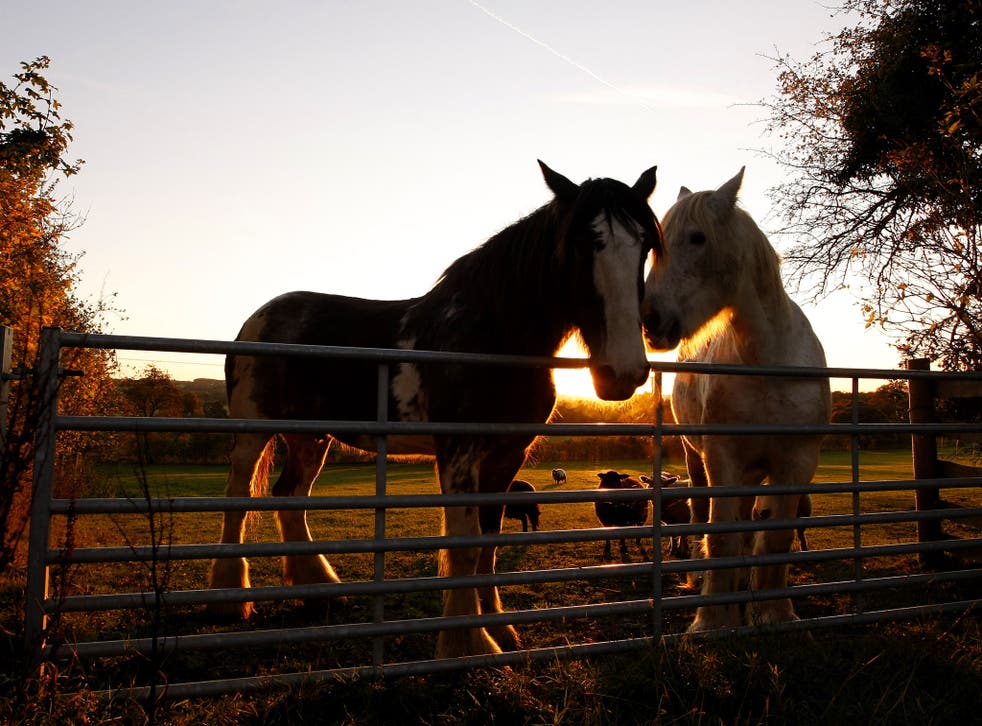 The village butcher has a good line in horse meat jokes. "Our beef is Red Poll not Red Rum" was the slogan on the blackboard outside his door last week. Before that it was: "Our beef won't give you the trots".
It has been one of those moments when the daily news, which tends to reflect urban and international events, has collided with the realities of life as it is lived away from the city. At first, the food scandal had reporters following the trail of animal misery which led to grim abattoirs in eastern or southern Europe. Gradually, though, the story has been seen to start with the uncomfortable facts about what is happening to our own meat producers.
The best way to avoid dodgy produce, we have repeatedly been told, is to buy from a local butcher who knows the source of his meat, rather than supermarkets who prefer to buy cheap and in ignorance. Unfortunately, it is precisely those sources – farmers who work within welfare regulations, producing animals which do not have to be transported thousands of miles to be slaughtered – who are in deep trouble.
Recent events have provided a perfect illustration of how muddled we have become about food and animal well-being. British producers of pork and poultry have generally improved standards of welfare in line with EU regulations, giving their stock larger coops and pens. Other European countries have not, and continue to produce meat in the cheap, inhumane way. It is their product which, thanks to UK retailers and their customers, is undercutting our own farmers and putting them out of business.
There are, admittedly, other factors. The cost of animal feed has rocketed. Brutal price competition for milk has almost halved the number of national dairy herds in the past 15 years. The recent floods have had a devastating effect on arable farmers. British farmers receive less per hectare under the EU's revised common agricultural policy than their direct competitors in Germany, Holland or Ireland.
These things matter. They affect the food we are offered to eat, and the way animals are treated. It is the smallholding farmers who have made the rural landscape down the centuries. It will be changed if the only voices which are heard in the debates surrounding policy are those of developers or vast agribusinesses for whom the countryside is a factory floor.
These problems facing rural communities rarely get much coverage in the media. As a culture, we are in thrall to a sepia-tinted version of the landscape. The country is somewhere to escape to, or to watch on television; it is a place of fantasy. The BBC's Countryfile now has impressive ratings of around seven million viewers.
It would be wrong to assume that those buying into TV's rural dream are cosseted city-dwellers. An exodus to the country has already begun. The 2011 census revealed the startling statistic that there were 620,000 fewer white Londoners than in 2001, whereas everywhere else in Britain had seen an increase in equivalent groups. Explaining the trend, the BBC's correspondent Mark Easton concluded that white families have cashed in on the property market, and bought cottages in the country or by the sea.
The trend is visible in many rural communities. Those with any professional or personal connection with the land are few. Not only are wages lower, but the shift from the towns has meant that property costs have increased, forcing young families to move away. The mindset in many small towns and villages is changing, too. It is becoming more urban.
The people who make their living from the land and produce much of our food are being squeezed by big business, by the TV fantasy, by developers. Their survival is important to our health, and to that of the countryside.
For God's sake, don't frighten the viewers
If a corporate motto is required for the new, socially responsible BBC, the phrase "A safe pair of hands" would seem to recommend itself. A corporate timorousness, marked by a fear of being attacked on the front page of Tory newspapers, is not only evident in many of the interviews in the Pollard Report. A heartbreakingly expensive example of where that safety-first, risk-phobic approach tends to lead is heading ponderously to its conclusion on BBC2 this week.
Nostalgic, beautifully filmed, set in an interesting period of history with an original musical score, Stephen Poliakoff's Dancing on the Edge must have seemed a safe bet. It had the snob appeal of Downton Abbey but with a classier cultural pedigree dating back to Dennis Potter's Pennies From Heaven.
Yet beyond the expensive production values, and some valiant acting, the series was weirdly dead, with a slow-moving plot, dialogue so creaky it often seemed to be parodying itself, and a plump, depressing sense of its own importance. Above all, it was utterly safe in its attitudes and will have caused not the slightest tremor of disapproval from the usual quarters. No doubt the BBC suits will be delighted.
Join our new commenting forum
Join thought-provoking conversations, follow other Independent readers and see their replies