Is Remembrance Day being undermined by 'poppy facism'?
No one should be coerced or bullied into displaying sympathy for a cause – doing so renders the gesture worthless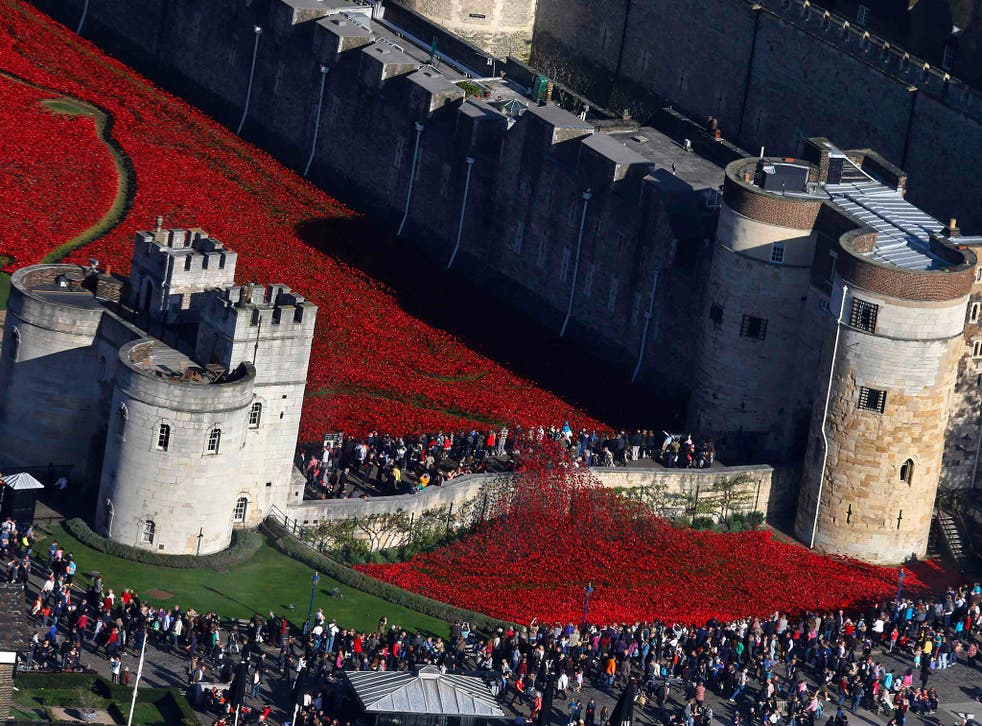 Nobody took a photograph of the onion that may have been secreted in Nigel Farage's pocket, so we have to assume that the tears he cried at the Great War memorial of 880,000 ceramic poppies in the Tower of London moat were genuine.
Some photographers went so far as to take a close-up of his brimming eyes ("Look! Real salty tears!") to establish that the tender-hearted Mr Farage was sincere in his grief and sympathy for the fallen.
Dear Nigel. He couldn't just turn up wearing his poppy and say "It's a jolly impressive memorial" – he had to go that extra inch and be more moved by the emblems of dead First World War servicemen than the bloke standing next to him. It's a shame there was no one around to erupt in competitive wailing, breast-beating or garment-rending, like those North Korean multitudes who strove to outdo each other in noisily mourning the death of Kim Jong-il in public.
But then it's Poppy Time again and, as with the clocks going back, a once-simple nationwide activity has become a political football. Jon Snow coined the phrase "poppy fascism" to describe the modern trend which insists that everyone who appears on British TV must be seen wearing a poppy, or else be stigmatised as a cold non-patriot who cares nothing for the wartime dead, and it's a tendency that's very much alive, especially on social media.
Newsreaders, politicians, game-show hosts, even football managers are sporting lapel poppies earlier and earlier lest they be accused of "insulting" the dead. It's like those wartime British women who confronted men in the street, demanded to know why they weren't in uniform and gave them a white feather – another floral emblem of war, only of cowardice, rather than extinction. The white feather told you that you weren't patriotic enough to support your country. Now, failing to wear a poppy supposedly tells the world the same.
The poppies at the Tower – or "Blood Swept Lands and Seas of Red," as Paul Cummins' installation is called – have pulled the crowds, but they've had detractors. "Trite, fake and inward-looking," wrote a Guardian critic, "a Ukip-style memorial".
In pictures: 'Blood Swept Lands and Seas of Red' poppy installation in London

Show all 19
Others complained the poppies were jingoistic, since they commemorate only the British war dead. Others wondered if making an artwork of poppies, along the lines of Ai Wei Wei's ceramic sunflower seeds at Tate Modern's Turbine Hall, is the right way to dignify fallen soldiers of 100 years ago. Edwin Heathcote, writing in the design magazine Icon, called the flowers "installation art as populist spectacle, the tropes of the art gallery poured out into the public realm to mingle with mawkish sentimentality, charity and a jingoistic celebration of the armed forces."
I'm intrigued by it, because it's the second memorial I've seen this week. The other was at Ground Zero in New York, where, beside the recently opened 9/11 Museum, you can visit the holes in the ground where the Twin Towers stood. They've been memorialised as two great square waterfalls, into which the calm, everyday water, just in front of where you're standing, slides over the edge and goes crashing down in Niagaran sublimity, to drain into an abysmal sinkhole. It's an emblem of the everyday lives that abruptly fell out of the sky in 2001, and about a nation's tears cascading endlessly down.
I thought it was wonderful – simple, moving, dignified. I thought the poppies were perhaps too prettified an image of nearly a million dead servicemen, but a startling and affecting spectacle nonetheless (so, having laughed at him, I'm giving Nigel's tears the benefit of the doubt.) What's important about both memorials is that they're site-specific – at least the poppies will be until 11 November, after which they'll be flogged at £25 a pop, with 10 per cent of profits going to army charities. But you don't have to walk around wearing memorials. You can just visit them and pay your respects.
Elsewhere, the commodification of the poppy is getting out of hand. Last weekend, Premier League footballers wore poppies sewn on to their jerseys, regardless of whether they had an opinion about the wartime dead, or whether they wanted to join a national collective memory of them. (There was a row last year when Fifa tried to ban them.)
This week, in towns all over Surrey, giant poppies have been festooned on trees and lamp posts. On the London Underground, Tube trains have been bursting into stations with huge poppies tied to the front carriages. Are these subtle and affecting displays of feeling? Or has Remembrance Day now turned into a variant of Red Nose Day, when everyone is encouraged to "Do something funny for money," and those who don't join in are deemed to be tightwads and spoilsports?
No one should be coerced or bullied into displaying sympathy for a cause – doing so renders the gesture worthless. A poppy should represent a thought, not a political statement or a uniform. And how much less fraught would be the act of remembering the dead if we could just visit an awe-inspiring memorial and think our private thoughts beside it, rather than having to wear a me-too badge in public, or take the consequences.
Join our new commenting forum
Join thought-provoking conversations, follow other Independent readers and see their replies