Robin Williams: the darkness and the light were indivisible
This great actor's death challenges set notions about success and creativity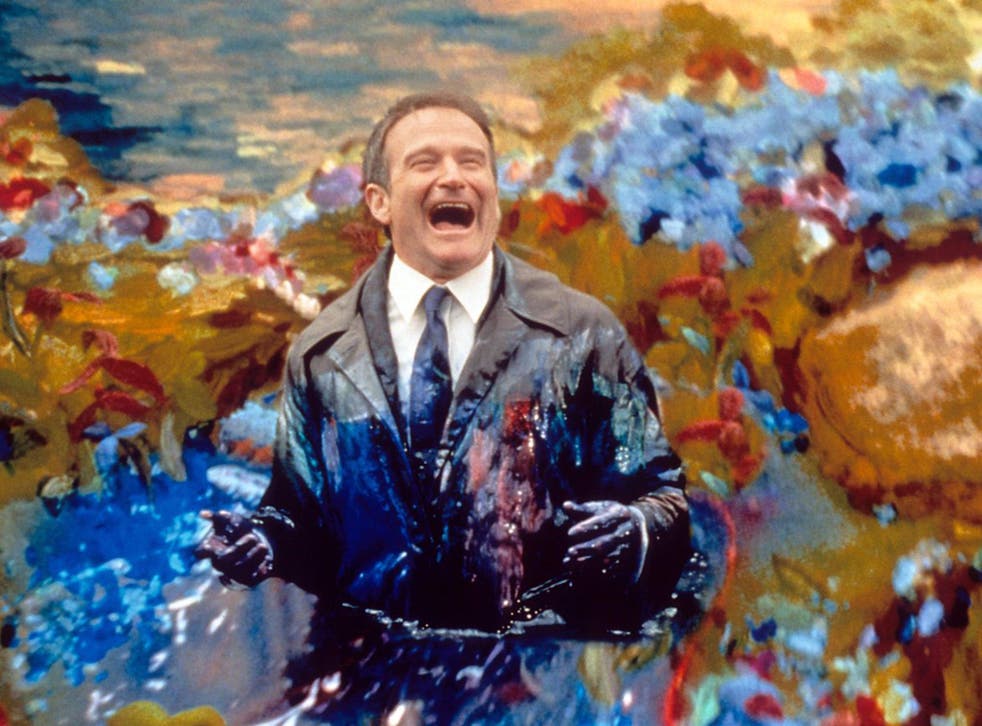 Fly! Be free! Most Americans of my generation will recognise this line of Robin Williams', from the first episode of Mork and Mindy. Mork, the alien who came to America in a giant egg-shaped spaceship, discovers eggs in a kitchen. "Little hatchling brothers, you must revolt against your oppressors," he tells them. "You have nothing to lose but your shells. Fly! Be free!" he ends, tossing an egg into the air, which promptly smashes on the counter.
Recalling this scene a few hours after awakening to the dreadful news that Williams has died at 63, an apparent suicide, it strikes me as apt that these words should have introduced the world to a comic whose great genius was ad libbing.
Ad lib, after all, comes from ad libitum: to speak at pleasure, at liberty. And it was in his early stand-up routines that Williams really flew and was free, liberating his frenetic, irrepressible verbal gifts.
"Let's improvise," he whispers at the start of An Evening with Robin Williams (1982), before offering a masterclass in extempore. Like all great comedians Williams was a jazz musician with words, working through a set comprised of notes and themes around which he could jam and scat.
He jokes in An Evening about having attended Juilliard (which he did), and before long he was flexing his acting muscles in films that conjoined his trademark verbal riffs with serious themes: Good Morning, Vietnam; Dead Poets' Society; Mrs Doubtfire. At times he would still let rip into pure comedy, as in his show-stopping turn as the genie in Aladdin, but it isn't surprising that he couldn't forever sustain the energy needed for such manic performances. He began to speak openly about his problems with addiction and depression, and for many years explored "straight" drama, making Awakenings with Robert De Niro, Insomnia with Al Pacino, and winning an Oscar for his performance as a psychiatrist in Good Will Hunting.
I was in my 20s when that film came out, and it struck many chords with me; writing a PhD thesis about Sylvia Plath at the time, I was constantly parrying questions about why I chose to study someone so "depressing" as Plath.
In pictures: Robin Williams 1951 - 2014

Show all 25
But I didn't find Plath depressing. Her story was tragic, certainly, but her art was not: her poetry is by turns raging, touching, funny; her novel The Bell Jar is about depression and suicide, but it is also a blackly hilarious social satire. Watching Williams pull back his comedic showboating into a gentle, wise performance, I wondered why we keep trying to divide artistry into darkness and light.
The shock of Robin Williams' death has prompted a great outpouring of tributes, too many of which fall back on the cliché of the tears of the clown. But this is a false, simplistic dichotomy. Seriousness, intelligence, wit, and joy are not mutually exclusive from pain. All of the best stand-ups know this: Lenny Bruce, Richard Pryor, Andy Kauffmann, and yes, Williams, understood how surgically close good comedy must cut to the bone.
We don't find it odd that there is humour in Hamlet; Mark Twain used laughter to expose the poison of American slavery; Nabokov's Lolita is the story of a sexual predator who is also hilarious; the book is so unsettling in part because our laughter prompts us to sympathise with a monster.
I have been working as a judge on the Man Booker prize this year, and nearly all of the books we longlisted are funny. I am not among those who think that comedy is less artistic (or difficult) than tragedy: I loved Robin Williams for being seriously funny.
This is all apart from the fraught question of clinical depression. It is disheartening, to say the least, to read (one hopes well-meaning) comments on social media asking what Williams had to be depressed about, given his wealth and success. Such questions are symptomatic not only of a profound misunderstanding about the nature of mental illness, which does not arise from external causes, but also of our society's crazy faith in anyone finding salvation in money or fame.
Depression is an illness that descends upon people irrespective of whether they are funny or successful. From the crucible of personal distress some exceptional talents can forge art: that is all.
At the end of Awakenings Robin Williams delivers a speech that has now acquired a terrible resonance, as his character explains that what seemed a miracle cure was no less a miracle for proving temporary: "Now we have to adjust to the realities of miracles. We can hide behind the veil of science and say it was the drug that failed or that the illness itself had returned … The reality is we don't know what went wrong anymore than we know what went right."
Put another way, we might remember Lorrie Moore's wonderful summation of German philosophy: "Terrible world. Great sky." These statements are not incompatible: they are the human condition. Some of us may even exult in the greatness of the sky all the more for having seen how terrible the world is. "About suffering they were never wrong, the Old Masters," wrote Auden in "Musée Des Beaux Arts," his poem about the fall of Icarus. All masters understand suffering: without it, there is no mastery. But they also know the joy of flying freely, ad libitum, and close to the sun.
Sarah Churchwell is Professor of American Literature at the University of East Anglia
Join our new commenting forum
Join thought-provoking conversations, follow other Independent readers and see their replies