Rosalind Russell's vivid portrait of a rapidly changing Burma
Her decision to focus on people's lives reminds us how insightful such stories can be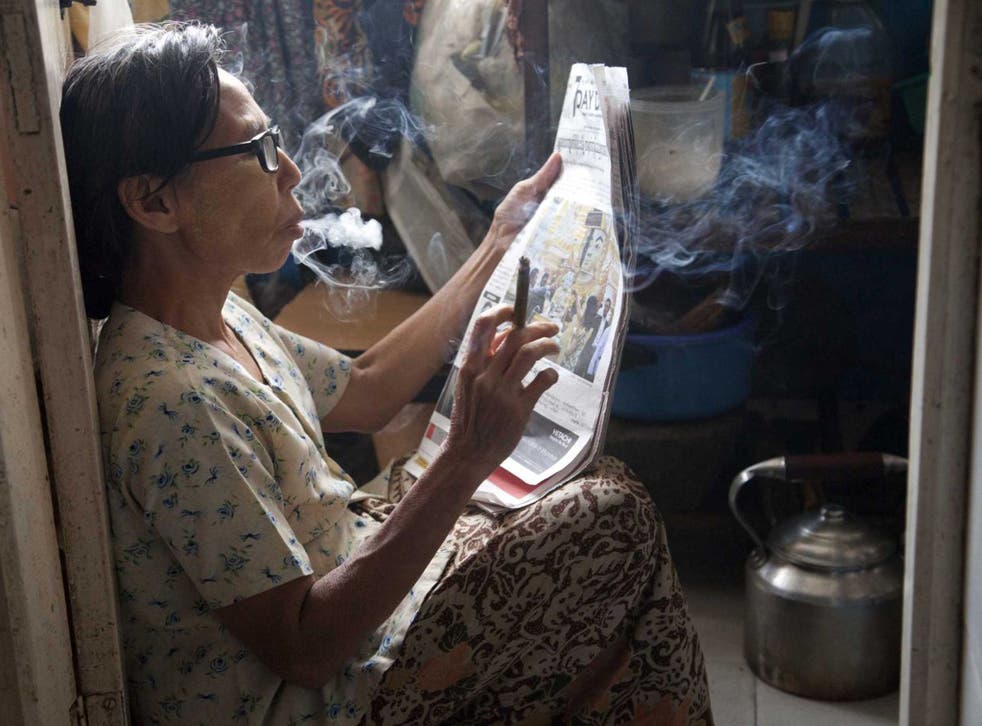 This book should come with a spoiler alert – her real name isn't Phoebe.
In the summer of 2008, Rosalind Russell arrived in Burma hoping to work as a journalist under rather unlikely circumstances. Her husband, Dan, had been posted there with an aid organisation and her intention was to surreptitiously work as a reporter while pretending to be nothing more sinister than a trailing spouse.
The main, overriding challenge was how to not reveal herself to the military junta that still exerted its carbon-steel grip and banned independent journalists. She could not tell the people she met that she was a reporter, she struggled even to carry out proper interviews. And, as a new memoir of her time in Burma reveals, she needed a "byline" for her articles that was not her real name.
"I settled on my pseudonym Phoebe Kennedy, a combination of the names of my niece and my grandmother," she writes in Burma's Spring: Real Lives in Turbulent Times. "I found this degree of separation instantly liberating."
For this newspaper, for which Russell filed her pseudonymous reports, it proved to be a brilliant arrangement. At a time when interest in Burma was soaring and the country was undergoing huge changes (albeit, some of them buried from view) The Independent had the privilege of being perhaps the only Western newspaper with a full-time Rangoon stringer.
In her memoir, Russell has written authoritatively of the changes that swept through Burma, yet she has done so by focusing on the stories of a series of individuals and looking at how their lives were affected by events.
The portraits are insightful and moving. There is Mu Mu, the Burmese maid hired in Bangkok, forced to cross the border to become the bread-winner after bad luck prevented her from getting a job in her own country.
A trip through Burma's wild west

Show all 6
Then there is the young journalist, Zayar, who turns his back on a safe government job to pursue his dream of becoming a reporter and whose first assignment, covering the horrors of Cyclone Nargis, is a lesson he never forgets.
Interwoven with these portraits are first-hand reports of the political changes that played out in front of Russell – the holding of elections, the transition towards a civilian government and the release of Aung San Suu Kyi. (Russell's account of that mad, exhilarating Saturday in November 2010 – when the democracy icon spoke to crowds outside the home that had been her jail for seven years – is reason by itself to read the book.)
But her decision to primarily focus on people's lives and to tell their stories is a reminder that, as journalists and readers, by concentrating only on the big headlines we can lose track of human tales that are often more insightful. It also allows Russell to reveal a richer, more nuanced picture of Burma than was often portrayed by a Western media.
Her book comes at a time of mounting concern about the direction Burma may be heading in. After a couple of years of optimism about the country's transition towards democracy, the past year or so has seen Burma struggling with anti-Muslim violence, increasing censorship and worries that the constitution may never allow Ms Suu Kyi to sit as President.
Fittingly, Russell closes her account with the death of Win Tin, the former political prisoner who never lost hope in his country or its potential, despite spending almost 20 years in jail. As one of the mourners says at his funeral: "He was the undefeated."
Join our new commenting forum
Join thought-provoking conversations, follow other Independent readers and see their replies