Rupert Murdoch links sympathy for Palestinians to anti-Semitism. The truth is more complex
Wishing an end to Palestinian suffering is not synonymous with willing the annihilation of Israel, so why is this distinction so hard to make?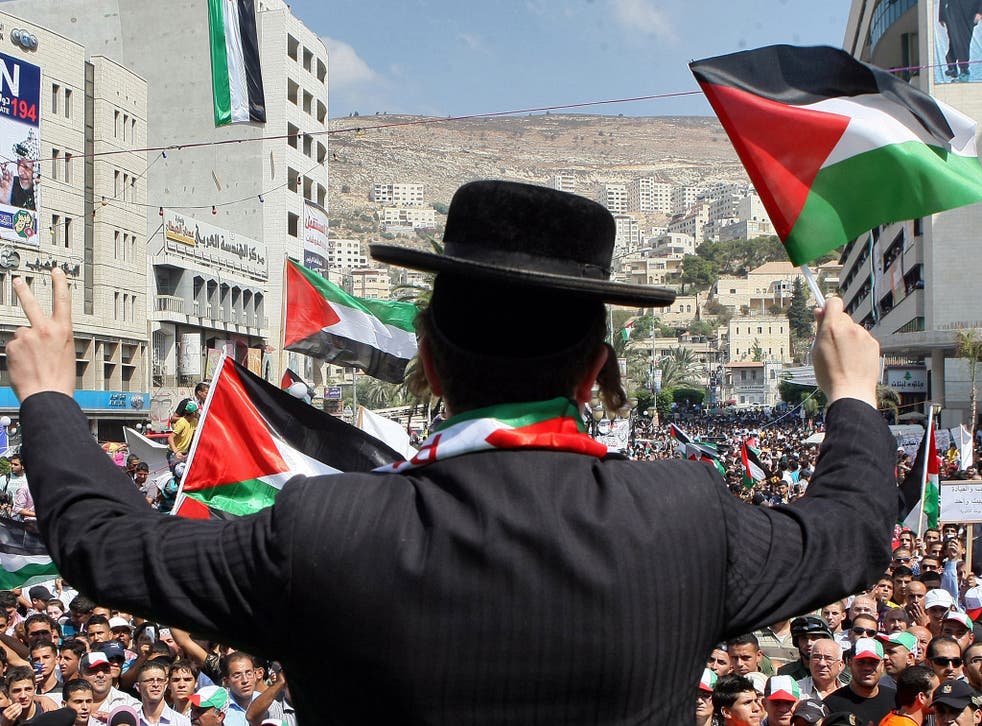 In a futile bid to preempt the allegation that automatically follows an article of this nature, I begin with a clarification. It is lifted from the Curb Your Enthusiasm episode where a man in a cinema queue berates Larry David as "a self-hating Jew" for whistling an aria from Wagner. I certainly do hate myself, is Larry's reply, but it has absolutely nothing to do with being a Jew.
There was a time when a writer could address the spirited disputes sparked by World Holocaust Day in a tone sympathetic to the Palestinian cause without feeling the need to absolve himself of any form of anti-Semitism, though it feels like a distant age now. It is more than 10 years since the Labour MP Sir Gerald Kaufman, for decades as passionate a friend of Israel as parliament knew, was jostled at St John's Wood synagogue, on Yom Kippur, by congregants enraged by his criticisms of Ariel Sharon.
At about the same time, my old boss Sir Max Hastings was attacked for anti-Semitism on the same grounds. Max, who wrote books eulogising Israeli heroism, who is married to a Jew, whose closest friends actually are Jews, is the biggest Judeophile you could meet. For offering some typically informed and balanced criticisms, far more in sorrow than anger, of the country about which he had written so lyrically, he was savaged as a Jew-hater.
In this broiling climate of reflex brutality (one that has become more superheated in the intervening years), it is pointless to expect what follows to be met with anything other than hysterical denunciation by those who believe, with all apparent sincerity, that no distinction can ever be drawn between wishing an end to Palestinian suffering and willing the annihilation of the state of Israel.
To Melanie Phillips and the deranged viewpoint for which her name is shorthand, being a proudly Jewish foe of anti-Semitism is unbreakably synonymous with agreeing wholeheartedly with every Israeli action, be it the land grabs, wildly disproportionate responses to incoming missiles, or anything else. To express anguish at the misery of a benighted people is to join the group she has memorably identified as Jews For Genocide, and actively invite the second coming of Hitler.
So virulent is this brand of paranoia that even a heavily diluted version has the power to fuel the kind of contention heard on the Today programme discussion yesterday. On Monday, in the latest episode of that popular daytime soap The Humblest Days Of My Lives, Rupert Murdoch apologised for Gerald Scarfe's Sunday Times cartoon, captioned "US Elections: will cementing peace continue?", featuring Bibi Netanyahu filling a brick wall with Palestinian blood and limbs. Jewish Chronicle editor Stephen Pollard found the drawing repugnant in itself, and its publication on World Holocaust Day more so. Defending Scarfe was the Guardian cartoonist Steve Bell, accused of anti-Semitism himself in November when he drew Netanyahu surrounded by Israeli flags shaped after nuclear warheads, wearing William Hague and Mr Tony Blair as glove puppets. This, the likes of Mr Pollard believe, deliberately echoed the ancient meme of the Jew as puppet-master, pulling the geopolitical strings in the quest for self-enrichment.
Perhaps it was clumsy of Mr Bell to use the puppet theme at all (though it is a favourite device of his in many contexts, and here Bibi was more Harry Corbett than Fagan), and clumsier of Mr Scarfe to publish his cartoon on World Holocaust Day (he has apologised for this, though not for the drawing).
It was rather worse than insensitive timing, meanwhile, that led Lib Dem MP David Ward to use the memorial to launch a clumping moral equivocation with the Third Reich. "I am saddened that the Jews could within a few years of liberation from the death camps be inflicting atrocities on Palestinians...," he wrote. Leaving aside any idiocy inherent in an implied direct comparison with industrialised genocide, by conflating "the Jews" with the Israeli government, he presented himself as the mirror image of Mad Mel, whose premier lunacy is predicated on the same cancerous fiction that "Jews" and "acts of the Israeli state" are inseparable.
Not being one to sniff out anti-Semitism like a hyperactive bloodhound, I give Mr Ward – twice a visitor to Auschwitz – the benefit of the doubt about his tone, though there are, of course, those who use "Israel" as a proxy for "the Jews" with nasty intent (a BNP voter of my unwilling acquaintance is incongruously committed to Palestinian statehood). Rank anti-Semitism survives, equally needless to state, with the most startling instance broadcast in living memory in any Western democracy coming on Mr Murdoch's own Fox News.
Three years ago, the mega-egregious shock-jock Glenn Beck accused the financier George Soros, a Jewish refugee from German-occupied Hungary, and by happenstance a long-term enemy of Rupert's, of colluding in the slaughter of fellow Jews as a boy. Drawing deeply on the language and imagery of the Zinoviev Letter, he further charged Soros with conspiring to collapse the American economy in pursuit of the creation of – what else? – a new world order. The show was titled The Puppetmaster.
Weirdly, Rupert Murdoch, who recently rebuked America's "Jewish-owned press" for not supporting Israel slavishly enough, did not apologise for that show as he did for the Scarfe cartoon. More bizarrely, the same Melanie Phillips who thought Steve Bell's glove puppets "disgusting", had not a word to say about The Puppetmaster. Later, indeed, she wrote in defence of Mr Beck, on whose now defunct Fox show she was a regular guest, when his incendiary ravings were cited as a catalyst for the shooting of the Jewish congresswoman Gabby Giffords.
What explains such a bemusing paradox? Could it perhaps be that where Beck makes his fortune by peddling "clash of civilisations" Islamophobia of the sort celebrated in Ms Phillips' Londonistan, foreseeing a Palestinian state on Palestinian soil as the gateway to a new caliphate stretching as far as Washington, Soros is a liberal philanthropist who spends some of his time and money working towards the peaceful creation of such a state?
The twisting of tribal loyalties and perversion of humanity that define this debate have for too long spoken, however confusingly, for themselves. But if Melanie Phillips and her ilk want proof, as the World Holocaust Day arguments rumble on, that the relationship between anti-Semitism and sympathy for the Palestinians is a little more complex than she has seen fit to concede, perhaps her apparent preference for a pro-Israeli Jew-hater over a pro-Palestinian Holocaust survivor might illuminate the path.
Join our new commenting forum
Join thought-provoking conversations, follow other Independent readers and see their replies