In the search for justice in the former Yugoslavia, are we ignoring the Serbian victims of war crimes?
Serbia is to blame for the vast majority of atrocities committed during the 90s wars in the Balkans, but Serbs were also murdered and expelled from their homes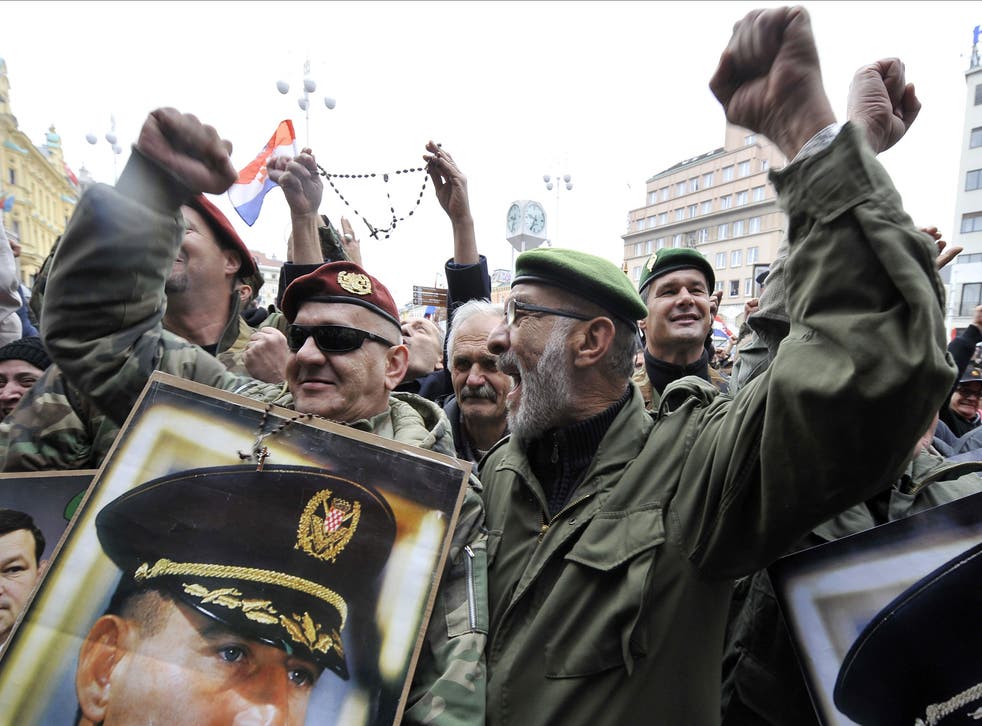 In August 1995, when the Croat army arrived in the Krajina region in southern and central Croatia to "liberate" the self-proclaimed Serb entity, bombing and looting houses, some 200,000 ethnic Serbs were forced to flee their homes and go to neighbouring Serbia. They have never returned, and to this day Serbs form the large majority of more than 330,000 remaining refugees and displaced peoples from the 90s wars in the Balkans.
You might expect that in the series of war crimes trials launched by the International Criminal Tribunal for former Yugoslavia (ICTY), the killings and expulsion of an ethnic group from a territory on which they'd lived for more than four centuries would be recognised as a crime, and those responsible for it punished.
Instead, the ICTY last month acquitted Croat generals Ante Gotovina and Mladen Markac and ruled that there was no "joint criminal enterprise" to drive the Serbian minority out of the country during the operation.
For Croats, the verdict was not just the acquittal of "national heroes," it was also an international acknowledgement that what they did was "just."
"The war to liberate our territory is finally recognised as just and legitimate," said Croat president Ivo Josipovic during the welcoming ceremony for the two generals.
If the acquittal was celebrated like a national holiday in Croatia, it was perceived as a "humiliation" for Serb victims, according to Serbian Prime Minister Ivica Dacic, while Serbian President Tomislav Nikolic called it a "political" decision that would "open old wounds."
The ICTY was supposed to help close these "old wounds" and support the reconciliation process, but resulting nationalist declarations from all sides continue to make it look more like a revival of the conflict.
Ten days after the two Croat generals were acquitted, former Kosovo Liberation Army (KLA) leader Ramush Haradinaj was found not guilty of a "joint criminal enterprise" (again) against Kosovo Serbs, and other minorities living in the country. Some 800 of them were abducted and killed by the KLA during the 98-99 Kosovo conflict.
"Who then committed those crimes? Is anybody ever going to be brought to justice?" asked John Dalhuisen, Director of Amnesty International's Europe and Central Asia programme.
On an international level, despite Serbia's fury, his is almost a lone voice when it comes to the Serb victims' fate.
The Serbs lost the war, and the regime of then leader Slobodan Milosevic was responsible for the vast majority of horrors committed during those years. Its current leaders President Tomislav Nikolic and Prime Minister Ivica Dacic are both former allies of Milosevic, which probably doesn't inspire international leaders to stand up for them on such a critical issue, especially when they make embarrassing and unhelpful comments.
President Nikolic said after the release of Haradinaj that he now "expect[s] the release of all Serbs who are held by the Hague tribunal," which includes Ratko Mladic, the "butcher of Serbia", Radovan Karadzic and Goran Hadzic, all accused war criminals and not citizens a country's leader should proudly defend.
Since his election last May, Nikolic had already publicly denied that the Srebrenica massacre of some 8,000 Muslim men and boys by Serbian troops was genocide. Twice. Not the best way to close "open wounds" either, and definitely not the best way to convince foreign leaders that what you're saying is anything other than the usual nationalist propaganda.
But there are plenty of people in Serbia who have been fighting for years against nationalism, for regional reconciliation, against Milosevic and who also want justice. Activist Natasa Kandic, whose Humanitarian Law Centre has provided the ICTY with witnesses to war crimes on all sides despite constant threats, also condemned the "surprising" Croatian verdict that had "forgotten the victims."
Even among the judiciary, Judge Fausto Pocar, one of the two out of five judges who voted against the acquittal of the Croat general, said he, "fundamentally dissent[s] from the entire appeal judgment which contradicts any sense of justice."
Tribunals don't erase history but recognition of suffering, justice, and punishment of those responsible definitely helps rehabilitation, while seeing war crimes celebrated in Croatia is having the opposite effect. Yes, Serbia is to blame for the vast majority of atrocities committed during the wars. But Serbs have also been murdered and expelled from their houses, and like other victims of the 90's wars, deserve justice. The sense of isolation caused by the international community's seeming lack of interest will only breed fiercer nationalism.
Join our new commenting forum
Join thought-provoking conversations, follow other Independent readers and see their replies