To see how the establishment operates, you really needed to be at this week's launch party for Andrew Marr's new book
What happens when political and media elites get together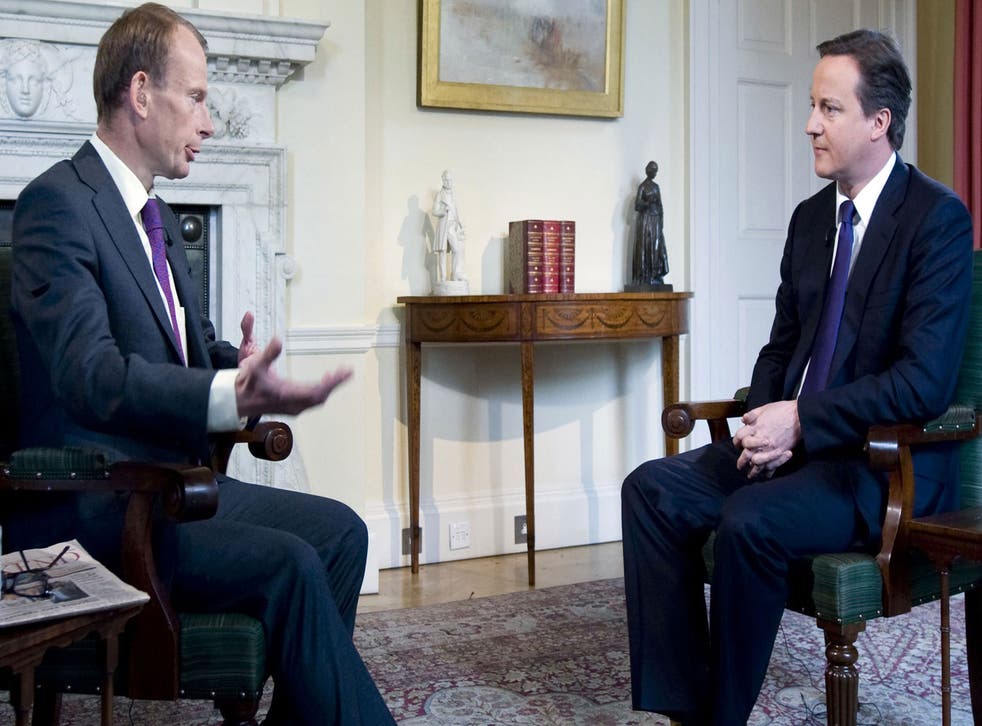 In the front lobby of 10 Downing Street, there's a wooden cupboard of about 100 pigeonholes, where visitors and party guests are encouraged (actually rather more than encouraged) to leave their mobile phones, before proceeding further inside the sacred interior. There's no check-in girl here, and no docket to slip in your pocket. You just put your iPhone or Nokia or Samsung into the shadowy gloom of these bonsai caves and try to memorise the number of the hole, so you can retrieve it after the party.
It was sobering to contemplate this cupboard, this honeycomb of electronica, this telephone exchange of clout and leverage. Just to imagine the contacts lists on the phones of the MPs, senior civil servants, PR titans, committee chairs, newspaper editors, television magnates and peers of the realm attending this party makes your head spin.
It's not every day that No 10 hosts a book launch, but this was Andrew Marr's blackly comic political thriller, Head of State, and the PM had graciously allowed the former BBC political editor to celebrate in his charming home. The book is an "entertainment" which, among other things, offers a portrait of London's military-industrial-political establishment scheming, plotting and arguing with each other. Would this party offer a similar spectacle? To give it extra gravitas, the party was to highlight the charity ARNI – Action for Rehabilitation from Neurological Injury – which Marr has spearheaded since his stroke 20 months ago. But whatever the occasion, one doesn't turn down any chance to check out the nexus of bigwiggery.
Security was tight in Downing Street. Baroness Joan Bakewell stood regally in front of me at the outer gates. "Joan Bakewell… Joan Bakewell…" muttered an armed policeman, running his finger down the guest list. "Go right ahead, Baroness," said an older copper, giving his colleague a pained look. Our jackets, keys and metal objects were put through an airport scanner. At the front door we handed over "Admit Bearer" cards and had our passports and driving licences – everything bar fingerprints and retinas – checked.
Upstairs, the party was humming in a gentlemen's-club-style reception room, given factitious poshness by two marble pillars. Famous political faces loomed through the crush: Jeremy Hunt, George Osborne, Yvette Cooper. Journalists talked to each other, eyes busily flickering, desperate not to miss anything. Beside the bar stood Jason Cowley, editor of the New Statesman. There's a "Jason Cowley" in Marr's book – it's a car, described as "tinny, shrill and noisy". It's not certain that the real Cowley has read the book.
Elsewhere, distinguished authors, publishers and literary agents commiserated with each other about the state of the industry. Robert McCrum, another stroke victim, discussed a recent sacking at his old public school. The unsinkably upbeat Australian novelist Kathy Lette regretted that there weren't enough readers to go round these days. Lady Antonia Fraser drifted past, a one-woman procession.
I chatted to Edna O'Brien, the doyenne of Irish fiction, who was keen to congratulate Marr. Immovably parked between us and him were two men in close conversation. "Excuse me," I said, "can we squeeze through? Ms O'Brien here wants a word with the author." The men politely drew apart. The chap on the left was Nick Clegg. "I'm so sorry to interrupt," I said. "Oh, don't mind me," he murmured, self-parodically.
I wasn't sure if Lord Chadlington was there (I'm not good at faces from the Lords), but his spirit was very much at the party, as the link between Marr and David Cameron, and a crucial figure in joined-up British politics. It was he who gave Marr the central idea for the plot; his name is on the book's copyright page; there's an introductory note about him by Marr, and another one by himself, delivering his imprimatur.
Was Cameron coming to the party? Everyone assured each other there was no, repeat no, chance. He was currently being yelled at in Leith. But suddenly, there he was in the room, at the microphone, welcoming the crowd, saying: "I haven't read Andy's book yet, but I gather it's about political assassination. After the week I've had, that sounds like a very welcome idea…"
Speeches followed, all of them concentrating on the terrible effects of a stroke and how the ARNI charity can help to alleviate them; the imminent Scottish referendum and its likely outcome – which could precipitate the fall of the perspiring PM – didn't get a mention.
You can infer all kinds of sinister conspiracy from the links and crossovers of the 100-odd people at a Downing Street reception. You can guarantee that all manner of backhanders and old-boy networks and favouritism are at work in these get-togethers. But I left the party wondering how its zone of influence compared with similar convergences in, say, Berlusconi's Italy, or Sarkozy's France. You look at the British version and feel slightly reassured by its prevailing air of benign ineptness.
In the lobby, we gathered around the mobile-phone cupboard. The BBC's creative director, Alan Yentob, couldn't find his mobile. He'd forgotten the number of his pigeonhole. He pulled out one phone after another, hoping to identify his, without luck. What could he do? He could hardly examine all 100 devices in 100 holes. Ed Victor, super-agent to the stars, came to his aid. He pulled out his mobile, dialled Yentob's number (which of course was in his contacts list). The missing phone shrilled; its light bounced with life. All was well. Could you ask for a more charming symbol of the British establishment helping its members out?
Join our new commenting forum
Join thought-provoking conversations, follow other Independent readers and see their replies