Sketch: Nigella Lawson, steely Queen of the Kitchen, dishes dirt on 'Mr Saatchi' as she settles old scores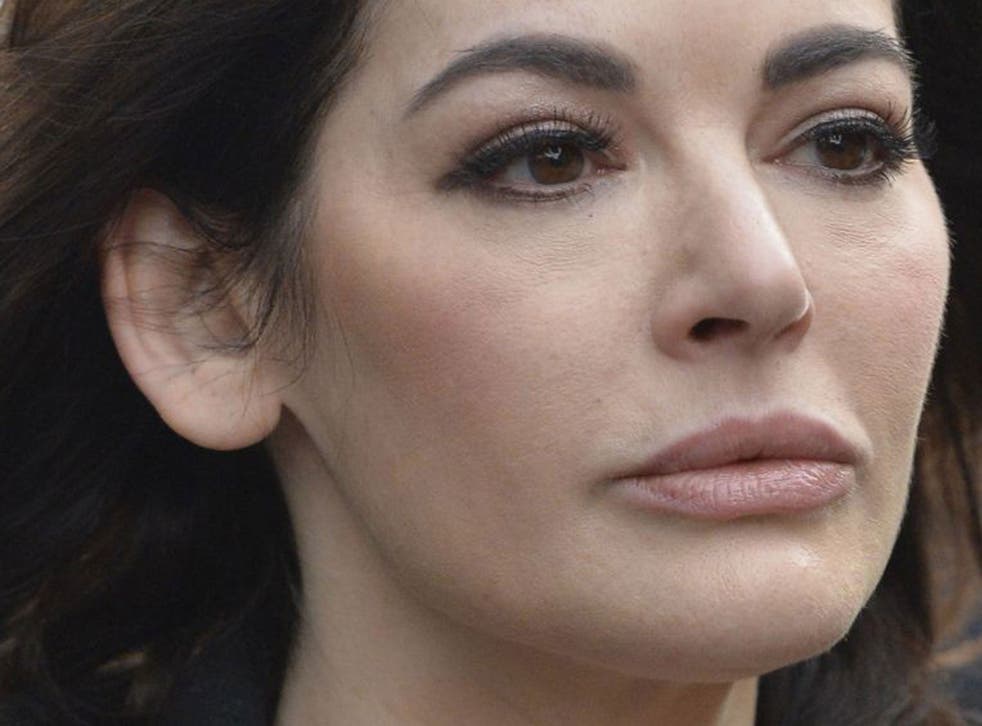 Five hours after Nigella Lawson first entered the witness box at Isleworth Crown Court a lawyer called her "Mrs Saatchi".
Her eyes blazed. "What did you call me?" she spat.
"Miss Lawson, I made a mistake. We all do," Anthony Metzer QC replied meekly.
It wasn't the first time he had to back down because the TV cook had come to court ready for a scrap.
This was not fey and demure Nigella the gastro-porn siren from the television. This was up-for-a-fight Nigella and right from the first bell she was in the mood to slug it out.
That soft focus look and dreamy, ever-tempting voice was replaced with the authoritative bark of a hospital matron.
While the Grillo sisters may have been on trial, Nigella had come to settle some very important scores, and the most important was that her ex-husband Charles – or Mr Saatchi, as she referred to him – was to blame. He was the "brutal bully" who committed acts of "intimate terrorism" in their doomed marriage, she repeatedly stressed.
But at the end of an exhausting day, when she was finally confronted with the cocaine question, she sagged.
Her confession was delivered at slow march pace as she self consciously measured every word. But then she snapped her heels to attention, pined her arms to her side and regained her combative mood.
Earlier she had insisted she did not want to see Elisabetta Grillo behind bars, just see her admit her guilt.
In contrast to "Mr Saatchi", she still "loved" Lisa, who had been her "rock" when her first husband John Diamond had died and she had confided in her often in a "close and intimate relationship".
She had been happy to treat her to thousands of pounds worth of dental treatment, personal gifts and access to the family doctor. If anyone was ill she would happily pay for them to get better, she said.
That was more like it. This was the bountiful mother, the generous host, the Queen of the Kitchen, Nigella. This was TV Nigella.