Sky blue orchid is already a rare beauty. Deforestation threatens its very existence
In 2012 Indonesia destroyed more than two million  acres of its primary forest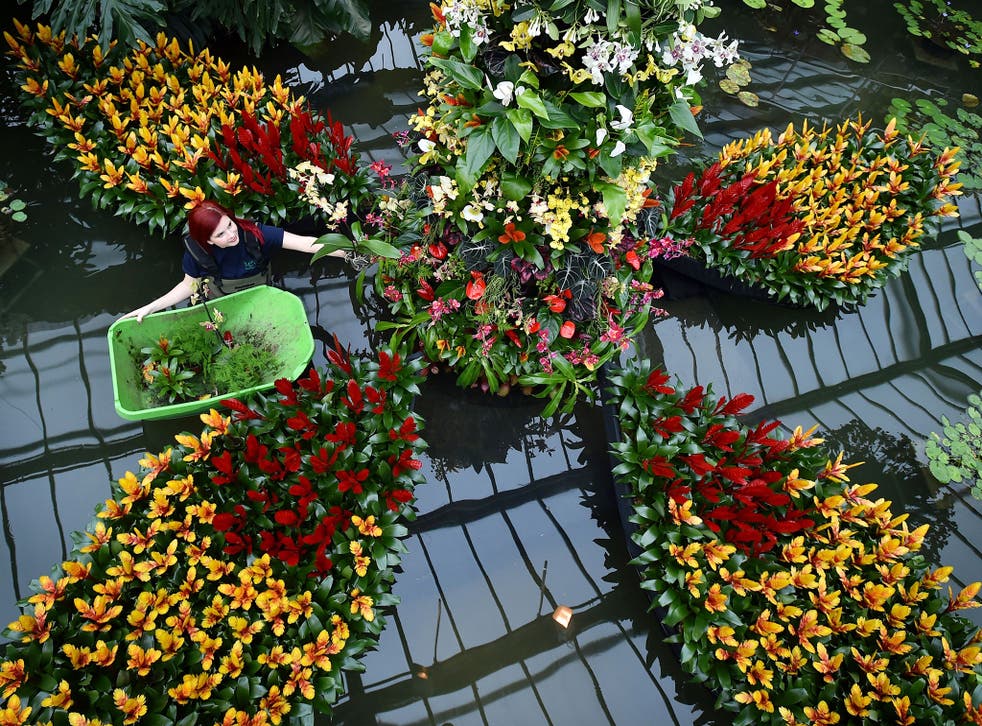 Last weekend saw the opening of the annual orchid festival at the Royal Botanic Gardens, Kew, and quite a sight it is. The theme this year is the coloration that orchids use to attract their insect pollinators, and the exhibition contains a number of stunning displays, including a darkened room where standard lighting changes every half-minute to ultra-violet – and then completely different patterns appear on the flowers revealing pathways into them for insects, which can see in the ultra-violet part of the spectrum, whereas we cannot.
It's fascinating and well worth a visit. But among all the brilliance of floral colour, there lurks a story, told very briefly in one of the small information panels. It reveals that Kew's leading orchid scientist, André Schuiteman, recently discovered something very unusual in the plant world – an orchid which is sky blue.
Although orchids come in many colours, including numerous shades of purple, sky blue ones, especially epiphytes, or those which grow on trees, are as rare as hen's teeth, with only a tiny handful known among the 26,000 wild orchids which have so far been described.
This particular plant comes from Waigeo, an island off New Guinea, but Mr Schuiteman did not find it there. He found it a couple of years ago in the herbarium of the Natural History Museum in South Kensington, where it had lain in a drawer, mounted on a sheet but unnamed and otherwise unclassified apart from its genus, or species grouping – it is one of the Dendrobiums, very familiar to orchid fanciers – since it was originally discovered during an expedition to the island itself in 1938, by Evelyn Cheesman.
Ms Cheesman was a British woman explorer, who has born in 1881 and wanted to become a veterinary surgeon. But at the time her sex ruled that out, so she became an entomologist, and eventually curator of insects at London Zoo – the first woman to hold such a post. Later she embarked on a number of fearless, single-handed collecting expeditions across the Pacific, eventually focusing on New Guinea and collecting some 70,000 specimens, mainly insects, but also many flowers and other species.
In pictures: Kew Gardens

Show all 8
She found her bright blue Dendrobium growing on trees in cloud forest at an altitude of about 2,500 feet near the summit of Waigeo's Mount Nok on 16 June, 1938 (when she was nearly 60), writing about it in an account of her expedition entitled Six Legged Snakes in New Guinea. She brought it back to London as a pressed specimen and gave it to the museum, where it remained in obscurity for more than 70 years until Mr Schuiteman investigated it, attracted by Ms Cheesman's brief description of its colour as "deep sky blue" (it has more or less faded now).
Mr Schuiteman has since published a proper scientific account of the plant and given it a name: Dendrobium azureum. But he would like to do more; he would like to bring it back as a living specimen to Kew. He is well-placed to do so: as Kew's principal orchid hunter he has found several dozen new species on a number of expeditions to the tropics, including four to New Guinea.
But there is a problem looming: deforestation. Waigeo island is located in the West Papua province of Indonesia, and last year it was revealed that Indonesia has the most rapid rate of deforestation in the world, having overtaken the Brazilian Amazon. On Waigeo, large-scale logging is already well established; and it is likely that Dendrobium azureum is endemic to the island – that is, it exists nowhere else.
Mr Schuiteman intends to mount an expedition to relocate Evelyn Cheesman's orchid – but can he find it before the chainsaws destroy its habitat? "I hope so," he says. His chances do not look great. Concern is already being expressed about the effects of razing the forests of the Mount Nok area on another Waigeo endemic, an exotic and very rare bird, the Waigeo brushturkey, whose total population may number only 1,000 individuals.
Furthermore, a paper published last June in the journal Nature showed the true scale of the problem: it revealed that in 2012, Indonesia destroyed 840,000 hectares (more than two million acres) of its primary forest, compared to 460,000 hectares (about 1.1m acres) lost in the Amazon.
The destruction of the rainforests falls out of the headlines; but even if we forget it, it is continuing remorselessly, day after day, and it may well swallow up the sky-blue bloom an intrepid woman explorer stumbled upon more than 70 years ago, before it can be saved for us all.
Join our new commenting forum
Join thought-provoking conversations, follow other Independent readers and see their replies