Spot the masterpiece amid a $1bn orgy of patronage and hype
A handful of 'ultra high net worth' individuals fund the art market, which dwarfs in its riches the wildest fantasies of a Borgia pope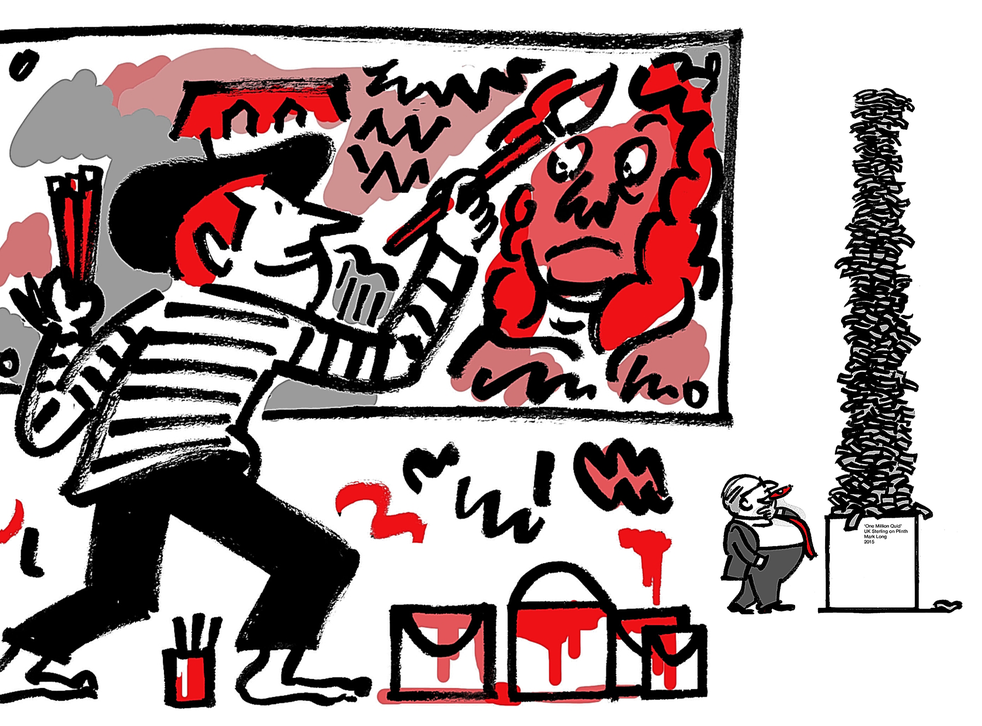 The most famous "naked civil servant" used to be Quentin Crisp. That title may now pass from the iron-clad dandy raconteur to another Soho legend, and part-time artist's model.
Sue Tilley is the Job Centre official who recently took redundancy to spend more time on her own art. In the mid-1990s, Lucian Freud painted four nude portraits of the defiantly heavyweight welfare manager. Tender but heroic, gentle but monumental, they surely rank among the finest of all ripostes to our age of body fascism, from an artist whom his model describes as "the most amusing person I've ever met".
In New York this week, at Christie's first ever billion-dollar auction, one of those works, Benefits Supervisor Resting, sold for $56.2m (£35.8m). Meanwhile, Christie's also offloaded Picasso's Women of Algiers: Version 0 for $179.3m and Giacometti's Pointing Man for $141.3m: new auction-house world records for a painting and a sculpture.
For 20 years, the top-dollar Ms Tilley helped to administer a system that now doles out a weekly maximum of £73.10 in income-related job seeker's allowance. This week's price for her portrait – paid by a London dealer – would cover JSA at that level for 489,740 unemployed people for a week, or 9,418 over a whole year. Ms Tilley, though, has pocketed not a penny from her status as a contemporary icon (for once, the hackneyed term fits). "Money isn't everything," she sagely says.
Tell that to the gallerists, the dealers, the publicists, the auctioneers – and the few thousand art-hungry plutocrats who not only keep this fairy-tale business on the road but also drive it from peak to peak in the teeth of every global downturn. From Seoul and Abu Dhabi to Shanghai and Moscow, a busy but shy fraction of the estimated 170,000 people who count as "ultra high net worth" individuals invisibly fund this hyperinflated trade. It dwarfs in its reach and riches the wildest fantasies of a Borgia pope in Rome, or a Medici banker-prince in Florence, when Raphael and Michelangelo were brushes and brains for hire.
Freud is a master for the ages. Benefits Supervisor Resting belongs in a lineage that the titans of the Renaissance would recognise, even if its mutation might perplex them. You could argue that, however strained, the link between intrinsic value and auction yield has, with his work, not quite snapped.
Now consider Balloon Dog: Orange by Jeff Koons, one of a quintet, or "litter", of coloured stainless steel statues from an artist who, in Andy Warhol's wake, both satirises the kitsch and vulgarity of the system he serves and profits mightily from it. In 2013, Koons's outsize bulbous pup went for $58.4m at auction – more than the Tilley portrait. Ask whether it was "worth" the selling price and any hard-nosed economist – not to mention the throng of art-world insiders who have just gathered on the lagoon for the Venice Biennale – will laugh you all the way from Tribeca to Shoreditch. The dog (or bed, or shark) is worth whatever the market agrees to pay for it.
That market, moreover, now bundles into art – and especially post-war art – not so much as a safe haven as a one-way bet on mammoth percentage returns in a period of flatlining interest rates and volatile stocks. Last month, the chairman of BlackRock Inc – the world's biggest asset management outfit – claimed that art had replaced gold as the optimal vehicle for investors. In fact, the Knight Frank Luxury Index over the 10 years to 2014 puts canvas (or concept) just behind shiny metal, with a 226 per cent return across the decade compared with gold's 254 per cent. Ominously, the BlackRock boss then steered his audience of plutocrats towards another fast-appreciating asset class: residential property in London. How much government action can we expect on that family-breaking, career-blighting front between now and 2020? Less than zero.
The mystique of artworks, those holy sites where economic and cultural values fuse, now spreads a glow into the most unlikely corners. Specialist police officers have long known that stolen art serves as collateral among crime barons for drug deals and other clandestine transactions. Forget the crackpot billionaire gazing at his rifled Renoir in a bomb-proofed basement lair. Most likely, the liberated work will be gingerly detached from its frame and rolled into a portable package of compacted wealth far neater than any suitcase stuffed with €500 notes. In his high-tension book Art Theft and the Case of the Stolen Turners, scholar and curator Sandy Nairne recounts his dip into the underworld when – on his watch at the Tate – two loaned Turners vanished from a Frankfurt show. At the end of the zigzag trail lay a Balkan warlord-cum-godfather – and a pair of intact paintings.
Crime lords and their henchpersons tend to exhibit sound if conservative taste. Nothing much later than Munch seems to excite the expert lock-pickers and alarm-disablers. In this, they echo the general public. True, a Freud, a Hockney or an Anselm Kiefer will pull the punters in their scores of thousands. But the taste-making and market-making role of patrons, curators, gallerists and critics – whether Larry Gagosian and Jay Jopling in the private sector, or Nicholas Serota and Hans-Ulrich Obrist in the public – remains strictly a coterie affair.
At the outset of their careers, artists whose products will later trade for millions have an informed audience that you might easily fit into a cosy vernissage on Cork Street. Given time, and luck and fashion, the weight of cash and hype will shove them into the front row of celebrity. Unlike Hollywood A-listers (who earn their fees from tens of millions of punters) or best-selling writers (hundreds of thousands at least), art patronage incubates worldwide fame among figures who need to sell their pieces only to a handful of collectors and museums. Who needs bums on seats when trendsetting eyebrows flicker at the auction?
The paradox is that the media renown secured by this machine of elite patronage translates into widespread popularity. In the Warhol mould, an Emin, a Hirst or a Koons ranks as a cross-media star: a 24/7 performance artist. Few, however, barter that limelight into insight as smartly as potter-philosopher Grayson Perry (now a trustee of the British Museum), an idealistic, deep-thinking heir to William Morris disguised as a jolly end-of-the-pier turn.
Both closed shop and mass spectacle, today's high-end art market exposes with photo-realist clarity the brand of capitalism which ever-hopeful Marxists still call "late". Between the plutocratic stitch-up and the populist floor show, might some third way exist for art's innovators as well as its entertainers? At Europe's bourgeois zenith, it definitely did. Go to Rembrandt's house (now a museum) on Jodenbreestraat in Amsterdam, and you can still walk through the rooms where an unparalleled talent not only fixed his vision in oils but also ran a business.
Financially, things did not turn out well for Rembrandt. Tipsy with success, he paid over the odds for this house in 1639 – a whopping 13,000 guilders – and then stacked it not only with other artists' pictures but also expensive curios as props for his paintings. They still fill the magic chamber that fed his imagination with its antique armour, Roman busts and stuffed animals. Hastened by the scandal of the child he had with his servant-lover Hendrickje Stoffels, bankruptcy struck in 1656. Six distress sales of his effects enforced over two years raised 5,000 guilders, and the house itself 11,000. Yet during and after this drawn-out civic humiliation he painted the breathtaking late works – recently on show at the Rijksmuseum – that defied fate with their free spirit and revolutionary method.
Let's not romanticise Rembrandt or the business of art in the Dutch "Golden Age". The merchants who bought (or shunned) his work had as keen an eye for a shrewd investment as any Hong Kong property magnate or Qatari sovereign-wealth fund manager. The artist himself splashed his cash, racked up debts and put his loved ones at risk. He had stubborn pride as well as soaring genius. Nonetheless, he could cultivate that genius as an artisan, trader and teacher – the Rembrandt House has just hosted an eye-opening exhibition devoted to his late pupils – in a city where artist and customers could daily tip their hats.
As he said, "If I want to give my mind diversion, it is not honour that I seek but freedom." That freedom came from professional autonomy within a human-scale marketplace. In contrast, Christie's billion-dollar spree feels more like a lottery held in a circus, filtered through multiple mediating layers of patronage, marketing and hype. True mastery, of course, can reach out and touch across the centuries. Freud's intimate landscape of mortal flesh harks back – for instance – to Rembrandt's great scene of Hendrickje bathing in a stream, the shocking slap of cold water on soft skin caught forever in the year (1654) of their daughter Cornelia's birth. Will millions care as much about Ms Tilley in 2375 as they do about Mevrouw Stoffels now? It's conceivable. Even the zaniest art PR would hardly claim the same of Jeff Koons's orange pup. Whatever goes on under the hammer, no one should compel us to follow the silly money and mimic Oscar Wilde's cynic, who "knows the price of everything, and the value of nothing".
Join our new commenting forum
Join thought-provoking conversations, follow other Independent readers and see their replies