For the state to intervene in the free market would have been anathema to Osborne. How times change
For now, Osborne still has a foot in the old era of state inactivity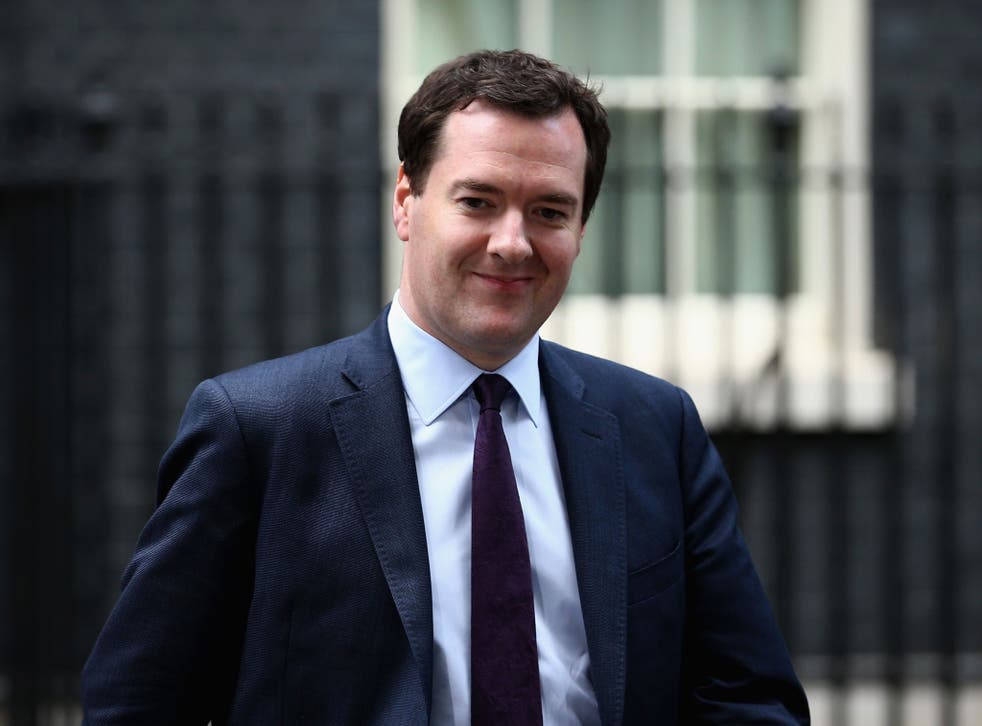 I hear and read often that, after the financial crash of 2008, Britain has moved rightwards. An army of commentators, plus politicians from all the main parties, make this assertion. Those of us who argue the opposite – that the crash challenged fundamentally many of the free-market orthodoxies from the 1980s – are dismissed with a lofty swagger.
The interview with the Chancellor George Osborne on the Today programme yesterday morning illustrates the degree to which the ubiquitous analysis about Britain's march rightwards is based on assumptions from an era that is dying in front of our eyes. Osborne's words were, in some ways, the most vivid example yet of how the political consensus has moved away from the widely held view that lightly regulated markets must be left alone to deliver for customers. Or, to put it another way, Osborne moves leftwards in response to changing times.
As if he were Ed Miliband, the Chancellor put the case for a cap on the costs of payday loans, an intervention in the market as overt as the one the Labour leader proposes for the energy companies. Until now, Osborne has resisted such a move – and, for sure, he would not have contemplated this form of activism from the state before the financial crash. Rightly, he criticised the previous Labour government for failing to act, but that administration was also part of the old era, fearful of intervening in markets and seeking to adapt to what still seemed like fashionable 1980s thinking. Miliband has made this point many times, and has been critical of New Labour's terror of regulating markets.
Osborne's wider defence of his new policy was more illuminating. Echoing Miliband and John Major – the latter appearing to be an isolated Tory voice – he insisted that there was always a case to intervene in markets when they were failing customers. The Chancellor cited one of the right's favourite economists, Adam Smith, to justify such statist interference. I was reminded of Gordon Brown, who also claimed Smith as an ideological soul mate. Typically, Brown went much further, holding seminars in No 11 with Adam Smith's biographers and others in an attempt to prove that the free-market economist was a Brownite.
I have no doubt that Osborne will have cause to use Smith again as a protective shield, when he intervenes next in another market, as he will do. Once he has started, he will not be able to stop – an approach that is in marked contrast to the early years of the Coalition, when it was ideologically allergic to state intervention in any form.
For now, Osborne still has a foot in the old era of state inactivity, and only a toe in the new one. His instinct when he heard Miliband's party conference speech, pledging a price freeze on energy bills, was to cheer an opponent's lurch to the left. But within a few days he had changed tack, quickly unveiling his help-to-buy scheme and imposing new limits on increases to rail season-tickets, both interventions in the market place. Those attending fringe meetings at the Conservative conference were utterly bewildered. Do we believe in intervention or not? The answer was, and is, "yes and no". But as the pressures grow in the build-up to the next election, it will be more the former than the latter.
This is why commentators are wrong to suggest that the financial crash has triggered a leap further to the right. Cameron and Osborne are two highly talented politicians, but they have never seemed as at ease after the 2008 crash as they did before it. Miliband still learns the art of leadership, but he makes waves because, to some extent, the changed assumptions of the post-2008 era chime with his own.
It is a myth that all he and Ed Balls want to do is spend public money as if it was Labour's second and third terms in office all over again. The duo has spent decades wrestling with the nightmarish politics and economics of "tax and spend", and know the thorny terrain better than their critics. As Miliband's most senior ally, Stewart Wood, argued in a speech at the end of last year, a future Labour government will have no spare cash, but can still bring about radical change by "rewriting the rules of our economy... the right choice in an age of fiscal constraint... addressing the sources and not just the symptoms of huge inequalities in market power". Osborne could not have put it better as he constrains the might of Wonga and co.
The challenge for the Labour leadership is not to respond to patronising lectures from columnists about the obvious pressures on public spending – pressures it recognised long ago. Instead it must at some point explain in more detail how it plans to regulate failing markets more effectively. This will not be easy. It faces a new strategic challenge too. Now that Osborne moves leftwards in his broad message and specific policies in relation to some failing markets, Labour risks losing part of its distinctive pitch. But Miliband can take satisfaction that an expedient Osborne recognises a need to dance to his tunes.
Scottish independence is a reality no vote can change
The referendum on Scottish independence reaches another staging post today with the publication of the white paper on how Scotland would function as a separate country. There will be much analysis of it, but I doubt it will much change the campaign.
Pollsters in Scotland tell me the gap between those who want to remain part of the UK and those who do not will probably narrow by the time of the referendum, irrespective of the white paper, but Alex Salmond will still lose.
The key question is what happens then. Scotland already feels like a separate country. Labour's act of devolution was intended to be modest, but happened to give Scotland powers in all the key areas undergoing revolutions in England – the NHS and education in particular.
All three Westminster-based parties pledge vaguely that more powers will be devolved after the referendum, at which point Scotland will become even more distinct. The broadest message from the independence campaign is incoherent as it seeks to inspire and reassure voters: the referendum is historic but will not change very much.
The contradictory words are correct. Of course a referendum on independence is a very big moment for the whole of the UK, but Scotland is already going its own way and will continue to in the coming years. The referendum is something of a red herring.
@steverichards14
Join our new commenting forum
Join thought-provoking conversations, follow other Independent readers and see their replies