The Italian MEP who brings her daughter to work is highlighting the stark choice facing many women: career or motherhood?
When Ronzulli took her child to work, she did it not to be political but to be maternal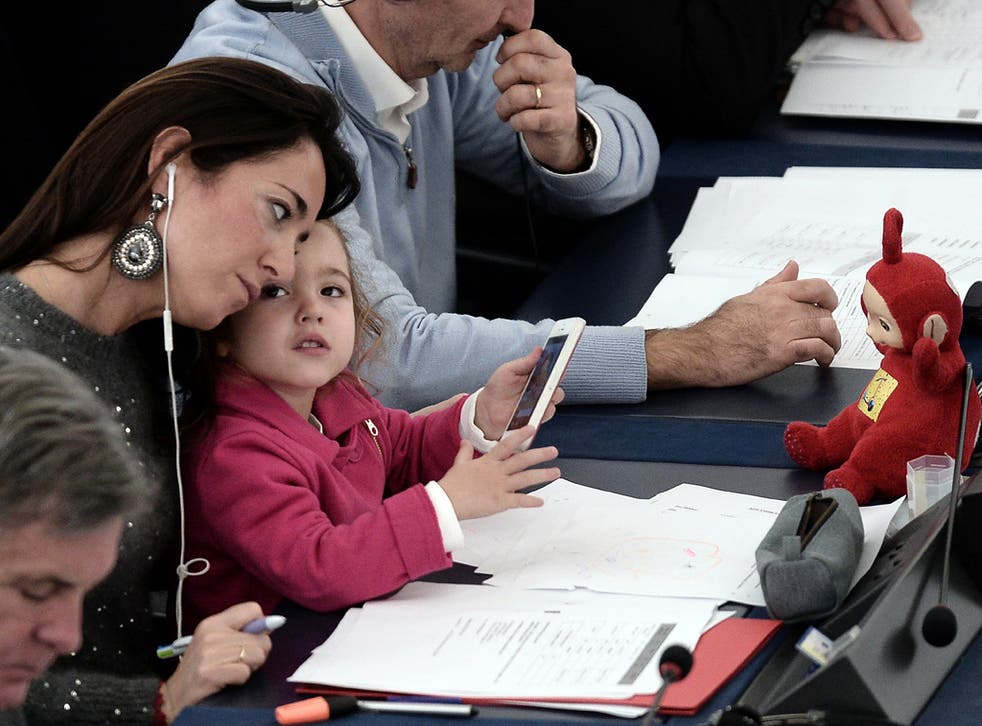 The photograph of the week comes courtesy of Licia Ronzulli. The Italian MEP was seen hard at work in a voting session in Strasbourg, with her toddler daughter Vittoria on her knee. When she voted, so did Vittoria, and so did her Teletubby, Po.
At three years old, Vittoria is already a veteran of the European Parliament, though to judge from her jeans and bright red coat she has not had the memo about the Eurocrats' sombre dress code. Ronzulli, 38, and a member of Silvio Berlusconi's party, has been taking her daughter to work since Vittoria was six weeks old. On her first appearance the baby slept in a sling and was fed between votes. Then came the snoozy bobble hat phase, the boisterous terrible twos phase and the pink teddy bear phase. There may yet be a sulky, grounded tween who is not allowed out of her mother's sight phase, too.
The pictures are wonderful. Not just because they are charming, but because they show how surreal it can be to be a working mother. When Ronzulli first parcelled her daughter up in a sling and marched into parliament, she did it not to be political but to be maternal, she said. She was still breastfeeding and had to come into work to vote, to do her job and earn a crust. As her daughter has grown, she has become a powerful symbol. "I have been bringing her along because I want to show the difficulties faced by a woman who works and is also a mother," said Ronzulli.
The conundrum of having it all cannot be simply solved by having it all in the same place, at the same time. Ronzulli's solution is not practical for most mothers. Whether surgeons, firefighters or secretaries, most women will not be able to take their children into their workplaces. Many of them probably would not want to. Their colleagues would likely protest; their children would likely be bored rigid.
Ronzulli is using her profile to shed light on the issues that affect working mothers. It is still an unusual novelty for men and women to split maternity/paternity leave equally. There are still not nearly enough workplace crèches or childcare options to ease women back into work. Flexible working hours are still viewed with suspicion in many businesses. I have friends with newborns who are torn between being a good mother and preserving the career they have spent the past decade building up. Like millions of mothers before them, they worry about being seen as inflexible or unprofessional when they leave on time to pick up from nursery. There is a pressure to carry on at work as if nothing has changed, when everything has changed.
Successfully having it all really means keeping it all separate – a perfect mother at home and a perfect employee at work, with neither role impinging on the other. Rather than pretending her child does not exist when she is at the office, Ronzulli is making visible the challenges of combining two roles. How brilliant it would be if by the time Vittoria is old enough to vote for real, she didn't have to worry about those challenges at all.
Education is the new luxury
Wanted: a tutor. Must like travel, socialising, rowing and cash. A Swiss student at Cambridge University has advertised for a private tutor to help him to pass his first-year resits in natural sciences. The candidate will be paid £48,000 for 16 weeks' work and will have to mentor the student in exam technique, essay writing and less academic pursuits, like fitting in.
As with the Arab businessman earlier this month who offered a £122,000 to anyone who could mould him into the ideal Oxford candidate, it is an extreme case. As tuition fees creep up, though, the idea of an education as a commodity to be traded or, worse, a luxury accessory for the super-rich, could become the norm.
Twitter: @alicevjones
Register for free to continue reading
Registration is a free and easy way to support our truly independent journalism
By registering, you will also enjoy limited access to Premium articles, exclusive newsletters, commenting, and virtual events with our leading journalists
Already have an account? sign in
Register for free to continue reading
Registration is a free and easy way to support our truly independent journalism
By registering, you will also enjoy limited access to Premium articles, exclusive newsletters, commenting, and virtual events with our leading journalists
Already have an account? sign in
Join our new commenting forum
Join thought-provoking conversations, follow other Independent readers and see their replies