They bite babies, kill chickens, and have noisy sex. Why on earth would we want a cull of urban foxes?
There are no shortage of challenges facing children in our inner cities. Like bleak poverty and hunger in classrooms. But foxes? Give them a break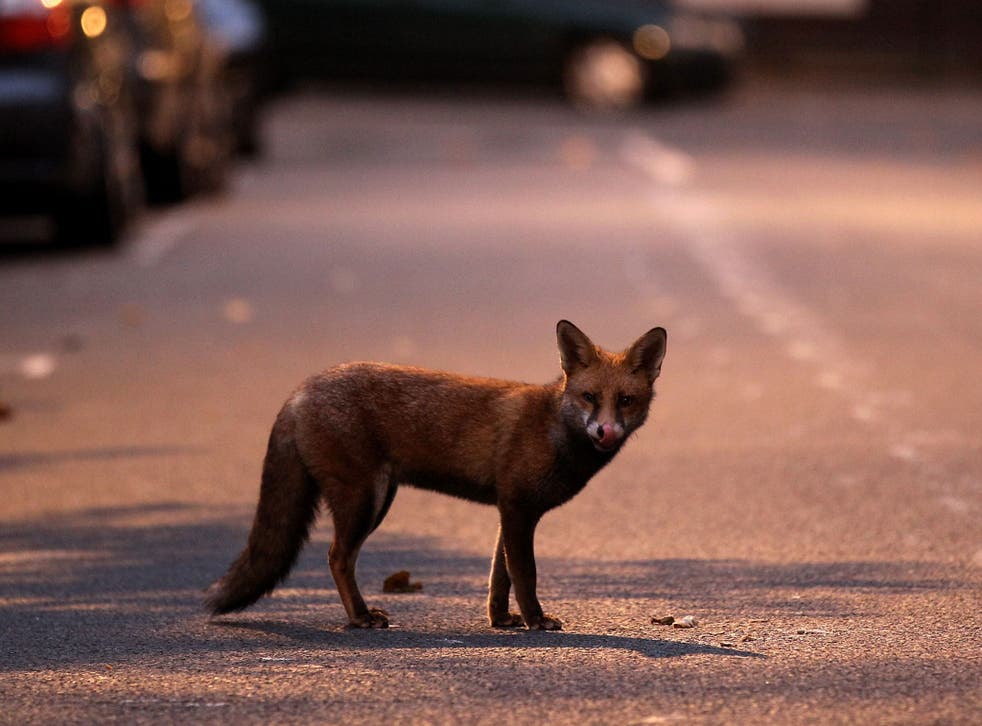 Despite the unfortunate incident of the baby with the severed finger, I'll always have vast affection for urban foxes, and have done ever since I was a teen in the 1980s.
Creeping home from nightclubs during trips to London, I first encountered that nocturnal world of flame-haired, mange-riven ne'er-do-wells. Foxes, everywhere, sniffing, scavenging, shagging, and essentially pleasing themselves.
Back home, where I grew up in Cumbria, the locals killed and mutilated them for sport. Sometimes as part of a charming family day out, sometimes as the downtime pursuits of those same Deliverance-style yobs at my school who loved badger baiting and shoving their ratty dogs into rabbit warrens to hear the death squeals. Ah, country ways. In London, the foxes went unbothered and I loved this.
"But I can hear them having sex!" urban dwellers love to whinge at me. Boo-hooing about fox-sex, of course, is a big sign that one needs to be having sex oneself a lot more. It might cheer you up. Personally, I quite like fox rutting noises. They're a little zombie invasion.
"And they're not even scared of us!" say tortured voices on phone-in radio shows. Actually, I rather love that modern foxy insolence. Recently, I spilled out of a taxi at dawn to find an enormous fox sitting on my front garden wall. "Oh, my God, look at you," I mumbled as we stood 10ft from each other. "Look at me?" she seemed to sneer. "Look at you! Your make-up is smeared and you smell of tequila. You humans are so uncivilised. And growing in numbers, too. There should be a cull."
"But, Grace, they killed my chickens," says the usual team of Amelia Drippyknickers from their urban townhouses, utterly determined to live a homespun Cath Kidston life, knitting their own hummus and waving off little Noah and Boudicca to Montessori school with a fresh chucky egg for breakfast from their own hens.
Who knew urban foxes would see your homes as Foxy Nando's? And not just the first time. But the second, third and fourth times you replaced the chickens, and the local fox took its dinner jacket to the dry-cleaners? Urban chicken people please go and sit with those "My Koi Carp Hell" pond people in Lockerbie, livid because the local otters saw their garden as an al-fresco branch of Nobu.
Of course, one of the main reasons foxes adore the city now is due to Britain's idiotic bin policy. Nowadays, if one fills one's bin and then dares to leave an extra bin bag beside it, it'll sit for seven, 14, 21 days – or simply forever. This invites foxes to split the bag and drag the contents around the street, sometimes merely as a spot of light foreplay, before settling down to four or five hours of tantric sex-wailing. I'd see councils with ineffective refuse collection culled before gunmen and poison squads on my street killing wildlife.
So, this all said, the photo of last week's bitten baby didn't truly bother me. It's sad, but it rarely happens. This is something one is never supposed to say out loud in a culture where all debate should be derailed by the story of one harmed child. Get out the guns, bring your pitchforks, a child was bitten. Of course, there are real and spiralling urban problems affecting kids every day which I do become upset about – like the growing numbers of small children in bleak poverty attending schools starving hungry each day. Here's an actual epidemic affecting children. Culling welcome. Blind panic permitted. Knee-jerk policy allowed!
And if any government bid to kill off urban foxes is successful, how socially disruptive and divisive will these killing sprees be? Because, yes, many are outraged by pictures of a bitten baby, but many others won't take kindly to pictures of neat rows of dead fox cubs, all small and fluffy and executed. PR-wise, when they're little, they're extra-adorable, just like the animals of Farthing Wood. Come and cull them if it's your hearts desire, Cameron and Boris. The reaction may be a little feral.
Twitter or the Papacy:
only one winner
As the hunt begins to find someone more affable and charismatic than Pope Benedict XVI for the job of Catholic head-honcho, my feelings are that the job won't be entirely difficult.
Literally any CV on the pile in which the applicant hasn't been either in the Hitler Youth and/or widely involved during the 1970s to the 1990s in delaying and quashing investigations of child sex abuse would be a flying start. How was Joseph Ratzinger ever allotted this role in the first place? Rarely endearing – and vaguely similar in countenance to someone one might meet in an attic in a David Lynch movie – he then went on to re-affirm the worldwide ban on abortion and gay partnerships, while quashing any debate about priestly celibacy.
By 2013, it may have been a nice idea to entertain a debate about lonely priests and their requirements for a bit of companionship and chat, something to warm your feet on in bed, during their long God-loving lifetime. "Nein," said Joseph. Sometimes right, sometimes wrong, always certain. Then suddenly, the announcement: "I have repeatedly examined my conscience... I have come to the certainty that my strengths are no longer suited to the adequate exercise of the Petrine ministry."
Reading between the lines, I am seeing: "I joined Twitter last December and, for the love of God, I'm getting nothing done now. I was up until 3am last night bickering with idiots and playing hashtag pun games. Goodnight Vatican City, Joseph has left the building."
A new hero for the
good people of Valletta
Pop star and excellent dad Peter Andre has been appointed cultural ambassador to the capital of Malta. The residents of Valletta city – who have clearly never savoured his 1995 cod-reggae feelgood summer smash "Mysterious Girl" – are said to be "furious", simply because Andre has no links with Valletta, and in fact only attended a music awards ceremony there recently. Ungrateful gits. Any more moaning and we'll send you his ex-wife, Katie.
Join our new commenting forum
Join thought-provoking conversations, follow other Independent readers and see their replies