Tidal: An overpriced music streaming service that only benefits the super-rich members of a messianic-like cult? Where do I sign up?
Looking past the pretentious launch event and the fact that Chris Martin was invited, I still can't see how any normal person can be excited for Tidal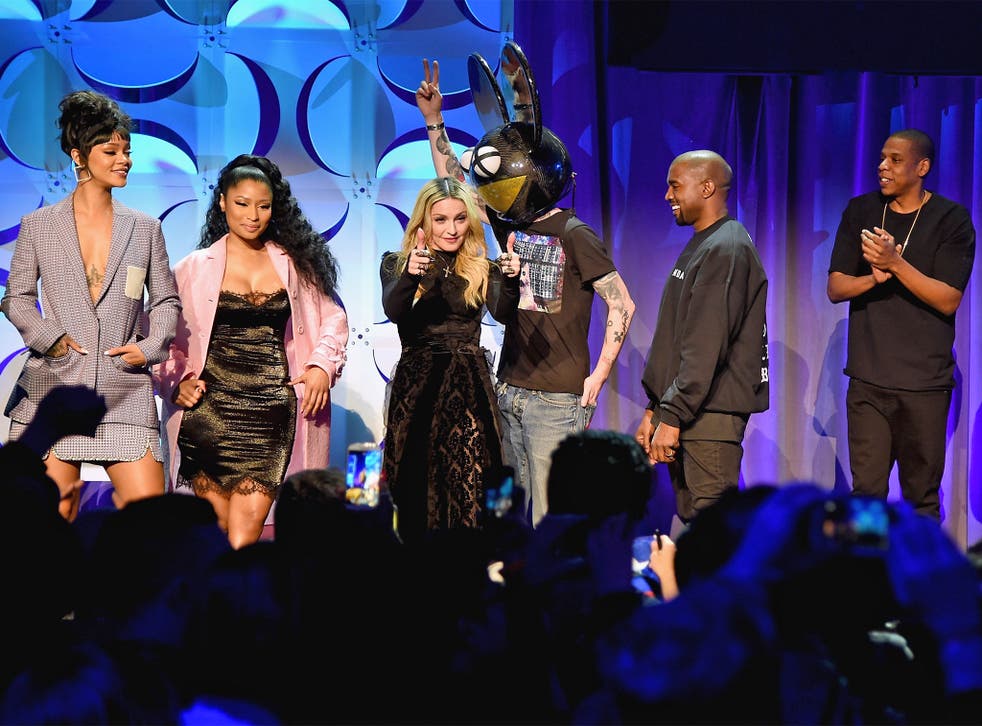 Even before Jay Z officially launched his own artist-owned streaming service alongside some of the music industry's biggest names on Monday, I was pissed off.
What we already knew about Tidal before the launch was that it cost $19.99 (£13.50) a month. In the USA, Spotify Premium costs about $9.99 (£6.50) a month, where in the UK it costs me a tenner. Americans were kicking off, and I wasn't too impressed. It wasn't going well.
But I didn't want to rush to any conclusions, so I decided to watch the launch for myself to see if I could get on board with this musical revolution.
The bizarre video began with the most famous people in the industry being introduced one by one. It was a bit like watching the end of The Generation Game with the conveyor belt memory game, except with self-obsessed celebrities instead of mountain bikes and deep fat fryers.
Alicia Keys then took to the podium. What followed was four minutes of pretentious drivel, and a tedious set piece where the artists stepped forward one by one, to scribble their names on a piece of paper. The audience was silent, presumably because they'd dozed all off. I was hoping I'd be blown away by the most magical thing in music since Madonna stacked it at the Brits.
But while Madge managed to stay upright this time, I found the whole affair much less enjoyable. Looking past the awkward launch event and the fact that Chris Martin from Coldplay was invited, what has Tidal actually achieved? Its selling points are twofold; it's artist-owned, and higher quality.
If they can produce a system that is of a higher quality to other streaming services then great. Congratulations team, let's see how it does. But spare me the bullshit.
Now let's deal with "artist-owned".
The music industry has been forced to adapt in the past 20 years. Physical sales have gone down, downloading became all the rage, and now we can all stream entire back catalogues for a few pounds a month. For emerging talent life can be tough. But if there was an artist-owned streaming site available – a co-operative for musicians to run in their mutual interests, with an equal distribution of profits? I'd pay the premium.
But no, that's not Tidal. A group of people with a combined wealth of over $2.7bn want to make themselves even richer, with no mention of the artists who struggle to make ends meet – that sounds more like it. No mention of their less successful comrades. So you can imagine where the focus of Tidal is going to be, and where its allegiances will lie.
"This is for the people, by the people" said Beyoncé. What she really means it's for these super-rich artists by these super rich artists, and we can pay the extra price.
What's even more infuriating? Well according to Keys, Tidal is some sort of crusade to save the world. "Our mission goes beyond commerce, it goes beyond technology. Our intent is to preserve music's importance in our lives", she said. And if this didn't sound "messianic cult-y" enough, Madonna posted a photo on Instagram with the caption: "If you refer to Tidal as Illuminati, you are paying us the highest of compliments. As I've stated before it is another name for 'The Enlightened Ones' a group of scientists, philosophers and artists that emerged after the dark ages. They changed and shaped the world for the better! Do the research and find out for yourself!" That should do it.
I'd really like to believe that Tidal will save the world, but Jay-Z has already spent some $56m on the project, with others no doubt chipping in too. To present this venture as some altruistic campaign for social justice is at best misjudged. In 2012, the US Census showed 20 per cent of American children were living in poverty. Why not chuck some money at that, guys?
But maybe I'm being unfair. Maybe we should care. On a daily basis we see jobs completely disappearing because of technological advances and automated machines. Tube drivers are fighting to survive, ticket offices are closing, just this week probation officers in the UK found they'll soon be replaced by robots, when privatisation steams ahead. I'm all for workers owning the means of production, but let's start by taking Kanye down to the picket lines and work it out from there.
I can't imagine he'll ever do that, but that's the point. Guys like Kanye and Jay Z aren't fussed about the evils of capitalism. This is a simple act of self-preservation. If they really want to make something that is better than Spotify, then they can do it. Good luck to them. But to do it under the guise of some community project, with a higher moral purpose? No thanks.
To quote Alicia Keys in her opening gambit, "We believe Nietzsche couldn't have been more right when he said 'without music, life would be a mistake'." That might be true, but I couldn't be more right when I say that without Tidal life will be just fine, thanks.
Join our new commenting forum
Join thought-provoking conversations, follow other Independent readers and see their replies