Time to hunt down the 'kingpins' of wildlife crime
World leaders are being urged to crack down on the masterminds behind gangs that make billions from animal carcasses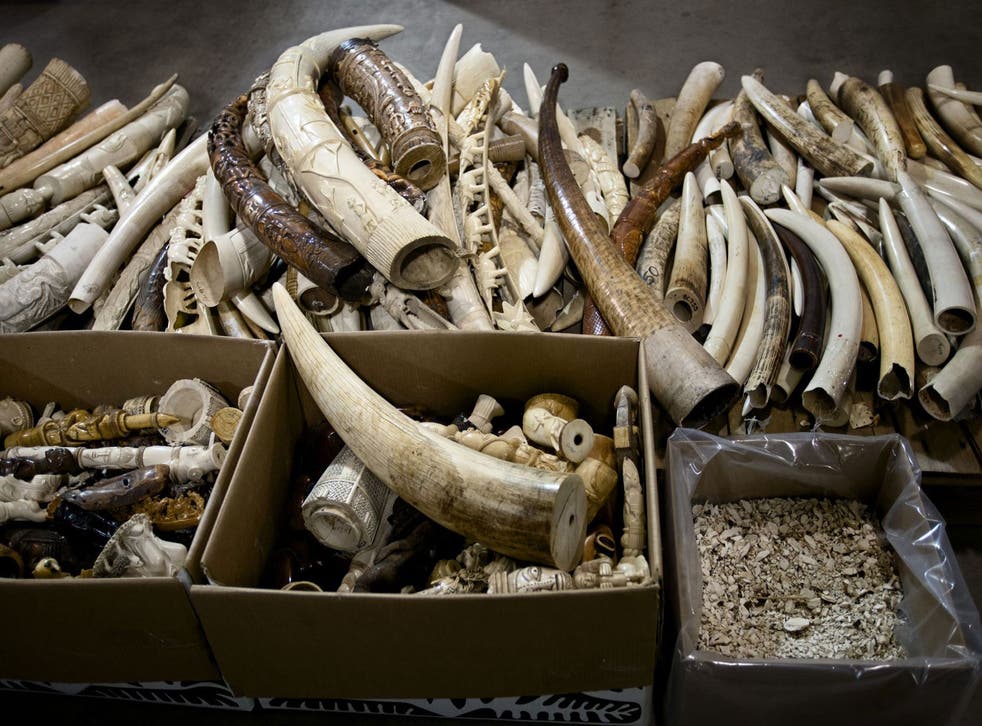 The dangerous criminal networks that run the global wildlife trade have been allowed to persist and prosper as a result of "chronic government failures" to treat them seriously, experts have warned, days before the world's biggest conference on international wildlife crime.
The £12bn industry is the world's fourth biggest illegal trade after narcotics, human trafficking and counterfeiting. But despite arresting traffickers and seizing wildlife parts, law enforcers have failed to arrest or convict the criminal masterminds wreaking havoc across Africa, according to a new report by the Environmental Investigation Agency (EIA), which has been investigating the trade for more than three decades.
"Despite record seizures of illegal ivory, not a single criminal kingpin involved in the international illegal trade of ivory has prosecuted and convicted to date. That is a damning indictment. With less than 3,500 wild tigers left, elephant numbers plummeting and rhinos under attack again, we need to get it right," said Mary Rice, executive director of the EIA.
We know time is running out. Around 100 elephants are killed every day for their ivory, and conservationists warn that in some parts of Africa formerly great populations could be wiped out in just five years. Last year was reportedly the worst on record for rhino poaching in South Africa; 1,004 animals were killed – a 50 per cent increase on 2012. Almost 6,000 Asian big cats have been identified in trade over the past 13 years and at least 45 tonnes of ivory were seized in 2013, a haul believed to be the largest in a quarter of a century.
But as world leaders and heads of state prepare to fly into London for the conference, where they will try to find a solution to global wildlife crime, the report warns that "greater effort is needed to build evidence against the main culprits who lead the smuggling syndicates without getting their hands dirty". The EIA suggests that this will require detailed detective work involving intelligence sharing between agencies, and internationally, and the use of forensic techniques.
The report, In Cold Blood: Combating Organised Wildlife Crime, draws attention to the most notorious wildlife crimes in history, from the discovery of 31 tiger skins, 581 leopard skins and 778 otter skins in Tibet in a routine vehicle search in 2003, to the recovery of 532 elephant tusks in Singapore a year before. In neither case were the leaders of the networks prosecuted.
A picture emerges of highly intelligent criminal syndicates that commission the mass slaughter of animals, forge documentation, commit tax fraud, and constantly evade justice. "For decades, criminal gangs have been devastating our environment and driving both iconic and little-known species to the brink of extinction. Undermining democratic structures and fostering corruption at every level, these individuals have been operating with [impunity] for decades," Ms Rice added.
But world leaders are finally acknowledging the scale of the problem. Yesterday, the UK government announced it would fund the National Wildlife Crime Unit for another two years. The French government also crushed three tonnes of seized ivory, two months after it announced its national action plan against poaching and the illegal wildlife trade. This follows the destruction of seized ivory by Gabon, the US, the Philippines and China.
"Illegal wildlife trade can be serious, organised and global," said Sabri Zain, director of policy at Traffic, the wildlife trade monitoring network. "Every country has a part to play to ensure the criminal networks behind it are dismantled."
The Independent, with its sister titles, is running an elephant appeal supporting Space for Giants, a charity determined to defend Africa's elephants. But we want to halt all wildlife crime.
Our petition calls for world leaders to commit to better training and resources for rangers; to provide better education in places such as Asia, where consumer demand is driving up poaching; to stamp down on corruption and implement laws against those involved in the trade; to help local communities develop sustainable livelihoods; and to uphold the ban on the international trade in ivory.

Six of the worst:

The Singapore ivory seizure
When the Singaporean authorities were tipped-off in 2002 about a vessel supposedly carrying stone sculptures from Malawi, they discovered the largest batch of ivory seized since the 1989 international ban. It totalled 7.2 tonnes, over six tonnes from slaughtered elephants, sourced largely from Zambia.
The seized container was reportedly just one of 19 suspected shipments by an organised ivory syndicate. Japan was its final destination. Despite a small fine issued to the shipping agent, none of the key players were prosecuted.
Chand big cat case
When it emerged that all of the tigers in Sariska Tiger Reserve, India, had been poached in 2005, India's Central Bureau of Investigation began investigating.
The Delhi City Crime Branch intercepted telephone calls reportedly leading to Sansar Chand, one of the most notorious tiger traders in history – who was first arrested in 1974. When he was arrested in June 2005, it was estimated his network controlled 50 per cent of the illegal market in tiger and leopard skins. He and his associates reportedly had at least 57 court cases pending against them.
He was charged under the Maharashtra Control of Organised Crime, a landmark charge against a wildlife criminal. Members of Chand's family have reportedly continued trading.
Tibet animal skins case
When police in Sangsang, Ngamring County, Tibet, conducted a routine vehicle search in 2003, they discovered a huge collection of skins from Asian big cats and other species: 31 tiger skins, 581 leopard skins and 778 otter skins, valued at $7.6m.
Some of the tightly packed skins had bullet holes in them and had Delhi newspapers stuck to their rear. The three people in the car were suspects were found guilty, convicted and sentenced to death in October 2004, subsequently reduced to life imprisonment. The convictions did not result in identification of the leaders of the smuggling syndicate.
The Teng Group ivory case
A shipping container of used tyres arrived in Cameroon from Hong Kong in 2006. It was emptied, loaded with timber and dispatched again for Asia. But when custom officials in Hong Kong X-rayed the container, they found 3.9 tonnes of ivory tusks concealed behind the timber, in a specially-modified compartment. It was a record seizure for Hong Kong at the time, representing at least 400 slaughtered elephants.
Paperwork reportedly indicated the transport of at last 12 previous shipments, along the same route. The shipments were reportedly linked to the 'Teng Group' – a notorious syndicate connected to money laundering and drug trafficking with connections to Nigeria. The criminal syndicate has so far evaded the law.
Sham rhino hunters
Thai national Chumlong Lemtongthai was arrested in South Africa in 2011 and charged with illegally obtaining hunting permits to fraudulently export rhino horns. He pled guilty to 52 counts. The following year, he was sentenced to 40 years in prison – reduced to 30 on appeal. But it's not just Asia.
Last year, the Czech authorities arrested 15 people connected to sham rhino hunts in South Africa. In total, 24 rhino horns have been seized in the Czech Republic in the past few years.
Gir lion poaching
Organised poachers targeted the last remaining population of Asiatic lions, found in Gir National Park, India, in 2007, in a bid to feed the international market the bones it craved. Suspects were arrested in possession of lion claws and traps, their fingernails were clipped for evidence of lion blood and samples of blood-soaked clothing were taken.
A bandage found at the scene connected the suspects' DNA with the location. Ultimately, 36 poachers were convicted and a major trader network was exposed.
These case studies are taken from an EIA report.
Sign our petition to stop the illegal killing of elephants now.
Join our new commenting forum
Join thought-provoking conversations, follow other Independent readers and see their replies